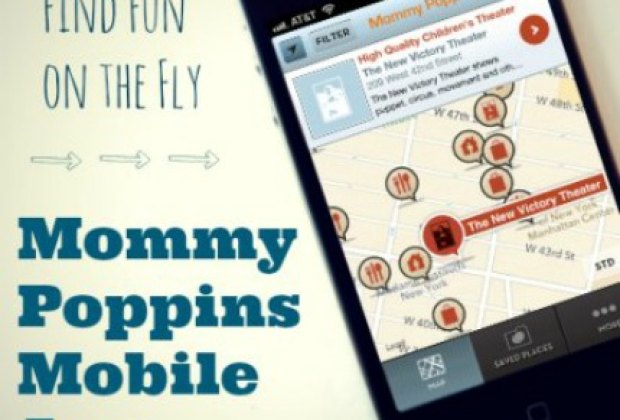 5 Reasons to Love Our Brand-new Mommy Poppins App: Free in the App Store Today!
UPDATE: Our iPhone app is no longer active, but our site is optimized for use on mobile and has maps to find locations near you. You can add it to your home screen too by dragging the URL to your phone.
Finally, after months of work and lots of reader support, the Mommy Poppins app is now available for download! We're very excited to share it with you and look forward to hearing what you think, too.

We created this app to help families find the best places for kids to learn, create, shop, eat and play indoors and out while on the go in NYC and beyond. You'll find the same curated content that we offer on our site, all tried and tested by local moms so you're in the know before you go.

A very heartfelt thank you to everyone who donated and spread the word about our Indiegogo crowdfunding campaign that helped ensure that the app could be offered for FREE.

Here are 5 things we hope you'll love about the Mommy Poppins app. Or just go ahead and download it now for FREE in the iTunes app store and decide for yourself what your favorite features are.
1. You Love Free Stuff – Yes, the Mommy Poppins App is FREE to download in the iTunes app store, but beyond that, it helps you find great FREE stuff to do all over the city. Just use the free filter to see no-cost things to do on the map.
2. You're a Planner – One of our favorite things to do with kids is to explore new-to-us neighborhoods. Before you venture into uncharted territory, scroll to the area of the map you intend to visit so you can find things to do and places to eat to help you plan out your day.
3. You're Spontaneous – With kids don't you have to be? When you're out and about and in desperate need of a playground, kid-friendly restaurant or snack spot, our app helps you find fun on the fly.
4. You're Always Prepared – Every listing in our app has a description with the inside scoop on what to expect. Plus you can find open hours and even call ahead with one touch.
5. You Expect More – We've got more coming! The app already includes cool kid attractions all over NYC, but we'll be adding more as new places open and we explore additional neighborhoods on our site. We also plan to expand the app to cover all of our other Mommy Poppins regions. Plus we have an Android version coming out before the end of the year, and we'll be adding event listings, too. That will take a bit more work, but it's on our to-do list.
Get the Mommy Poppins App for FREE in the iTunes app store now. We'd love to hear your feedback by email or in the comments below. We also hope you're inspired to leave a review or take a few secs to rate it in the iTunes store (we think five stars always look so pretty). It would really help us out.