November's Best: Zoo Lights, Polar Express Train, and More Cool Things To Do in Los Angeles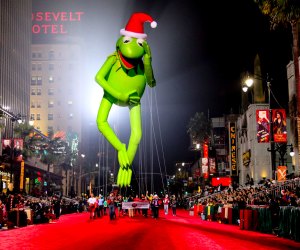 10/30/22
- By
Toby B
November brings plenty of things to do in Los Angeles as we gear up for holidays from Veterans Day to Thanksgiving and full steam ahead to Christmas. Don't miss our favorite kid-friendly events and activities in Los Angeles this month.
It's a good thing November gives us an extra hour of sleep right off the bat: with all the big-ticket events coming our way we're gonna need it. This month we can go on an epic adventure with Blue's Clues, explore the farms of Ventura County, and climb aboard for a Day Out with Thomas the Tank Engine. Encanto comes to the Hollywood Bowl, complete with the original voice cast. The holidays get an early start, with events sure to bring a twinkle to our eyes: Holidays at Disneyland, LA Zoo Lights, and the Surfing Santa Competition are just a few of the magical festivities coming our way.
For more fun things to do in Los Angeles this November, check out our Fall Bucket List or our Los Angeles Day Trip and Weekend Getaway Guide—and don't forget to book tickets for these Polar Express and Christmas Train Rides!