Magic Returns to the Skies above Hogwarts at Universal's Wizarding World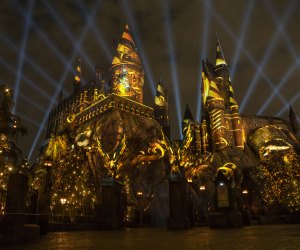 Themed Nighttime Lights over Hogwarts shows return for most school holidays; watch for them at Christmastime, summer vacation, and spring break.
Most of us can already think of plenty of reasons to visit Universal Studios, particlarly since it's the most centrally located major theme park in our Angeleno world. If you've visited the Wizarding World of Harry Potter, chances are you're also pretty infatuated with that. But just in case the bloom was threatening to fade from the wizarding rose, Universal continues to roll out new reasons to spend a day hanging at Hogwarts in the Hollywood Hills: during school holiday times, when people want to stay at the park later, crowds are treated to nightly special effects light shows at Hogwarts Castle which play out in the skies over the theme park.
This season, in addition to the dramatic displays that light up summer skies and the festive holiday lights at Christmastime—all accompanied by John Williams epic score—there is a new show in the rotation for spring break: Dark Arts at Hogwarts Castle. Shows repeat at least twice a night over spring break and Memorial Day weekend. Soon after, we expect the summer show will go into rehearsal. Annual passholders usually get a sneak peek when shows are prepping for the season; with an annual pass for locals priced at barely more than a single day's ticket, that's another great reason to buy in.
The light show puts a delightful cap on the end of an evening at Universal, and has the added bonus of no loud bangs or explosions, as fireworks shows at some theme parks have. It is a feast for the eyes, full of surprises, beautiful effects, and the occasional laugh. If you can position yourselves on Flight of the Hippogriff, the view is spectacular, but it's a treat to see from the ground in front of the Castle as well. Or if you live in North Hollywood or the hills near Universal, you might want to trim some hedges to get a private nightly show.
Originally published May 19, 2017 and updated as needed since