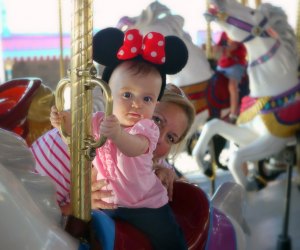 Disneyland, Disney World, California Adventure, Disney Cruises, Universal Studios Close for COVID-19 Crisis
OK, folks, this just got serious. I know we've all been glued to our screens tracking the inconceivable developments of this pandemic situation, watching major events cancel in real time, wondering if our kids are going to be attending school from the sofa next week, canceling trips to Europe, etc... But look out because COVID-19, aka the Coronavirus, just shut down Disneyland.
Disney Closures
The official press release from the Happiest Place on Earth assures us that there have been no reported cases of COVID-19 at the Disneyland Resort, but after reviewing the guidelines of the Governor of California's executive order, requesting gatherings of more than 250 people to cancel, Disney decided that closing Disneyland Park and Disney California Adventure Park is in the best interest of guests, employees, and the greater community. The two-park closure begins the morning of March 14 and continues through the end of the month.
The Hotels of Disneyland Resort remain open until Monday, March 16 to give guests an opportunity to make travel arrangements. Downtown Disney remains open for the time being.
OUR LATEST VIDEOS
Disney's initial announcement was followed by broader Disney closures: Disney World Resort in Florida is closing all of its theme parks, as is Disneyland Paris Resort, and all Disney Cruises from March 15-31. Beware the Ides of March, indeed.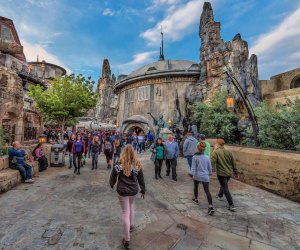 Star Wars: Galaxy's Edge is off limits for a while. Photo by Joshua Sudock/Disney Parks
If you were worried about Jack Sparrow and that poor girl in the Winnie the Pooh outfit, though, Disney will continue to pay cast members during the closure. Nice to know that recent ticket price increases are being used to treat employees right.
All Disney Resorts will work with guests who wish to change or cancel their visits, and provide refunds to those who have hotel bookings during the closure period. Call volume will no doubt be heavy over the next several days, so take a deep breath before calling Walt Disney Travel Company for questions and cancellations at 714.520.5050.
Universal Studios Closures
Shortly after Disney made its happiest-place-on-earth-shattering announcement, Universal Studios followed suit. Universal Studios Hollywood, Harry Potter's Wizarding World, and the Studio Tour are all shuttering as of Saturday, March 14, until March 28, 2020. Meanwhile down in Florida, Universal Studios Orlando is closing down at close of business on March 15 through the end of the month. In both locations, Universal City Walk and hotels remain open. Naturally these end dates are current estimates and may change as the situation develops.
Keep up with all the new developments as well as ideas for families navigating the challenges of the COVID-19 public health crisis in our Coronavirus Guide for Parents.