Disneyland Prices Go Up, But SoCal Residents Can Still Get Their Deal—For Now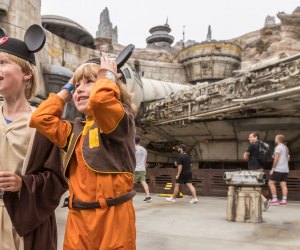 Everyone's talking about the new prices at Disneyland. It's understandable; the new 2020 Disneyland ticket prices released today reflect an increase of 3% to 13%, depending on the ticket or pass type. Annual passholders are bound to do some hard thinking about whether the Mouse House remains an affordable annual expense. More than a few people probably woke up this morning and kicked themselves that they didn't buy tickets yesterday. But here's the good news: if you're a SoCal resident, you can still get a great Disneyland deal at yesterday's price—if you act fast.
The new prices are higher, but not all the news is bad: for starters, the lowest price single day tickets remain unchanged at $104.
Other ticket prices have increased, both single and park hopper tickets, and the old three-tier system that determined just how expensive a given day would be to visit has been changed to a five-tier system. Also, the rumors are true: a top tier date single day Park Hopper has crossed the $200 mark at $209. It's a tough pill to swallow.
Annual passholders are facing an increase of anywhere from $20 to $100, depending on their pass type.
RELATED: Southern California Theme Park Guide
We probably shouldn't be surprised; with Disney California Adventure's new Avengers Campus scheduled to open this summer, the Disneyland team are probably counting on a response as big as last year's Galaxy's Edge opening. But what if you just want to spend a happy day at the Happiest Place on Earth before all of the Marvel excitement?
Here's where the best news comes in: you can still visit Disneyland in the coming months without spending anything close to the new prices.
Disney's three-day Southern California Neighbor Pass is still available for local families (that's zip codes 90000-93599) at the old price until May 18, 2020. The three-day pass costs $199 (this works out to just under $67 per day) and is good through May 21, 2020. The Neighbor pass does not need to be used on consecutive days, and it can be used at a different park each visit.​
If you've got friends in from out of town, their kids can get in on the action as well: kids ages 3 to 9 from anywhere at all can get the same deal, though out-of-towners must use the ticket within 13 days. Either way, these discounted three-day tickets need to be purchased in advance online, not at the gate.
So if you were thinking of a Disney visit this winter or spring, the moral of the story is don't delay. You get a second chance at the year's best ticket prices, but only until May!