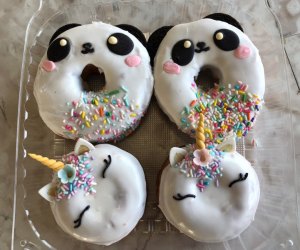 Unicorn Food: 10 Surprising Treats from Poop to Pizza
If you have little kids (or even big ones), you've undoubtedly been hit with the unicorn trend. Whether it's selfiies with rainbow sprinkles or a different sort of birthday treat, kids' appetite for rainbow-colored, glitter-filled edibles shows no sign of fading. Here are 10 places in LA where you can enjoy some unexpected silly, sparkly, edible treats in every color of the rainbow.
1. Chomp Eatery- Santa Monica
This eatery offers over 30 cold-pressed juices made fresh daily, but Chomp is perhaps best known (at least by Instagram users) for its rainbow grilled cheese sandwich. Don't worry that the sandwich, which is almost neon-bright, might not be good for your kids, though. Organic food dyes (beet juice is used to make the pink color) create the rainbow in Monterey Jack, cheddar, or pepper jack cheese before hitting the grill. Pro tip: order double cheese to get the best rainbow effect. If you're not up for grilled cheese, there are plenty of other tasty (and healthy) options, and Chomp has a commitment to use as many organic, locally-sourced products as possible (even the water is purified). This may be the healthiest unicorn option out there.
2. Creme Caramel LA - Sherman Oaks
This tiny artisanal bakery in the Valley deglamorizes unicorns by selling their poop, but never fear—the poop is really housemade meringue dusted with rainbow sugar. Even if you aren't as excited about the poop as your giggling kids are, get some for the kids and dive into the rest of the menu, which has many coffee options (yes, you can get your pumpkin spice latte here) and treats like upside down pie, bread pudding, and—the dessert that started it all—creme caramel. Before it was a restaurant, Creme Caramel LA made a splash at farmers markets, where people clamored for the flan. Free parking is in the back.
3. Milk - Los Angeles
Take two macarons, stuff them with ice cream, dip them in frosting, then roll the frosting in Fruity Pebbles cereal, and what do you get? Besides sugar shock? A gloriously colorful ice cream sandwich, that's what. These tasty treats aren't just for kids—there's a coffee toffee ice cream sandwich as well as grasshopper and Thai tea flavors. Best of all? You can make your own combos, too, which guarantees ultimate rainbow potential. Consider different colored macarons for the top and bottom for maximum impact.
4. The Cake Mamas - Monrovia
Who could resist ordering (The Cake Mamas are available online-only) a unicorn treat like this one? A rainbow vanilla cupcake with a cake batter and cotton candy frosting, this treat is rolled in unicorn rainbow sprinkles, topped with a gold horn, and sports little unicorn ears. Squee! Sure, it may be the first time you've spent $5 on a single cupcake, but the reaction on your kiddo's face will be priceless.
5. Cotton Hi - Koreatown
Soft-serve ice cream topped with cotton candy? What could be more unicorn-esque? Try rainbow-colored shaved ice or another colorful flavor, top it with cotton candy, and it's a sweet treat calling out to be Instagrammed. Be forewarned that parking here can be tough and there's usually valet parking ($2) on weekends, so maybe consider grabbing some Korean BBQ in the same mini-mall to make the trip worthwhile.
6. Dagwoods - Santa Monica
While rainbow-colored and glittery pizza may not sound appetizing to adults, kids who have doubled down on their unicorn affection will likely gobble up the unicorn pizza pies at Dagwoods. Fortunately, parents can always order some of the conventionally-colored (and tasty) Italian food that's also on the menu.
7. Creme & Sugar - Anaheim
Unicorn hot chocolate? Yes, please. After a photo of the eatery's unicorn hot chocolate—a pink and white confection topped with whipped cream, mini marshmallows, and tons of rainbow sprinkles— went viral, lines at Creme & Sugar went around the block. So it's no surprise that the tiny dessert cafe declared itself the Home of the Unicorn and added unicorn milkshakes and triple-decker unicorn cake to its menu. Want to take it up a notch? Order a unicorn ice cream cake for that special someone's next birthday party.

Photo by the author
8. Spudnuts - Canoga Park
While many places have unicorn-inspired treats, Spudnuts takes this unicorn thing literally. While much more expensive than a traditional doughnut ($5 each), these vanilla-glazed treats come with candy horns, adorable eyelashes, and decadent sprinkles. Plus, all Spudnuts doughnuts (even the unadorned ones) are made with potato flour, which makes them extra fluffy. Gluten-free doughnuts are available made to order, too.
9. Amazebowls - Downtown
While the Dragon Bowl Z doesn't sound like unicorn food, the bright purple of the all-natural pitaya fruit can be topped with flowers and candy floss -- and if you ask, you might be able to get the floss sculpted into the shape of a unicorn. Plus, it's an all-fruit (no sugar or juice added) treat. What's not to love?
10. Honey & Butter - Irvine
It was only a matter of time before macarons got the gussied-up treatment, and these are all-out fabulous. Flavors and designs change daily, so unicorns may or may not be on the menu—but we bet whatever is (corgis, Incredibles, roses, and other wild designs have appeared in the past) will be more than Insta-worthy.