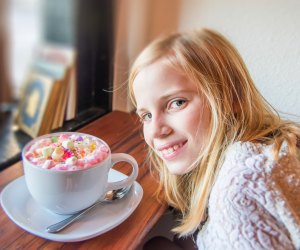 5 Tasty Dessert Shops To Try Now in Orange County
Easter, Valentine's Day, heck, why not Flag Day? Any holiday, birthday, or random down-in-the-dumps day can provide an excellent excuse for a sugary treat. Orange County offers plenty of places to satisfy a sweet tooth, and we were brave enough to take on the task of sampling and sharing some of our favorites. From unicorn hot chocolate to gourmet cookie shots to zombie-themed donuts, there's always some new and exciting way to indulge in decadent treats. Here are five of OC's hottest—or coolest.
Creme & Sugar
6312 E. Santa Ana Canyon Rd.
Anaheim, CA 92807
714.941.9059
This family-run cafe went viral earlier this year when a blogger took photos of its unicorn hot chocolate—a frothy concoction of pink and white hot chocolate with whipped cream, mini marshmallows, and an extra large helping of rainbow sprinkles—and then posted them online. Now there are lines out the door of this tiny shop and people driving all the way from Northern California to quench their thirst in Anaheim Hills. It's kind of your civic duty to try it.
Zombee Donuts & Bakeshop
802 E Chapman Ave.
Fullerton, CA 92831
714.879.1078
If your kids wish Halloween would come early this year, look no further than Zombee to curb their monster cravings. This unique donut shop serves up intricately frosted breakfast treats designed to resemble eyeballs, coffins, and, of course, zombies. But the biggest draw is the way these freshly baked treats taste. The shop boasts 20 flavors and sells about 1,800 pastries daily. Why not make it 1,801?
RELATED: Afternoon Tea Parties for LA and OC Kids
Sensitive Sweets
17431 Brookhurst St.
Fountain Valley, CA 92708
714.968.9169
This welcoming bakery is a haven for kids with allergies, thanks to a wide array of treats prepared without soy, dairy, gluten, tree nuts, or peanuts. Not only can allergy sensitive families stock up on mini-cupcakes, mint chocolate brownies, lemon bars, and doughnuts without worrying about an accidental reaction; they can also also purchase pancake, waffle, and cupcake mixes to prepare in the comfort of their own homes. Kind of like grocery shopping with benefits.
The Cookie Element
18166 Imperial Hwy
​Yorba Linda, CA 92886
714.983.7083
This charming shop is located in the heart of Yorba Linda, serving up every kind of cookie imaginable, from peanut butter chocolate to blueberry white chocolate to white chocolate coconut macadamia nut. There are also old standards like chocolate chip, oatmeal and raisin, and sugar cookies, in addition to homemade ice cream sandwiches, French macaroons, and milkshakes.
Popbar
2930 Bristol Street #A108
Costa Mesa, CA 92626
714.884.3735
Popbar isn't your average ice cream shop. This cute and trendy dessert shop draws big crowds for its decadent gelato on a stick that can be dipped in chocolate, white chocolate, or dark chocolate then rolled in toppings of your choice—including coconut shavings, caramel corn, crushed waffle cones, or sprinkles, to name a few. Still reading? Time to grab the kids and indulge!
Photo Credit: Bonnie Elliott / Short & Sweet Photography