Instead of Cake: 10 Birthday Party Treats Kids Might Love More than Cake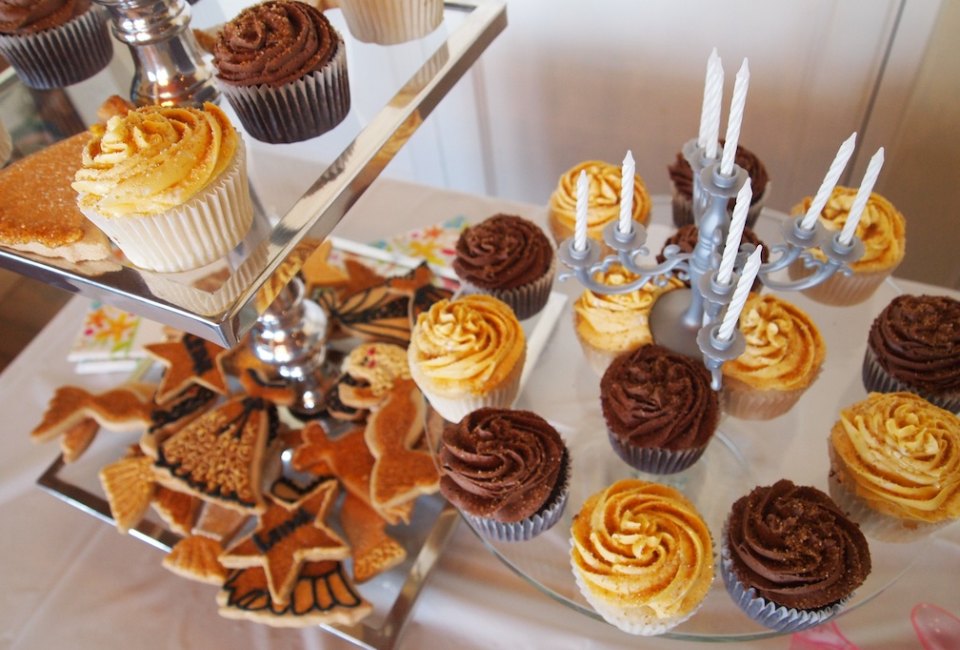 4/4/14
- By
Jennifer Cook Nice
Let them NOT have cake and eat it too. We've done the birthday cake a thousand times, and now it's time for something new. How about trying out one of the suggestions below? Perhaps they can serve as inspiration for thinking outside the pink cake box.
1. A Cupcake Tower (with an assortment of cupcake flavors) could eliminate the need for plates and forks, messy cutting, and the monotony of one flavor of cake. There are plenty of recipes for cupcakes online.
2. A Brownie Bunch (served on a silver platter with a miniature candelabra on top) could offer a child with a penchant for chocolate a wonderful alternative to chocolate cake. A brownie stand from a craft store could help with the presentation, and again, there might not be a need for plates and forks.
3. A cake pop tree in the shape of a pine tree or a pot of cake pop flowers would a nice and simple way to spruce up a birthday dessert table. There are many creative ways to decorate cake pops to match a certain theme or favorite passion. If the family's short on time, there are plenty of places in town to purchase cake pops, but a must try are the local and delicious Lollibakes by Diana Sproveri.
4. Cookie and ice cream sandwiches (vanilla ice cream mashed in between two homemade chocolate chip cookies) definitely meet a lot of kiddos' taste bud needs. As a bonus activity, kids could even participate in making the sandwiches. Families can get creative with their choices of cookie recipes.
5. Rainbow Jello cups (don't forget the whipped cream on top) add a lot of color to the party table. I have never made this particular dessert, but it does look like a delicious and beautiful treat. Remember that most Jello is not vegetarian friendly; if some guests need a vegetarian option, Cool Cups (available in Whole Foods, Trader Joe's, etc) offer a great alternative.
6. How about the Giant Cookie Cake (Mrs.Fields makes and delivers a mean cookie cake with a message on it)? This is what I would want for a cake. If you prefer to walk in to a shop to buy a cookie cake, try Cookies By Design.
7. Kids love an Ice Cream Bar (a buffet of Sundae style treats to create your own sundae). Invitees have a blast creating their own versions of the classic sundae. Toppings on the buffet can include sprinkles, whipped cream, sauces, nuts, strawberries, and bananas. Why not use some recommended ice cream shops to make your ice cream purchase?
8. A Donut Pile (Krispy Kreme glazes piled high in the shape of a sweet mountain). This quick and easy cake alternative is sure to please the biggest of sweet teeth, not to mention that there are Coffee Bean and Tea Leafs inside many Krispy Kreme Doughnut shops. Why not a grab some coffee for the grown ups attending the party?
9. You could make your child's favorite pie. There may be nothing better than a homemade chocolate pie. But everyone knows that pies come in all flavors, right? This could be a good opportunity to use organic seasonal produce.
10. Fancy cookies and brioche cinnamon rolls could be a wonderful addition for the tea party birthday. Tea cookies can be purchased online or locally. More English tea dessert ideas can be found here. There are many details that can be added to a tea party, such as nice china and silverware and fancy attire. Classical music can be playing in the background, setting the pace for a lovely afternoon tea.

Sign up for our free
newsletters.
Mommy Poppins is a family activity website that helps people find things to do with kids.
©
2023
MommyPoppins. All Rights Reserved.
mp-prod4-v4.32.99
We use cookies and other data collection technologies to provide the best experience for our customers.
Learn More
Sign up for the Mommy Poppins Newsletter today!