Top Parks for Eagle Rock Preschoolers: 9 Prime Playgrounds near the 90041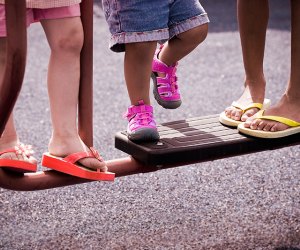 Need a new place to play? There's a whole lot of green space to explore north of Downtown and east of Los Feliz. If your days involve entertaining a toddler or preschooler in the Northeast Los Angeles region, specifically Eagle Rock, Highland Park, Mt. Washington, or even reaching up toward Glendale and Pasadena, you'll want to check out our list of the best local parks and playgrounds. Because moms cannot live by Griffith Park alone...
Eagle Rock Rec Center
1100 Eagle Vista Dr.
Los Angeles, CA 90041
It's large, fenced, and you'll find familiar faces here if you're an Eagle Rocker. Take the jogging stroller and hit the spacious fields. There are a lot of classes, sports programs, and events held at the ER Rec Center, and the local MOMS Club often meets at this park. Con: Motor home encampments around the Rec Center might make some parents nervous.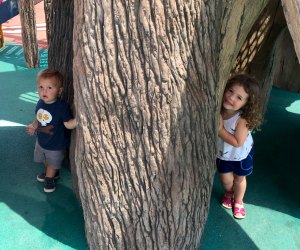 Ruby and Gus having a blast at the tree house-themed park.
York Park
4596 N. Ave 50
Los Angeles
, CA 90042
A new addition to hip Highland Park, this creative play place sits across from Café de Leche – perfect for parents to grab coffee. The former gas station lot (yes, really) is totally fenced in, plus there's no sand to clean up later. Interesting features include musical equipment and a giant snake slide. Charlie's taco truck is often parked right in front for a quick and easy bite to eat. Or head down the street to Town Pizza, Highland Cafe, Scoops, or Donut Friend! Cons: It gets pretty crowded, and limited metered street parking can be difficult.
Reese's Retreat at Brookside Park
360 North Arroyo Blvd.
Pasadena, CA 91103
Behind Pasadena's Rose Bowl Aquatic Center is the expansive "Pirate Park," nicknamed for its ship-themed structures. There's plenty of sand and water play, so be prepared to get dirty. Con: It's so large (and somewhat crowded) it can be hard to keep track of kids.
Yosemite Recreation Center
1840 Yosemite Dr.
Los Angeles, CA 90041
A great staple, Yosemite is a manageable size, has modern equipment, and is centrally located in Eagle Rock. Plus it has its own parking lot. Cons: older kids and teenagers take over the play structures after school. Look out for broken glass and questionable behavior.
Montecito Heights Recreation Center
4545 Homer St.
Los Angeles, CA 90031
NELA residents are buzzing about this newly remodeled Montecito Heights park. Locals love the innovative equipment, especially the fun tandem swings. There are always plenty of other kids for little ones to befriend. Con: Eagle Rockers may not be familiar with the neighborhood.
RELATED: Kid-Friendly Happy Hours in Los Feliz and Silver Lake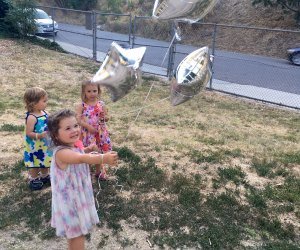 Ruby, Paloma, and Lyla celebrating a birthday at Cleland.
Cleland Avenue Park
4800 Cleland Ave
Los Angeles, CA 90065
Mt. Washington kids love classic Cleland; it's sandy, but it's also small, fenced, and shady. Swings, slides, and a bridge are the main attractions. Cons: No bathroom. And if you don't love dogs, skip it; the field area doubles as an unofficial off-leash dog park.
Garfield Park
Mission St and Park Ave
South Pasadena, CA 91030
A South Pasadena park with an old-timey American feel, Garfield is a solid choice. It's clean, well-maintained, and very family friendly. Lots of street parking and plenty of grassy spots to spread out a picnic. Plus, kids love the bubble man who provides soapy entertainment. Con: It can get pretty crowded.
Glenoaks Park
2531 E Glenoaks Blvd
Glendale, CA 91206
This lovely park in Glendale is so nice for summer thanks to the adorable wading pool, complete with a lifeguard. There's an older kids' play structure, plus one for younger children. In the middle of a quaint residential area, this leafy park feels safe and secure. Con: Cell phone reception is spotty, and the wood chip ground covering can give little ones splinters.
Rio De Los Angeles State Park
1900 N San Fernando Rd.
Los Angeles, CA 90065
Located in Cypress Park, this urban oasis has an awesome splash pad in the summer. Separate play areas (one with rubbery ground covering, and one with sand) mean lots of options to play. There's plenty of parking here as well. Con: Be prepared to say "no" or shell out some cash to the vendors selling toys, balloons, and treats.
RELATED: 30 Things To Do with Kids in Pasadena
(Top photo by Todd Morris via flickr; all others by the author.)