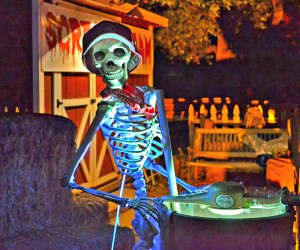 Two LA Halloween Haunts Give up the Ghost in 2019
There's no way to sugar coat this: the Griffith Park Ghost Train and Boney Island—two of the most family-friendly haunts of the LA Halloween season—are both taking a hiatus this year. The two spooky-not-scary experiences seemed perfectly paired last year, when they first became neighbors in one festive corner of Griffith Park. We had been looking forward to seeing how the partnership would grow this season, but alas the skeletons are staying in the closet.
Boney Island evolved over the years as an epically popular lawn haunt in Sherman Oaks, eventually outgrowing its neighborhood and taking up residence in the park, adjacent to the even-more-popular Halloween train ride hosted by Los Angeles Live Steamers. The pairing was inspired, giving families a full evening of Hallowonderful entertainment, with loads to enjoy before and after riding the Ghost Train.
Sadly, recent days saw first an announcement by Boney Island followed by a Friday the 13th announcement by the Ghost Train crew, confirming that both haunts will go dark in 2019. The Boney Island message maintains a tone of optimism, referring to challenges securing a venue, but a commitment to finding another venue for 2020. The Ghost Train's release on unlucky Friday was a little more disheartening, citing political disputes within Los Angeles Live Steamers. The tot-friendly haunt has long been a labor of love for some club members, but evidently others are not big fans. We can only hope that the Scrooge faction has a change of heart before next Halloween; we'd hate to see a generation of kids grow up without this incomparable annual treat.
In the meantime, we recommend trying one of LA's other Halloween haunted rides, which run the gamut of scare tolerance and keep the spirit alive. Happy Haunting!