SPONSORED
Holiday Road's Immersive Light Show is a Must-Do for Los Angeles Families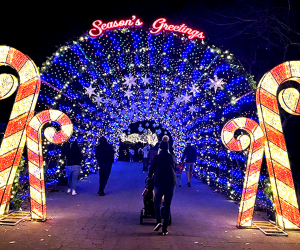 Catch larger than life holiday installations, thousands of Christmas lights, festive food trucks, seasonal drinks, and fun for all ages at Holiday Road's immersive LA event.
"This is the best night of my life!" my three year old squealed as he skipped through a tunnel of twinkling lights.
My almost-two year old pointed towards the sparkling trees and illuminated tunnels with wide eyes, murmuring the word "pretty" under her breath.
My six-year-old, ever practical, turned to me and said "When you said we were going to look at lights, I thought you meant lights on houses. This is way more impressive."
Their glowing reviews all point to one fact: Holiday Road in Calabasas is one of the top things to do for Christmas and the Holidays in Los Angeles! The immersive holiday light show is at King Gillette Ranch in the Santa Monica Mountains in Northwest Los Angeles through December 30, 2022.

What to Expect Visiting Holiday Road
Tickets for Holiday Road are timed-entry, so it's a good idea to show up a little bit early. The "pre-show area" has Instagram-worthy photo ops, top LA food and dessert trucks, wooden picnic tables, and space heaters to help us Californians from getting too chilly.
My eager kids flocked to the different photo areas–sitting next to a plastic Santa, greeting a massive polar bear, and cuddling with a giant reindeer–then made their way over to a festive face painting booth and "Santa's Workshop" (packed with souvenir light-up toys to take on the trail, of course). Meanwhile, I eyed the winter market, filled with holiday gifts, and a bar in the back serving up fun Christmas cocktails, wine, and beer, plus hot cocoa and cider for the kids.

Walking the Illuminated Holiday Road Trail
Holiday Road is an immersive walk-through experience that sticks to a well-marked path through King Gillette Ranch in the Santa Monica Mountains in Northwest Los Angeles. The walk is flat and easy, but takes about 45-minutes to an hour. If you are bringing little ones, I highly recommend a stroller. We were very thankful we threw ours in the car at the last minute.
From the first grove of brightly colored trees, my kids were in awe. They spent most of the walk with their mouths gaping and their eyes wide. Highlights included several dazzling light tunnels, a grove of trees dripping in white lights that "looked like Frozen," a musically-coordinated light show with a giant Christmas tree, and beautiful falling "snow."
We loved stopping to take pictures at the unique and creative displays, and simply soaking in all of the fun and festive decor. Halfway through the walk we found another small bar with hot drinks and portable bathrooms, which was a lifesaver for cold hands and a few kids who really needed a potty break.

Holiday Road is Perfect for All Ages
Each of the winter holidays is featured on the trail, so whether you celebrate Kwanzaa, Hanukkah, or Christmas, there is truly something for everyone. The path is ADA accessible, as well.
Once we completed the loop, we went back to the pre-show area to take more photos and enjoy the ambiance. We could have stayed for hours if it wasn't almost bedtime for the little ones.
All in all, Holiday Road is an incredible way to kick off the holiday season, and this Christmas-loving mama got all the feels from this immersive winter wonderland. I would absolutely go back and plan to recommend it to all of my friends.

Visiting Santa at Holiday Road
On select nights, Holiday Road has live carolers on-site to bring an extra measure of musical holiday cheer. Rumor also has it that Santa will be dropping by some evenings to talk to the kids and pose for photos. His sleigh touches down December 1-3, December 9-10, December 16-17, and December 22-24.

Tips for Visiting Holiday Road
Parking is plentiful on site and is an easy walk from the entrance. It is in a dirt lot, and each vehicle requires a parking pass. Purchase the pass when buying tickets online for an additional $6.95. To access the parking lot, drive past the lights on Mulholland Way. There are plenty of signs guiding you to the large lot and parking attendees to help you find a good spot.
Digital tickets and parking passes can be scanned from your smartphone.
Book a time block that works for your family and arrive within a 30 minute window of the time on the ticket. Exceptionally late attendees may be turned away.
Outside food and drink is not allowed in King Gillette Ranch. But there are plenty of delicious treats and eats to purchase at the trucks on property.
Have a charged phone with plenty of available storage. You're going to want to snap a lot of photos here!
There are not a lot of places to sit down once you're on the trail. Visitors are mostly expected to keep moving.
Bring a stroller. The trail is flat and paved, but it is a decently long walk around the loop.
Bundle up! It's a bit chilly in the hills of Calabasas. We were all thankful we had on warm coats for the walk, and one of my kids wished he had brought a pair of gloves along.
Holiday Road Schedule and Tickets
Holiday Road is running from Friday, November 25th to Friday, December 30th, with doors opening at 5:00pm and closing at 9:30pm. Designated time slots for entry start at 5:30pm and end at 8:00pm, and advanced ticket purchase is required unless the event isn't sold out that day. If tickets are available, you can purchase them on-site for a premium.