Spirit's Promise: A Horse Farm and Rescue on LI's East End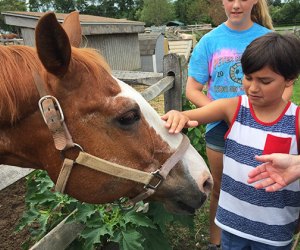 It's My Little Pony turned real life at Spirit's Promise Equine Rescue and Rehabilitation, a facility for abused, neglected or unwanted farm animals. It offers animals a renewed lease on life while providing a rewarding and educational destination for visitors.
Want to get up close and personal with other animals? Peruse our list of animal farms and petting zoos on Long Island. Looking for more East End fun? Check out our guide to the Hamptons and North Fork.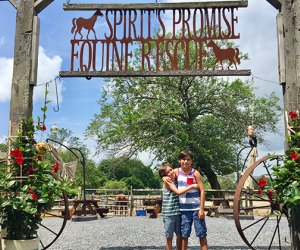 The welcoming atmosphere at Spirit's Promise begins at the main entrance.
An early Saturday morning on the North Fork found my family turning to this equestrian oasis for an interactive and informative visit. Eloquent tween-aged volunteers led our farm tour. First, we made our way to the feeding barn, where our boys, ages 6 and 9, handled feed and learned about daily medication, dental care, and hoof maintenance. Bonus—we were able to handle some real horseshoes.
It was cuteness overload as we greeted the farm's lone pot-bellied pig and a lamb named "Mary." They sauntered around their pen along with friendly goats, who enjoyed chewing on the boys' shirts.
We were then guided in and out of pens as we learned about the various types of horses. Each animal has an incredible (but often sad) rescue story, creating teachable moments for children. You can pet them, hug them, and even take selfies. One smooched my ear while I was in full selfie mode. Some horses were uber-friendly—like overzealous puppies—while others were completely disinterested in our presence. Don't worry, your gracious guides keep you safe along the way.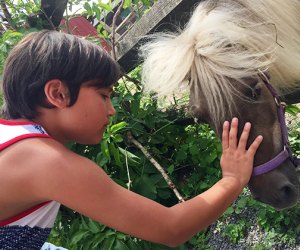 "Izzy" the donkey is a celebrated resident.
As we were led into one horse pen, mini horses (seek out "Christmas" and "Sweetie," who are both friendly) and burrow donkeys roamed freely. We scanned the area and quickly noticed a lone goat—"Darla" —who thinks she's a horse and prefers to stay with the minis, not her own kind. Nor does she enjoy people, so we kept our distance. The larger horses—while overwhelming in size—were oozing with warmth. "Major," a former police horse, is living out his post-9/11 retirement here. His standout striped snout and wet "hmmmmfs" were adorable. "Skipper" and "Sky," an inseparable duo, were also favorites of ours. Also, you simply can't miss "Sky," a horse with a cow-colored coat. We half-expected a "moooo" instead of a "neigh." These animals help with Spirit's Promise's equine therapy program for cancer survivors.
Although there is no age restriction, the experience is not stroller-friendly. Wear durable shoes to slosh through the fields. maybe even rain boots. Note: There are no pony rides at this farm.
You can visit on Saturdays or Sundays between 10:30am and 3:30pm. Call ahead for a reservation at 631-875-0433. Tours are $25 for the family, and all profits go toward animal care.
Getting there
Spirit's Promise is located at Blossom Hollow Ranch on Sound Avenue in Riverhead. Take the Long Island Expressway to Exit 72. Follow Twomey Avenue north to Sound Avenue. Turn right and follow east to the intersection with Osborne Avenue.
Nearby
The North Fork is ripe for picking in the fall. From apples to pumpkins, and more, set out for an adventure on the East End.
RELATED: Horseback riding on Long Island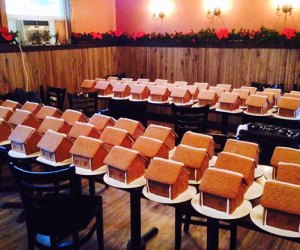 Get schooled in the art of seasonal house decorating at Gingerbread University. Photo courtesy of the shop
Gingerbread University — Riverhead
Roll up your sleeves and revel in the gooey mess at this DIY food decorating spot. Kids and adults can create their own edible art projects in the form of gingerbread cookies, houses and specialty pieces.
Riverhead Raceway — Riverhead
Check out one of the country's oldest stock car tracks, with a 1¼-mile, high-banked oval course that is home to NASCAR racing, demolition derbies, pro trucks, and more. The season runs through mid-October.
Cooperage Inn — Baiting Hollow
The ongoing outdoor fall festival here provides a beer-garden feel. You'll have to tear your kids away from their super-soft hay playground. Enjoy some local eats and treats, a beer, and soak in the live music—dancing is welcome.
Unless otherwise noted, photos by the author.