Review: I Heart Mac and Cheese Is a Tasty Addition to Patchogue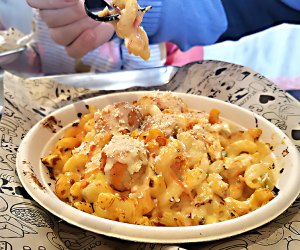 Comfort food lovers have a new reason to lace up their sneakers: I Heart Mac and Cheese has made a cozy home on Long Island.
Soft and melty pasta can warm your tummy at the new location in The Village Green in Patchogue, with additional locations expected to open soon in Syosset and Bayside, Queens. The chain, with stores and food trucks in Florida and Georgia, is known for its healthy and zesty twists on the classic baked delight.
For more fun Long Island dining with your littles, check out our roundup of Long Island restaurants where kids can eat free, part of our Long Island kid-friendly restaurant guide.
There's no fidgeting while waiting for the waitress to take your order at I Heart Mac and Cheese. Kids and adults get in line to choose the base of their cheesy treat from options such as pasta, tater tots, quinoa, cauliflower, broccoli, and lettuce. Diners can then pick unlimited veggies from among tomatoes, pickles, corn, and more. Next, diners can select their cheese sauce and a protein such as bacon, ham, or short ribs. Then comes the melty surprise as your server slides your tasty concoction into the oven and presents it to you it in all of its bubbly originality.
All ingredients are included in the base price of $9.75 per bowl, unless the protein you select is lobster. Drinks are charged separately.
If you have mini or picky eaters, you might want to order a kid's meal, which includes grilled cheese, tomato soup, or plain mac and cheese as well as a fountain drink for a mere $5.95. For less than $4 each, choose from among sides such as cheesy broccoli and tomato soup. Desserts include freshly baked chocolate-chip cookies and gluten-free brownies.
If you are looking for a restaurant-style dish but aren't sure which ingredients might meld best, chef's specials like Baked Buffalo Chicken or Philly Cheese Steak select the right meats, cheeses, and veggies to complement the theme and satisfy your rumbly belly.
RELATED: Other Great Things to Do in Patchogue With Kids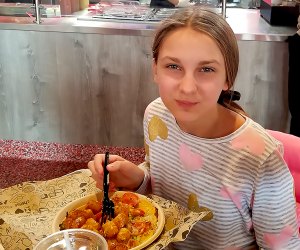 Kids can customize their specialties at I Heart Mac and Cheese.
Big kids will love being able to tell the server exactly what they want on their dish, rather than choosing it off of a menu. Moms and dads will enjoy picking healthy or spicy options like quinoa or mojo sauce while their kids feast on friendly carbs like pasta and tater tots. Parents with strollers might prefer less-crowded times during the weekends as seating fills up fast.
There are a few public parking lots at the Patchogue location that are busy on the weekends. We were able to park right in the Village Green, where I Heart Mac and Cheese is nestled just under some neat-looking new apartments. My kids loved playing on the steps right outside the restaurant even in the winter chill.
If you are feeling especially snuggly, I Heart Mac and Cheese will deliver food to your door through Deliver Dudes or Uber Eats. Chafing dishes with all the fixins can be picked up to cater your next party for less than $50 a tray.
Getting there
From the west, take Sunrise Highway (Route 27) to Exit 52, Waverly Avenue south. Follow Waverly south to Montauk Highway. Make a left on Montauk Highway and follow east until you arrive in downtown Patchogue. I Heart Mac and Cheese is located in the New Village development on the left. From the east, exit Sunrise Highway to Exit 53, Route 112 south. Follow 112 to Montauk Highway. Turn right on Montauk Highway and follow to New Village. The Long Island Rail Road's Patchogue station is a 10-minute walk to New Village.