Xplore Family Fun Center Adds Ropes Course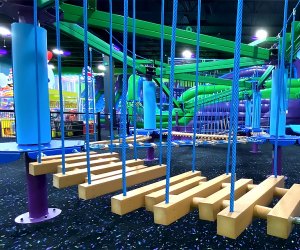 The newly installed elevated roped course makes up approximately 30' x 40' of space. Nothing was replaced, instead the toddler area was relocated to a more spacious section of the center. The children work their way through obstacles about 4' off the ground, and the zip line is a few steps above that.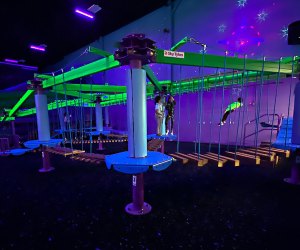 Glow Night is an exciting way to explore the ropes course.
There is no extra charge for the ropes course, this new attraction is included with the entry fee (and is included in birthday party packages). While it is available unlimited throughout a guest's stay, the staff requests that the ropes course be used in 15-20 minute increments if people are waiting.

It is for children 48" or less. Socks are required when in certain play areas, however shoes are required for attempting the ropes course. Staffers can help locate if they're located in another portion of the center.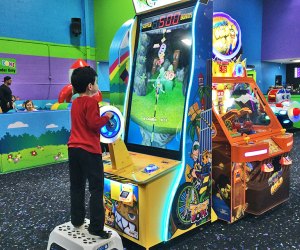 Take a break from jumping and sliding and check out the games. Photo by Sydney Ng
XPlore also has a 30-game arcade with e-tickets to keep kids busy, as well as a Laser Frenzy game, a 20' high multilevel soft playground, three giant inflatables, a toddler zone with softer play toys and a cafe for refueling.
Located north of Route 347, Xplore Family Fun Center is about 10 miles north of Long Island Expressway Exit 64. It also can be accessed via the LIRR's Port Jefferson line. It is open seven days a week from 10am to 7pm, so check out this play center if you're in the Port Jefferson area or are eager to experience all the community has to offer.
Unless notes, photos courtesy of Xplore Family Fun Center