Kid-Friendly Coffee Houses in the Hamptons & North Fork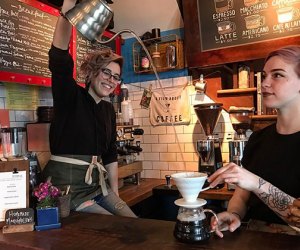 The East End of Long Island has no shortage of coffee houses, where local artisanal flavors blend with Manhattan sensibilities to create some of the best caffeine creations. But where to go if you're absolutely longing for a caramel macchiato (and don't want to drink it on the run), but are all wrapped up in mommy or daddy duties?
Along with kid-friendly eateries in the Hamptons and North Fork, there are also a handful of family-friendly coffee shops on the East End that will let you indulge your craving in an atmosphere sure to delight your little ones, and we've rounded up a few of our favorites. For more family fun in the area, be sure to check out our Hamptons & North Fork Family Guide.

Aldo's
103-105 Front Street, Greenport
Mocha is the word at the artisanal shop of Sicilian-born and French-raised Aldo Maiorana; in fact, his unique blend has been described as a bit of heaven in Greenport Harbor. Locals know to try the espresso as well – strong and flavorful. In cooler weather, kids will delight in Aldo's original hot chocolate made from chocolate bars melted as you wait. Come for the coffee and chocolate, but don't leave without treating the kids to a fresh scone or biscotti. In the summer, enjoy a fresh roast on a harborside bench, then walk the kids next door to Greenport's antique carousel.

North Fork Roasting Company
55795 Main Road, Southold
631-876-5450
The latest artisanal shop on the North Fork, the Roasting Company is spreading the good news of the ground bean one cup at a time. Owners Jennilee Morris and Jessica Dunne team up to offer exotic blends, delicious pastries and a hot chocolate with homemade marshmallows kids will flip for. The shop features new and vintage adornments, and the owners will take time to describe to patrons young or old the coffee-making process. While you're there, save time for Sinatra, the house's playful Labrador retriever, and sit outside in the courtyard that has been known to host a party or two.

Sagtown
78 Main Street,Sag Harbor
631-725-8696
Despite its obscure alleyway location, Sagtown remains a go-to destination for coffee in Sag Harbor. Pastries, snacks, tea and, of course, coffee blend with the community's artsy orientation to create a charming hipster vibe. Sagtown boasts of its "Coffee Table," where books, DVDs, paintings and more, including children's material, are shared. It also hosts a Saturday open mic night for singers, poets, magicians and child-friendly comedians. It's much the same atmosphere in its newly opened second store on Montauk Highway in Montauk.

Hampton Coffee Company
860 Montauk Highway, Water Mill
631-726-2633
The Water Mill destination of this growing company has retained all its mom-and-pop quaintness. Food, including dessert, is served all day, and weather permitting the roastery opens its farm-like courtyard to visitors. It serves small-batch, handcrafted coffee and boasts of its child- and pet-friendliness. Have a cup on a picnic table then take a tour of Green Thumb Organic Farm, a Water Mill landmark, where kids can learn all about sustainable agriculture.

Left Hand Coffee
83 S. Elmwood Ave., Montauk
631-238-5434
You can't beat the location of this 2015 Montauk addition, a mere two blocks from the ocean. The replacement for the closed Coffee Tauk features an assortment of cold brews and biscuits and cupcakes for kids to delight in on their way to the beach. The coffee bar is made from almost exclusively repurposed materials, including driftwood recovered from Montauk beaches.
Top photo courtesy of North Fork Roasting Company