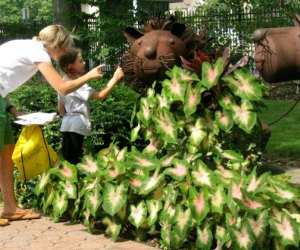 Enrichment Classes for Long Island Kids to Prevent Summer Slide
A Long Island summer's in full swing; and while we definitely want our kids to have fun in the sun, many parents are concerned about their children losing all that they've learned over the school year. Fortunately, there are many enrichment programs across Long Island, all designed to avoid the dreaded "summer brain drain." Students can not only improve their reading, writing and math skills, but also explore interests in art, music, science, and more. And for other programs for kids, check out our Long Island Classes and Enrichment Guide.
Mathnasium — Multiple locations (Lynbrook, New Hyde Park, Syosset, and more)
​Mathnasium enables kids to focus on sharpening their mental math skills. Students develop and maintain the knowledge and confidence needed to hit the ground running when school begins in the fall. Mathnasium is a learning center where kids go to catch up, keep up, or get ahead in math. Programs run year round for kids of all ages.
All About Kids — Plainview
255 Executive Drive
Summer programs include Sensory Motor Social Groups, aimed at building confidence through social play, (Ages 3 -10) and a Happy Campers! camp experience (sensory time, circle time, crafts, obstacle course, and more) for one to six weeks. To register, or for more info, call 516-576-2040 x143.
Eye Level — Multiple Locations (Williston Park, Hicksville)
Eye Level focuses on mental exercises and activities that will help your child remember and even advance further over the summer in both reading and math. The centers also pay special attention to helping kids struggled with the new Common Core standards.
FriendZone Kids — Rockville Centre
It's the mission of FriendZone Kids to assist children who may need extra help in developing social skills. There's still time to register kids for 6-week summer socialization sessions. Additionally, tutoring services in all subject areas are led by certified teachers. Sessions held at a sports rec center and sometimes kids use the rec center equipment in game play. For kids ages 5-14.
Hofstra Learning Institute — Hempstead
Hofstra University Summer Camps is offering classes in math skills, reading, writing, computer skills and more through the Learning Institute. Campers spend one-half of each day participating in their area of specialization and the other half in planned recreational activities, which includes a period of instructional swim in our Olympic-sized pool.
Hofstra's Let's Explore — Hempstead
The University's Museum runs "Let's Explore," in which backpacks offer activity-filled ways for children (ages 5-12) and adult companions to explore the outdoor sculpture collection on the University's beautiful campus. Children become detectives and have fun while discovering more about these works, and create their own artwork to take home. You do not need to sign up in advance for the backpacks or the Great Art Caper. Pick up all backpack and caper activity materials at the Emily Lowe Gallery during open hours year-round until 3 p.m. Return all backpacks by 4 p.m. Gallery Summer Hours (May 16-September 3, 2017): Tuesday - Friday, 11 a.m. - 4 p.m. Closed Weekends.
JEI Learning Centers — Multiple Locations (Floral Park, Great Neck, Stony Brook, and more)
JEI offers classes in Math, English and Critical Thinking for children from pre-k through eighth grade; classes are held in small groups. For summer prep classes,each center has a curriculum in place for the grade the child is entering for prep. There's also a morning camp which runs 5 days a week and includes all three subjects mentioned above; as well as a weekly science project, art project, and other fun activities.
SCOPE — Multiple locations
SCOPE offers a variety of summer enrichment programs in several school districts on Long Island, including Commack, East Moriches, Island Trees, Long Beach, Manhasset, Smithtown and more. Here's a list of Nassau schools that participate; and Suffolk's list is here.
Long Island Science Center — Rocky Point
You can still register your child for summer science camp programs. (For those entering 1st through 4th grade) Each camp session is one week, and ones still available for your budding scientist include Zoology, Engineering, and Forensics. If you're already a museum member, or register siblings, there's a camp discount. From 9:00 a.m. to 12 noon. Small snack included.
Kumon — Multiple Locations (Hicksville, Syosset, Huntington, and more)
After School learning programs at every Kumon center actually run throughout the year, ages 3 through high school. Kumon offers free parent orientation and placement programs, fostering independent leaning in their math and reading programs. Registered kids work on carefully-designed worksheets with an instructor. Open enrollment.
Village East Gifted (VEG) — Huntington, Roslyn Heights
VEG is celebrating its 10th year of offering accelerated studies in all academic areas to gifted and talented students ages 4 to 16. After school, weekends and summer programs include STEAM, Language Arts, Global Studies, Writing/Grammar, Latin, SAT/ACT Vocabulary, Geography, Math and Creative Problem-Solving. A day program is offered to gifted nursery/kindergarten-age children as well as enrichment classes for ages 2 to 3.
Images: Hofstra Learning Institute/Hofstra University Museum
A version of this article was first published in 2014, but it has since been updated.