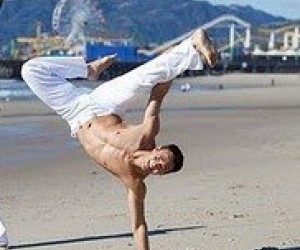 Mommy Poppins $15 Discount at Veterans Day Beach Camp
Venice del Play Beach Camp (which, in spite of the name, meets on the beach in Santa Monica) is always a great option for school holidays. The yoga, boogie board, and sand castle experts are out there in the California sunshine on Veterans Day, Martin Luther King, Jr. Day, Memorial Day, and any other time that school is closed - winter, spring, summer, or fall. All you have to do is call.
Guaranteeing a 5-to-1 ratio of adults to children is important when there's water involved, which explains why the camp charges $90 for a full day of fun. However, Venice del Play is offering Mommy Poppins readers a $15 discount for a limited time! Grab this deal for Veterans Day Capoiera Camp and pay only $75.
Just mention Mommy Poppins when booking a spot. Then head off to work knowing that someone you love is enjoying the beach!