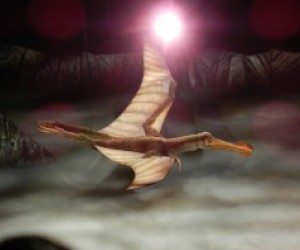 Walking with Dinosaurs: A Roaring Good Time
I can still remember the thrill when I first saw Jurassic Park, the whole new world that first time that Steven Spielberg brought dinosaurs out of the past and moved them around on a screen for us in a way that did not look remotely animated. It was breathtaking and would have been an amazing thing to show a child - if not for all of the violent death and destruction brought on by Spielberg's intensely PG-13 plot. If only there were a way to bring dinos to life with that same impact, but in a way that little ones could better handle - perhaps even learn from. And with that, we bring you Walking with Dinosaurs.
Walking with Dinosaurs is an Australian stadium show that's been touring the world since 2007, with a reputation for prehistoric spectacle that precedes it. There is no high-adrenaline action movie plot to worry about in this show; it's not sci-fi but sci all the way, with a likeable, Crocodile Dundee-ish paleontologist character leading a tour through the earth's history, covering geography, climate, plants, and critters, including the entire rise and fall of the dinosaurs.
The stars of the show are animatronic, life-sized dinosaurs operated by people, with a level of reality that allows for suspension of disbelief to imagine them real, or the relief of clues that they're not real to keep them from being too, too scary. The result is an awesome opportunity to experience the real scale of the dinosaur age, in a way that books, movies, and even museum exhibits can't recreate; if your family sits close and a pair of brachiosauruses reach over to check out a family six rows back, it's an experience your kids will not soon forget.
That said, the question on many parental minds is bound to be, "is this show too scary for my little ones?" Obviously every child is different, but, in general, if your kids' love of dinos is on a par with their love of Thomas the Tank Engine, this show might be a little much; I'd call 4 or 5 the youngest recommended age. Our events editor, Toby, brought her 5-year-old, who enjoyed the show with some preparation about what the dinosaurs really are, some earmuffs and a flashlight nearby to combat loud/dark moments, and seats relatively high up for a safe perspective out of the action. If your kids are bothered by loud noises, be warned that there are some very loud battles and storms in the show.
At the other end of the scale, I brought a pair of 10-year-olds - who loved the show, learned a lot, and were at no point remotely frightened by even the most perilous battles. We sat quite close to the stage, and seeing the giant reptiles from that perspective is a great way for older kids to experience the phenomenon. In general, Walking with Dinosaurs handles the balance of scary to cute and educational to fun very effectively for anyone in the 5-12 age range.
But what is the phenomenon? The audience gets to experience everything from the hatching of baby Plateosauruses and the flight of the Ornithocheirus over a newly formed Atlantic Ocean, to battles between the largest dinosaurs and, of course, the foreboding stomp of the Tyrannosaurus Rex. Along the way, the earth's plates shift, the climate changes dramatically, and plant life becomes vastly different; we got to experience all of that with an impact that went way beyond anything a book or even film could depict. The battle scenes - and there were several of them - were quite dramatic, with lighting, sound, and other special effects that made clear how dangerous each situation was. Dino fights in this show are loud, and sometimes one dino eats another (including one baby fresh out of the egg), but there is a repeated theme of mommy dinos arriving in time to rescue their young from sticky situations. And even the big, bad T. Rex is made slightly less menacing by being a mommy.
There are moments that are decidedly adorable, interspersed with moments that are scary, mean, or outright disgusting. It's a little like Jeff Goldblum said in that Jurassic Park sequel, about it starting with the oohing and the aahing and finishing with the running and the screaming - except that Walking with Dinosaurs always comes back to the oohing and aahing at the end. And on that note, I would recommend waiting a moment when the show finishes, because there is a curtain call, and it does involve oohing and aahing.
Walking with Dinosaurs is divided into two 40-minute acts, with a 20-minute intermission; the show plays the Honda Center in Anaheim from Sept 3 - Sept 7 and Staples Center from September 11 -14, 2014.