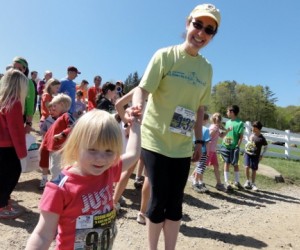 Turkey Trots for Kids: Where Westchester Families Get Active for a Good Cause
Across Westchester County, families will be celebrating Thanksgiving this month with a fun and healthy tradition—the turkey trot. No longer a fancy dance step, the turkey trot is an annual ritual in many places—and occasionally involves an actual frozen turkey! Running a 5K can torch 300 to 500 calories, depending on individual person and his or her current fitness level. That's enough for a second helping of Uncle Jim's famous pumpkin pie, extra gravy on everything or a cup full of stuffing!
We've rounded up some of the best turkey trots around Westchester, so what are you waiting for? Get out there and preemptively work off your Thanksgiving dinner while raising money for some good causes. Be sure to click through to the event listing for even more details. And look for more fall fun on our Event Calendar and our November GoList!
Turkey Run - Peekskill
Saturday, November 21, 2015
The Gazebo on North Division Street
For the past few years, Peekskill has really been putting the turkey in the Turkey Trot. Registration for this fun run is FREE, but the admission ticket is a frozen turkey. Think you'll get to drop that turkey off in a nice chest freezer and go run your race? Think again. After weighing the turkey at the beginning of the race, you will then have to find a way to carry it for the duration of the run. Teams, costumes and creativity are highly encouraged--as is showing up as a spectator to watch people run through the streets of Peekskill with frozen turkeys tied to their back, held aloft or stuffed into Moby wraps. All turkeys are then donated to CHOP (Caring for the Homeless Of Peekskill). The freezer will be at the finish line.
Mamaroneck Turkey Trot - Mamaroneck
Sunday, November 22, 2015
Harbor Island Park
Help Mamaroneck celebrate its 49th Annual Turkey Trot by running the "certified flattest course" in the county. The 1 Mile Gobbler Run kicks off at 9:45 for kids ages 12 and under and the 5K Turkey Trot begins at 10:15. After the races there will be awards and hot turkey soup in the pavilion for runners to—wait for it—gobble up. Lots of water will also be available. Register online before November 19 and save up to $5 per registrant.
Peter Oley Turkey Trot - Irvington
Sunday, November 22, 2015
The Peter Oley Turkey Trot raises money for the Bedford Community Food Table and Pantry. First male and female finishers will receive a turkey! Online registrants can save $5 per registration.
Croton Turkey Trot / Fun Run - Croton-on-Hudson
Thursday, November 26, 2015
Carrie E Tompkins Elementary School
Get out, get active and get back to the kitchen quickly with this short Thanksgiving Day fun run. Designed primarily for children and families, this trot/run/walk is only one mile long. The run kicks off at 9:30am in the morning and all proceeds are donated to the American Heart Association. All kids will receive medals.
Bedford Turkey Trot - Bedford
Saturday, November 28, 2015
Bedford Village Memorial Park
The most serious of the Westchester Turkey Trots, Bedford's course, according to the registration page, "is not for the faint of heart." Registration is online ONLY and caps at 475 people. The race kicks off around 9am and everyone must be off the course by 10.
Katie Welling Memorial Run/Walk - Bronxville
Saturday, November 28, 2015
Bronxville High School
Katie Welling, a former BHS graduate, perished in a fire as a college student, and this race is her alma mater's way of honoring her. Proceeds will benefit the Bronxville School Foundation.
This list was originally published in 2014 and is updated annually.