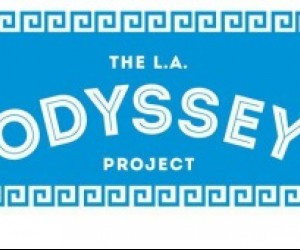 The Odyssey Project: Introducing a Classic to LA Kids
Sometimes the drive to school and after-school can feel like an Odyssey - that is until you remember that the The Odyssey journey actually took ten years and that we should therefore be grateful that the Sepulveda Pass can be traversed in under an hour. The Los Angeles Public Library offers an homage to Homer's heroic poem The Odyssey throughout the month of October, honoring the original epic journey at several events sponsored by The Library Foundation of Los Angeles. This month-long literary quest to determine the significance of the ancient epic to present day Angelenos goes deeper than commuting time, of course, and finds fun ways to introduce the classic to another generation.
This is a fantastic opportunity to explore a literary classic in a variety of ways suited to a variety of ages. Yes, there are even a few things to lure in teens. Local branches of the Los Angeles Public Library all have Odyssey themed events during the month and continue through 2015. The climax of the series is on Saturday, October 25, in the Getty Gallery at the Central Library, where a marathon seven hour reading of the epic commences at 10:00am. Sign up to help with the reading. Each volunteer will be assigned a passage of 45-50 lines that should take 2-3 minutes to read, and it is possible to select a preference for morning, afternoon, or evening. Many of the month's events repeat in multiple locations, so be sure to check your local library's calendar. Highlights include:
1. Odyssey Time With John Rocco - Mar Vista
Mar Vista Branch Library
12006 Venice Blvd.
Los Angeles, CA 90066
(310) 390-3454
Thursday, October 16, 2014
Artist John Rocco talks about his journey to be become an author and illustrator. Renowned for his cover art of the Percy Jackson series, he will be discussing his latest book, Percy Jackson's Greek Gods.
2. Ancient Greek Pottery Craft – Studio City
Studio City Public Library
12511 Moorpark Street
Studio City, CA 91604
(818) 755-7873
Friday October 17, 2014
Just as the ancient Greeks recreated the story of The Odyssey on jars of clay, families can also tell their tales on pottery. Supplies of terra cotta pots and black paint are available all day for families to drop in and tell their stories.
3. Homer's The Odyssey Festival – Westchester
Westchester Loyola Village
7114 W. Manchester Avenue
Los Angeles, CA 90045
(310) 348-1096
Saturday October 18, 2014
This festival is a three venue event that travels from Loyola Marymount University to the Westchester Branch of the Library and ends at Otis College of Art and Design, all in one day. The festival encompasses everything from lectures on Homer's women and artists whose work is about journeying, to kids' crafts, bookmaking and hands on tour of the archeology museum at LMU.
4. Odyssey Lecture - Arroyo Seco
Arroyo Seco Regional
6145 N. Figueroa Street
Los Angeles, CA 90042
(323) 255-0537
Sunday October 19, 2014
Occidental Classics Professor Damian Stocking speaks on the meaning of the adventures in The Odyssey and how they relate to the rest of the book, in a lecture suitable for for teens and adults.
5. The Mystery of Homer's Numbers – Valley Plaza
12311 Vanowen Street
North Hollywood, CA 91605
(818) 765-9251
Monday, October 20, 2014
Teens and adults can enjoy a discussion led by Dr. Gary Stickel about the recent discovery of a real-life "Da Vinci Code" imbedded in both The Iliad and The Odyssey.
6. Odyssey Puppet Show – Harbor City
Harbor City-Harbor Gateway
24000 S. Western
Harbor City, CA 90710
(310) 534-9520
Tuesday October 21, 2014
Puppeteer Olga Leyman uses her hand crafted puppets to create a kid-friendly telling of The Odyssey.
7. Homer's Odyssey and Heroisms Ancient and Modern – Westwood
1246 Glendon Avenue
Los Angeles, CA 90024
(310) 474-1739
Wednesday October 22, 2014
Kathryn Morgan, Chair of Classics at UCLA discusses the unconventional heroism of Odysseus, and artist Peter Shire's modern recreation of a Greek Vase is on display at a program for for teens and adults.
8. 3D Printing: Classical Greek Vases – Sun Valley
7935 Vineland Avenue
Sun Valley, CA 91352
(818) 764-1338
Saturday October 18 & 25, 2014
This all-ages event takes place over two weeks: Week one is for library goers of all ages to design a vase in the classic Greek style. The following week, the two dimensional designs are printed as solid objects on a 3D printer.
9. The Odyssey Play – Central Library
630 W. 5th Street
Los Angeles, CA 90071
(213) 228-7000
Sunday, October 26, 2014
Families are invited to enjoy a one-hour play adaptation of Homer's Odyssey, based upon Dr. Gary Stickel's poetic interpretation. This is an award winning, kid-friendly production suitable for all ages.
10. Personal Maps: Your Own Odyssey - Angeles Mesa
2700 West 52nd Street
Los Angeles, CA 90043
(323) 292-4328
Monday, October 27, 2014
Families can work together to explore The Odyssey via a digital map produced with MAPPR software, then make their own maps, exploring places important to their own lives and their own personal odysseys. Refreshments are served