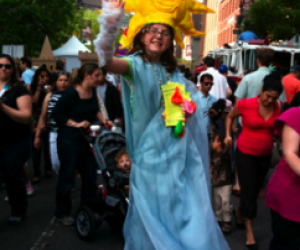 Playdate 5/3/2010: I'm Speaking at Prenatal 101, New East River State Park Playground, Postcard Project
Photo of the Week: My daughter walked on stilts at the Tribeca Family Festival, the Tribeca Film Festival's annual street fair, handing out cards for her tumbling class. The Family Festival was better than ever this year, spidering out onto several adjacent blocks because there were so many different activities and booths. The ESPN zone was particularly a big hit with the kids as well as mini-golf, imagination playground, hair spraying, and a free screening of the film Snowmen. While the fair was unbearably crowded right in mid-day having he activities on the side streets helped bring some relief.
Prenatal Event
I will be speaking this weekend at the Citibabes Prenatal 101 Event. I'll be speaking about raising well-rounded kids in the city, but there will be many other speakers, including my friend, the awesome Kristen Chase. Kristen is one of the founders of CoolMomPicks and author of The Mominatrix's Guide to Sex: A No-Surrender Advice Book for Naughty Moms, a frank and funny guide to getting your sexy back. In addition to me and Kristen, there will be some more traditional prenatal topics like Childbirth, Infant Sleep, Finding a Nanny, Prenatal Nutrition, Green Parenting, free spa treatments, a prenatal pampering lounge, plus raffle giveaways for strollers, consultations and a membership to Citibabes club. The event is on Saturday, May 8 from 11am-4pm at Citibabes SoHo (52 Mercer St). The event is free for Citibabes members and $20 for the rest of us. Reservations are required. Email info@citibabes.com or call 212 334-5440. If you want, drop me a line if you are going to come and I'll look out for you.

Downtown Postcard Project
Tribeca baby gear store, Babesta, is giving away 100 disosable cameras starting today, May 4, 2010 to kids aged 5-13 to take photos that represent home to them. The top 10 photos of Manhattan below Canal street will be printed into a postcard book and sold to suport the LMCC. Head to Babesta Cribz at 56 Warren St on Tuesday at 4pm or Saturday at 11am to pick up a camera, get some photograhy tips and learn a little local history.
Another New Brooklyn Playground
Brooklyn is sporting yet another new playground along its waterfront as of this past weekend. The playground is in Williamsburg's East River State Park and features rustic, old-fashioned play equipment, bucking NYC's recent trend of designer playgrounds. Check the map above for exact location.