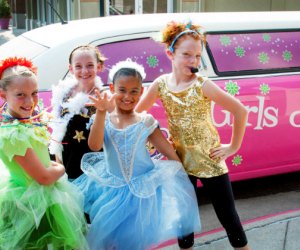 Splurge on Your NJ Kid with These Over-The-Top Party Destinations
Whether you're celebrating a birthday, special occasion, or just want to treat your kid to something extra cool, New Jersey offers a host of over-the-top experiences. There are kids-only salons, arcades that come to your house, and even a helicopter ride, and we've rounded up some of the best for your next bash. While some of the experiences listed below may seem a wee bit extravagant, just remember—you're only a kid once!
Find more out-of-this-world kids' party ideas in our Birthday Party Guide.
Balloonatics & Aeronuts – Phillipsburg
Go up, up, and away in a hot air balloon; just book a tour in advance and enjoy the float. Experienced pilots lead the way and deliver an amazing adventure as you colorfully sail over the Delaware River Valley. If you want to go smaller scale, and enjoy a day with the family, this summer check out the Hot Air Balloon Festival at the Warren County Farmer's Fair. (You'll have a chance to ride in a tethered hot air balloon, see a bunch of them up close and personal, and meet the pilots)
HHI Heliport – South Kearny
OK, it may sound really out there; and well, that's because it is—literally. If you're looking to do something really awesome with your super brave Jersey kid, consider a helicopter tour around Manhattan. Helicopter tours are led by a certified and experienced pilot with years of flight training, and there are many on-board amenities such as WiFi, use of a computer, fresh food, and more. Thirty minutes around Manhattan is a popular package for the whole family; all tours depart and arrive back at HHI Heliport in South Kearny. Tours of the helicopters on-site can also be arranged.
OUR LATEST VIDEOS
Find more copter options through Adrenaline, a national purveyor, which offers a range of flight options beginning around $200 in New Jersey, or Sky River Helicopters, which has a 30-minute Northern NJ tour that begins at $385 for two people.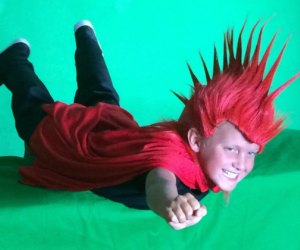 Hit the flying simulator at Red Carpet Kids for the ultimate cool kid selfie. Photo courtesy Red Carpet Kids.
Red Carpet Kids – Manhattan, North/Central New Jersey
Move over, Sandra, Jennifer, and Angelina, there is a new star in Tinseltown... your child. Headquartered in Manhattan, Red Carpet Kids will indeed travel to NJ (up to 60 miles from NYC) to help celebrate your kid, movie-star style. Celebratory packages available to help razzle dazzle your girls and boys include starring in your own live action film--complete with movie crew, stylists--and attending your movie premiere OR a fashion week experience with an actual runway show, dedicated catwalk consultant, and hair and makeup team. Kids also love the mobile "improv" show starring your kid, plus there are superhero party options, and other creative themes available. Basically, with Red Carpet Kids, their "I wish I was..." is granted with the help of a talented team of super kid-friendly actors and entertainers.
The Rockin Roller Mobile Arcade – Mullica Hill
Can you imagine walking out your door and there is literally an arcade on your driveway? Sounds like a dream come true for game lovers, right? Well, guess what...this is a reality. There's a company based in Mullica Hill that is an amazing arcade on wheels. A huge truck with a bunch of full-size, classic arcade games lined up inside can park itself on your driveway for hours of interactive gaming enjoyment. There are classic games such as Pac-Man and Donkey Kong, sports games such as bowling, pool and mini golf, and even interactive race-car driving games. Staffers will be on hand for safety reasons and inside the truck are also gumball machines that dispense mini toys, and a classic crane game machine. Young participants receive special tokens to play all the games. The company also offers mini-golf (as a separate package) and will set up an entire course in your backyard. Ok, how awesome is all this? Game on, kids! Note: The company does not service areas more than 40 miles from Mullica Hill, NJ.
Sweet & Sassy – multiple locations
This is THE salon, spa and celebration place just for kids. They do trendy haircuts for boys and girls and offer incredibly personalized, fun spa packages. They even offer a VIP pink limo for kids to cruise around town in style on their super special day. Yes, you read that right—a PINK limo, which is wonderful for girly girls. The Sweet & Sassy spa is staffed with licensed cosmetologists who are specifically trained to work with children. If you treat your little ones for a trendy, cute spa package, plush robes, fun nail art, rings and toe rings, glitter stars and yummy smelling lotion are also included. Locations: Shrewsbury, Cherry Hill, Ridgewood, Old Bridge, North Brunswick.

Teaberry's Tea Room – Flemington
A "dream come true" for the young princess and/or prince in your life. Not all kids want to get down and dirty on their special day; some prefer prim and proper and that's why a tea party is so fantastic. Teaberry's Tea Room offers many options for tea time with children. Packages include a princess tea party with a beautiful teapot, sandwiches, scones and desserts; a tea-themed "Bingo", your own private servers, and more. There's also themed party options (American Girl, Madeline...) available. If you bring your children in for lunch, yummy mini sandwiches on the children's menu include Nutella and bananas, ham & cheese, grilled cheese, and more, served with fresh fruit garnish.

Top Photo: Glam is up with Sweet & Sassy parties, just right for the little diva in your life. Photo courtesy Sweet & Sassy.