One-Hour Family Vacation: National Parks Adventure in IMAX 3D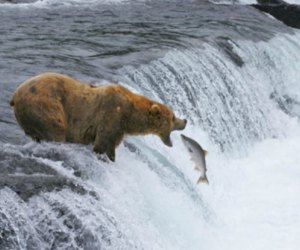 There is nothing quite like a milestone birthday. In 2016 The National Parks service turns 100. Thanks to the prescient collaboration of President Theodore Roosevelt and naturalist John Muir, 400 plus sites have been preserved for generations to enjoy as national parks. In honor of these natural landmarks' first century, McGillivray Freeman Films and IMAX 3D have produced a spectacular movie, America Wild: National Parks Adventure. It's an IMAX film to watch as a family and then plan your next vacation.
Narrated by Robert Redford, National Parks Adventure intertwines the history of the creation of the park service with a present day exploration of our natural monuments by internationally renowned climber Conrad Anker, his stepson Max, and family friend, Rachel. This trio of climbers tackles all sorts of impossible heights and terrain via running, climbing, and extreme bike rides—all vividly brought to life by the stunning scope of IMAX 3D, a format uniquely suited to capturing and heightening the beauty and awesomeness of our natural world.
The film secures and magnifies many iconic images from the parks: Devil's Tower, The Giant Redwoods, Arches, Crater Lake, and of course the geysers at Yellowstone. There are some truly remarkable 3D moments in this movie that my daughter and I absolutely loved: Prairie dogs pop out of a hole in the ground; a mama bear teaches her babies to fish in Alaska's Katmai National Park, and when Rachel wanders into the crystal wonderland of Pictured Rocks National Seashore in upper Michigan, we want to reach out to touch the frigid spikes of blue-white icicles. There is some dramatic footage of a forest fire which is particularly intense, because the sound on the film is as crisp and bigger-than-life as the picture. Very small children or anyone who find fires scary may not enjoy this moment, but it is brief and not a reason to skip the movie.
My daughter's travel lust was sparked by this movie. She left the theater, grabbed a map of the United States highlighting locations of the parks (many of which are right here in California), and began plotting our next family adventure (which according to her will involve an RV and lots of water and beef jerky).
America Wild: National Parks Adventure opens February 12 at the California Science Center in Los Angeles, at the American Museum of Natural History in NYC, at the Liberty Science Center in Jersey City, and at the Boston Museum of Science. In Philadelphia it opens February 20th at the Franklin Institute.
Tickets at the California Science Center range in price from $4.50 for children who are members to $8.50 for adults who are not. Admission to the museum if you want to explore after the movie is free, but parking costs $12. Conveniently, the Metro Expo line has a stop right in Exposition Park. For details about screenings in other cities, follow the links above, or visit the movie's main website.