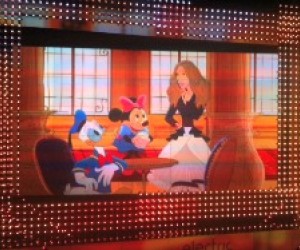 NYC Pop-Up Shops 2012: 10 Places for Cool Holiday Gifts
In our Shopping Local Holiday Gift Guide, we highlight our favorite places to buy unique gifts in New York City including craft fairs and holiday markets. But we also love browsing the eclectic wares at all of the pop-up shops that appear in NYC at this time of year.

These temporary retail outlets are often (but not always) set up by businesses that don't normally sell goods directly to the public, or don't have stores in NYC. This holiday, returning pop-up favorites include Wired magazine's tech magnet, along with newcomers like kids' toy and gear great The Land of Nod, Microsoft and a shop dedicated to hot boy band One Direction. Read on for the scoop on ten awesome pop-up shops in NYC this season and find more fun in our Holiday Guide.
The Land of Nod – Soho
136 Prince Street between Wooster Street and West Broadway
Monday-Saturday 10am-8pm, Sunday 11am-7pm through Thursday, December 27
For the first time ever, the kids' furniture, bedding and toy retailer is opening a brick-and-mortar shop in NYC. Parents can peruse an exclusive assortment of playthings and holiday decor while kids enjoy book readings and puppet shows. The awesome window display features larger-than-life stuffed dolls, a Christmas tree, a raccoon and a giant s'more, all made by hand by international artisans.

One Direction – Midtown West
2 Penn Plaza, 33rd Street and Seventh Avenue
Through Sunday, December 30
What's that high-pitched squeal you ask? Why it's the young female fans of One Direction discovering this pop-up shop devoted to their favorite British boy band. The 9,300-square-foot store sells T-shirts, hoodies, hats, jewelry, accessories, dolls and life-size cutouts of each member. There are even a few items (a big-kid onesie, a 1D♥NY tee) exclusive to the NYC shop (because, believe it or not, there are other 1D pop-ups in other cities!). Your kids can also croon the group's tunes at the in-store karaoke station. Too bad earplugs aren't for sale, too.

Disney Electric Holiday at Barneys New York – Midtown East
660 Madison Avenue at 61st Street
Monday-Wednesday, Friday-Saturday 10am-8pm; Thursday 10am-9pm; Sunday 11am-7pm through Thursday, January 3.
Last year, Barneys featured a Lady Gaga pop-up. This year it's Disney... and there's a kind of weird logic to that progression. Looking for a Goofy phone case or a branded ornament? This is the place! You can peruse the entire collection online, but it's worth going in person to pick up a complimentary balloon and watch the short animated flick starring Minnie Mouse and friends in the window. Bonus: 25% of the sales will be donated to the American Red Cross Disaster Relief program.

Krochet Kids International – Murray Hill
Rudy's Barbershop, 14 West 29th Street Broadway and Fifth Avenue
Daily 11am-7pm through Saturday, December 15
Not only are the handmade hats sold at this pop-up cute and warm, they also come with a heartwarming back story. Every hat has been made by women in Uganda and Peru who are raising themselves up from poverty and becoming self-sufficient, one stitch at a time, thanks to nonprofit Krochet Kids international. Their hats come in a variety of styles and colors sure to please even the pickiest fashionistas.

Eloise Rawther Sweet Shop – Midtown East
The Shops at the Plaza, 58th Street and Fifth Avenue
The Plaza expands its Eloise empire with a pop-up treats shop selling lollipops, licorice, cotton candy and even freshly popped popcorn from a retro cart. Like the Eloise shop across the way, this spot will be decked out in the little lady's favorite colors: pink, black and white. Only downside: Whatever you buy here will probably be devoured before you have a chance to gift it.

Microsoft – Midtown West
Columbus Circle, The Shops at Columbus Circle, 10 Columbus Circle, 59th Street and Broadway
Monday-Saturday 10am-9pm; Sunday 11am-7pm
Times Square, 1540 Broadway between 45th and 46th Streets
Daily 9am-1am
We can keep telling the kids that tablets are "mommy and daddy's toys," but they'll never believe us. At these two pop-ups, the brood can try out the much-hyped Microsoft Surface with a Windows RT operating system and Sony Vaio PCs loaded with Microsoft's new Windows 8. Oh, parents can check them out, too.

Wired Pop-Up Store – Soho
583 Broadway between Prince and Houston Streets
Tuesday-Sunday 11am-7pm through Sunday, December 23
The mag's super-cool shop is a great place to play if you're into cutting-edge technology, but be warned: Unlike other pop-ups, there's little to buy here. Instead, you get a chance to look at (and often try out!) a carefully-curated selection of gadgets like GPS shoes with LED lights, a high-tech music box and 3D printers. If you like what you see, some of the products are available for purchase online. The shop is certainly a fun experience, with a "Rotobooth" (an analog phone that takes digital pics), special interactive workshops and other attractions.

Toys "R" Us Express – Citywide
Is it still a pop-up shop if it's located in another store? Because that's the case this year with Toys "R" Us Express, which will be offering items in Macy's stores nationwide, including the ones in Herald Square, Downtown Brooklyn and Roosevelt Field, Long Island. Expect massive crowds over the holidays however the aforementioned branches will stay open through mid-January, making returns a little easier.

Holiday Pop-Up: Artists & Fleas at Chelsea Market – Chelsea
Chelsea Market, 15th Street and Tenth Avenue
Daily 10:30am-7:30pm through Monday, December 31
The season started early at this stalwart Brooklyn market, which set up shop in downtown Manhattan on September 19 and stays through New Year's Eve. This year's extended schedule gives you plenty of time to browse goods like cool clothing and funky art by local independent designers and artists.

Jingle: A Holiday Pop-Up Store in Chelsea Market – Chelsea
Chelsea Market, 15th Street and Tenth Avenue
Monday-Saturday 10:30am-7pm; Sunday 10:30am-6pm through Sunday, December 23
Also located in Chelsea Market, this pop-up showcases eclectic wares by 20 artists. Find jewelry, kitchen wares, beauty products, chocolates and Martha Stewart favorite, Linden Hill Gardens.

Find other great gift spots in our Shopping Local Gift Guide and lots of other seasonal fun in our Holiday Guide.