Jump for Joy! The Ultimate Bounce House Comes to Georgia
Ready for a crazy, bounce house adventure? Bounce the Mall is a unique, touring inflatable attraction that's making its rounds at Simon malls across the country. Bounce the Mall will thrill kids—and kids-at-heart—in Dawsonville, Georgia from November 5-20. This colorful event is sure to impress kids of all ages ready to bounce to the highest heights!
Want more information about the coolest things happening near Atlanta? Check out our Atlanta Events Calendar for all the cool happenings throughout the city! Or better yet, sign up for the Atlanta Mommy Poppins newsletter and receive activity updates and articles right into your inbox.



Lose yourself in the ball pit at Bounce the Mall. Photo by author
If you think Bounce the Mall is just another bounce house, think again. The pop-up event boasts a collection of enormous bouncy attractions, including the "largest ball pit on the planet." The 10,000-square-foot pit just begs visitors to wade and crawl through a sea of about 250,000 balls. It's truly a one-of-a-kind immersive experience. Rock it out from the ball pit to the dance music served up by the DJs. Nearby, you can dance to the music with wireless headphones in the Silent Disco Dome.
One fun section for daredevils young and old is the 600-foot bouncy ninja obstacle course. Race your buddies as you scale walls, slip down the slides, and bounce through a challenging course. (Tip: Accompany younger kids, since it's a pretty tough course!) Then, enjoy the inflatable sports zone filled with tons of balls of every shape and size. My crew loved the out-of-this-world airSPACE spot where you can jump from planet to planet, bounce around aliens, and relax in some smaller, but deep, ball pits.
And don't miss the enormous slides! Climb to the top of the wall, if you dare, and use burlap sacks to zip down the other side.
RELATED: Fall Bucket List for Kids: 40 Fun Things to Do in Atlanta This Fall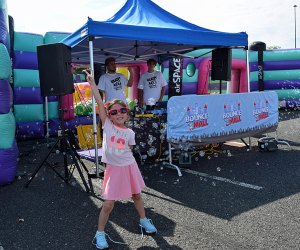 Bust a move in the bubble-filled dance zone with live DJ music. Photo by author
Know Before You Go to Bounce the Mall
Check with the venue before heading out: Heat, rain, and other conditions can affect the pop-up's hours.
Dress appropriately: Wear pants or long shorts to protect skin from vinyl and cooler weather.
The venue requires kids ages 3 and under to be accompanied by an adult. If you have a smaller or tentative child over this age, consider bouncing alongside them. Some ladders leading to the slides are pretty high, the ball pits can be tough for little ones to maneuver, and some obstacles require decent strength to pull yourself up and over. Parents will definitely get a workout, too!
Make sure to wear socks and pair them with shoes that are easy to kick on and off. You'll be doing that a lot as you move from attraction to attraction across the parking lot.
Buy tickets in advance, and don't arrive late. Tickets are good for a specific time slot. If you come late, your end-time won't be extended.
Following its departure from North Georgia Premium Outlets in Dawsonville on November 20, Bounce the Mall's bounce house heads to Miami International Mall in Miami, Florida (Saturday, January 21-Sunday, February 12).
Bounce the Mall was reviewed during its time in Elizabeth, New Jersey.