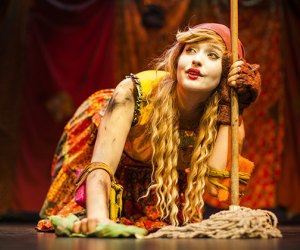 New Cinderella Rocks Sneakers, Sisters in Drag and Inner Beauty
We've probably all seen at least one production of Cinderella, whether in film form or onstage. But have you ever seen the fairy godmother roll in on skates? Or the evil stepsisters played in drag? The Commedia Cinderella, presented by Ragtag Theatre Company, is a raucous and rambunctious adaption on the timeless fairy tale. From a furry, colorful sneaker in lieu of a glass slipper to song and dance numbers performed to pop hits, Commedia Cinderella, kept us in giggles, even if some of the jokes flew right over my kids' heads.
Read on for our full review of this Off-Broadway family show, playing in NYC through mid-summer 2016.
While the general storyline of The Commedia Cinderella is the same one we all know, it "definitely ain't your traditional Cinderella," as the playwright and co-director, Sam Lafrage, writes in the program. He even shifted the moral of the story, placing more emphasis on inner vs. outer beauty, self-acceptance and self-love—a great message for all ages.
Ragtag Theatre Company is a LGBTQ-friendly troupe creating fresh, modern family theater. Performed in the style of Commedia dell'arte—an early style of Italian street theater featuring big, funny characters, improvisation and direct audience involvement—Ragtag strives "to make you laugh and create a safe space where you can be yourself and #beweird with all of us."
RELATED: Best Children's Theater in NYC This Spring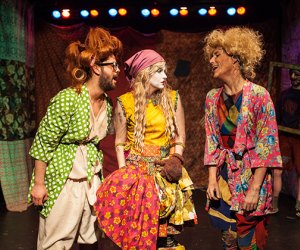 The stepsisters taunt Cinderella.
Even with such a serious message as self-acceptance, slapstick comedy abounds with the main roles reimagined as funny, eccentric characters. The evil stepmother speaks in an exaggerated Southern accent and banishes Cinderella to a life of chores and drudgery because she is jealous of Cinderella's beauty. The narrator helpfully points out that the stepmother is essentially a fairy tale version of a bully who demeans others because she feels deeply insecure about herself. The two stepsisters are played by men in drag who speak in Valley girl accents and, similar to other versions of the fairy tale, belittle Cinderella because of her name and dirty clothes.
My daughters, ages 5 and 8, loved the over-the-top godmother who is hilariously reimagined as a tutu-wearing fairy in roller skates. She later gets into an accident and needs a wheelchair to get around. Her magic powers are a bit rusty, so instead of transforming Cinderella's rags into a beautiful ball gown, our hero winds up in a clown suit and sneakers rather than heels, which elicits plenty of laughs. Undeterred, Cinderella attends the ball. The prince naturally falls in love with her and searches high and low for the owner of the fuzzy sneaker.
RELATED: Free Outdoor Public Art to See in NYC This Spring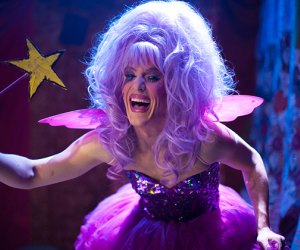 Kids will love the fairy godmother in her pink tutu and roller skates.
The Commedia Cinderella is recommended for kids ages 5 and older, though 7 or 8 and up might be better, depending on your individual child. My girls enjoyed the music, especially a hit from Adele, the singing and some of the gags. But a number of the jokes and pop culture references, such as to Instagram, Brooklyn hipsters and even Hamilton, simply left them confused. Parents, tweens and kids more in tune with pop culture will undoubtedly appreciate it more.
The pace of the play is also a bit fast and at times, frenetic, which may not sit well with all children, while others will love the energy of it. As a mother of two girls, I especially appreciate the messages about self-worth and inner vs. outer beauty, and we had an interesting discussion about how this Cinderella was different from the other versions they've seen. Families looking for something different, or simply tired of the sometimes too predictable and too sweet children's theater, will love this fairy tale twist. It's definitely worth seeing for the adventurous family looking for something fresh.

The Commedia Cinderella is playing at Soho Playhouse, 15 Vandam Street, through July 16. Seating is first come, first serve, so get there early. We found the seats toward the back better viewing for kids hoping to see over the grown-up heads, because they're set at more of an incline. Tickets can be purchased online.

Top image: Poor Cinderella washing the floor. All photos by photos by Dennis Corsi/courtesy of Ragtag Theatre Company.