Max And Ruby Live in The Nutcracker Suite: A Fun Twist on the Classic Ballet at Tarrytown Music Hall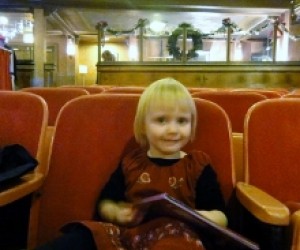 "Max and Ruby! Ruby and her little brother Max!"…and so begins Max and Ruby in the Nutcracker Suite. This re-imagined performance at the Tarrytown Music Hall was so much fun (especially for my Max-and-Ruby-adoring daughter), we've seen the show two years in a row. This unique live performance is filled with original music and dance numbers, colorful characters and some interesting twists on the classic Nutcracker tale.
If you are looking for a theater experience that will engage the whole family, allow for a certain amount of noisy restlessness and leave you with some great stories to tell at the next parenting meet up, this is the show for you. Read on for details about this live performance and tips to know before you go. Looking for more holiday productions? Check out our post on kid-friendly holiday shows. Also, be sure to check out our Holiday Fun Guide.

When she was 2, my daughter was head over heels in love with Max and Ruby so attending this live holiday performance was clearly the right thing to do--and she was not disappointed. Dressed up in a fancy dress, ready for her first show on a stage, her toddler excitement was almost too much to contain.
If you've never been to Tarrytown Music Hall, take some time to look around. The building is quite beautiful and the theater is really gorgeous. Small children will love a chance to get up close and look at the stage.
The show itself is one-of-a kind. Take the Max and Ruby plot arc (Ruby always wants to be right, Max is always getting in the way but, in the end, ends up saving the day), add life size costumes, dancing robots and candy canes, original song and dance numbers, gigantic run away cookies, a beautiful ballerina and a room full of excited children, and you've got a hit--if somewhat bizarre--family production!
Max was clearly the favorite on the nights we went. When Ruby walked on stage there was clapping, but when Max arrived the room erupted in shrieks of "MAX!!" while a number of children escaped their parents and bolted for the stage. Throughout the show there are lots of opportunities for dancing in the aisles and it really is impressive how many different dance styles they showcase.
If you are looking for a show that closely follows the Nutcracker story, you may want to look elsewhere--this one takes some really unusual twists. Though not sophisticated theater, this family-friendly show is exciting for little ones, cute, engaging and all in good fun.
Things to know before you go:
Parking can be difficult in Tarrytown on show nights. Leave yourself extra time to find a space.
Be forewarned, there is a lot of merchandise for sale in the lobby. Save yourself a few dollars and take a look online for a plush Max/Ruby doll, some glow sticks or a Max and Ruby book—keep it tucked away until you get into the lobby and then present it as a souvenir.
The show lasts about 90 minutes, including a 15 minute intermission. No worries if your little ones get restless; the vibe is casual and accommodating.
The show is good for all ages, but the sweet spot is 2-6.
Snacks will be available for purchase inside the theater, but outside food is not allowed. Alcohol is not for sale during children's performances (despite the recorded announcement that tells you to go up to the second floor for wine and beer. 3 other parents and I all arrived there at the same time only to be politely informed of the policy by an amused usher).
As with most live shows, the bathrooms can get crowded and a little chaotic, especially with tots and young kids. Aim for hitting the bathrooms as soon as you arrive or move super fast just before intermission.
There are lots of good restaurants within walking distance of the show. Check out our Rivertowns guide for some suggestions!
Max and Ruby in The Nutcracker Suite is playing at Tarrytown Music Hall, 13 Main Street, Tarrytown. Showtime is Thursday, December 18, at 6:30pm. Tickets are $30 and are available for purchase online. Everyone needs a ticket; infants included.
Check our post on more traditional Nutcracker performances in Westchester.