SPONSORED
LEGOLAND Discovery Center Westchester is the Ultimate Indoor LEGO Playground in Yonkers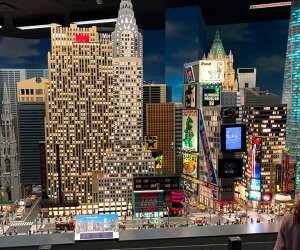 Billed as an action-packed indoor entertainment center for LEGO-lovers ages 3 to 10, LEGOLAND Discovery Center Westchester in Yonkers' open-air Ridge Hill Mall is a great day out for families. Small but mighty compared to the LEGOLAND theme park, the center packs LEGO building stations, play areas, rides, and a 4D movie theater.
I headed there with my 4- and almost-7-year-old daughters on a recent half-day to check it out. Read on for my take on what to expect at LEGOLAND Discovery Center Westchester, who it's best for, and how to get the most out of your trip.

Start your LEGOLAND Discovery Center visit with a quick lesson on how LEGO bricks are made.
What to Expect
With its colorful LEGO brick-built entryway and the kind of eye-catching signage that had my kids sprinting from the parking lot, you can't miss LEGOLAND Discovery Center on the far end of the Ridge Hill Mall. And, as long as you're able to make it past the doors of the adjoining toy-filled LEGO gift shop, you'll be instantly transported into an indoor LEGO oasis with a quick scan of your tickets.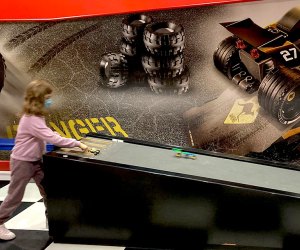 Build your own own LEGO vehicles and race them down giant ramps.
Inside, kids have a chance to pull levers while learning about how LEGO bricks are manufactured, and explore interactive miniature LEGO replicas of New York City's most-loved landmarks–built from over 1.5 million LEGO pieces. Big kids get to build, test, and race their own LEGO vehicles on giant ramps, while younger kids can create DUPLO towers on "earthquake tables," then test their stability with the push of a button.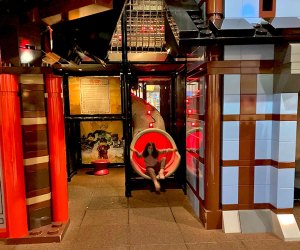 There's a lot for older kids to explore in the multi-level LEGO NINJAGO City Adventure maze.
There's an animal-themed DUPLO Village play area for the 3-5 crowd, complete with a slide and a ball-pit filled with giant foam LEGO bricks. And, for older kids, there's a multi-level LEGO NINJAGO City Adventure maze, with ladders, tunnels, nets, and interactive games. LEGO Master Builder Academy also offers regular workshops with master LEGO builders, who lead children through challenging projects step by step. Check out the daily schedule when you first arrive on-site, so you can plan your visit accordingly.
While LEGOLAND Discovery Center Westchester isn't a theme park like LEGOLAND New York Resort in Goshen, it's also home to two rides. Kids (and grownups) can experience what feels like a real life video game on Kingdom Quest, zapping bad guys to earn points and save the princess. Or, they can climb aboard an enchanted cart on Merlin's Apprentice and start pedaling to fly higher and higher around the course. For some virtual fun, there's also the LEGO Race VR Experience, and the LEGO 4D Cinema, which plays a rotation of movies every 15 minutes with some totally surprising special effects.

Head to the "earthquake tables" to design and build a DUPLO tower, then test its stability with the push of a button.
What Ages Are Best for LEGOLAND Discovery Center?
LEGOLAND Discovery Center Westchester's recommended 3 to 10 age range feels pretty on point. While there are more attractions for the 6+ crowd, younger kids will still enjoy exploring, building with DUPLO bricks, and jumping around the soft play area. Also, as a mom-of-two, I give this spot high marks as a destination fit for bringing multiple children. Activities for different ages are stationed close to one another–like the building areas and play areas–making it easy to keep an eye on two or more kids at one time. With benches and other seating options, it also seems like a great place to sit with an infant during off-peak hours while older kids explore close by.

Don't miss out on LEGO workshops, where you can create and display special projects.
Where to Eat at LEGOLAND Discovery Center Westchester
The creators of LEGOLAND Discovery Center Westchester knew what they were doing when they built the LEGO Coffee Shop and Cafe right in the middle of all the LEGO action–especially since outside food and drink aren't permitted inside. Stocked with coffee and espresso drinks, juices, healthy snacks, sandwiches, and sweet treats, the cafe has just about all ages covered, whether you need a caffeine fix or your children need to refuel before the next attraction.
Of course, just outside the LEGOLAND Discovery Center doors, Ridge Hill Mall is also filled with family-friendly snacking and dining options. Just across the way, Yard House serves up giant hanging pretzels, chicken fingers, and the like, which we enjoyed while our girls played with the sets they picked up at the LEGOLAND Discovery Center Shop. Public Pizza slings hand-stretched pizza and other Italian favorites. There's also a Nathan's and Cheesecake Factory, just to name a few of the dining options at Ridge Hill Mall.

Leave some time for the LEGO Store, packed with tons of brick-building sets and LEGO-themed gear.
What to Know Before You Go to LEGOLAND Discovery Center in Yonkers
Plan to spend around 2-3 hours at LEGOLAND Discovery Center Westchester. We clocked in right at 2 hours with our girls, but were able to move through activities pretty quickly being there on a quiet weekday afternoon.
Consider the day of your visit when planning. While weekdays are nice and quiet, many activities, workshops, and character meet and greets are done more frequently on weekends.
Spacious family-friendly restrooms–complete with diaper changing facilities and even step stools by the sinks–are conveniently located right near the main attractions, so you won't need to trek far for a bathroom break.
Strollers are welcome and the entire attraction is on one floor, so there's no navigating steps, escalators, or elevators. Of course, if you're visiting during peak hours, you may find it easier to opt for a carrier or go on foot. Do note that there isn't anywhere to check a stroller, or other belongings.
Keep an eye out for Sensory Days, when specific changes are made to the attractions to give sensory sensitive children a chance to enjoy a LEGO-filled visit.
Check the calendar for holiday-themed events. On our visit, the annual Brick or Treat celebration had just wrapped up, and the staff was gearing up for the Holiday Bricktacular!
Peek into one of the private party rooms near the cafe, and keep in mind that birthday packages are available for up to 40 LEGO-loving guests. B
Bring your wallet because not only will you find some fun souvenir vending machines during your visit, but you'll exit through the expansive LEGO Store. It's packed with LEGO and DUPLO sets for all ages, plus fun LEGO-themed gear, like hats and keychains.
Explore Ridge Hill Mall if you're looking to make a day of your visit! There's a trampoline park, mini-golf, an arcade, and even a Tom Otterness playground.

Grab your goods from the LEGO Store and get a bite to eat at one of Ridge Hill Mall's many restaurants.
Plan Your Visit to LEGOLAND Discovery Center Westchester
While tickets are available at the door, if space allows, it's best to purchase your tickets for your preferred entry time in advance. If you're visiting for the day, you can choose from three different ticket packages. If you live nearby, don't miss the annual Sunday-Friday Admission Pass, which pays for itself in just two visits, or select from two other annual options as well.