White Plains Indoors: Where Westchester Kids Can Play, Learn and Explore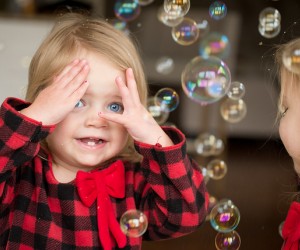 All month long we have been featuring the fantastic city of White Plains. So far, we've covered the top things to do and the best parks and playgrounds in the city. Now we're turning our focus to the coolest indoor spots to have fun in White Plains! Whether your family is looking to beat the heat for the day, or simply want to try something new, White Plains offers so many options, the hardest part is choosing what to do first. So read on for our picks of the best indoor places to play and learn in White Plains.
White Plains Public Library
100 Martine Avenue
(914) 422-1400
For an educational and fun way to spend the day, look no further than White Plains Public Library. Their beautiful children's library, The Trove, offers so many programs and exciting children's events it is sure to please everyone. Be sure to check their monthly calendar for their full listing of programs, as some programs require prior registration and White Plains residency. All events and programs require a ticket which are distributed on a first-come, first-serve basis 30 minutes prior to the start of the event, so plan ahead and arrive early.
White Plains YMCA
250 Mamaroneck Avenue
(914) 949-8030
Whether it's kids swimming lessons, fitness classes, martial arts, day camp, birthday parties, and so much more, the YMCA is the place to be for fun and activity. Located in the heart of White Plains, this facilty offers an abundance of children's programming and opportunities for family members of all ages to come together, get active and have fun.
Ebersole Ice Rink
110 Lake Street
(914) 422-1444
This family facility offers a variety of recreational ice activities throughout the months of October to March. Offering individual and group lessons and everything from hockey leagues, to figure skating, clinics and camps, Ebersole also offers a space for fun-filled birthday parties and private events. And no need to worry about packing a lunch or a snack, as their food concession stand can take care of the hefty appetites kids can work up after being on the ice.
Barnes & Noble
230 Main Street
(914) 397-2420
As if being located in the City Center surrounded by stores like Target and Babies R Us wasn't already convenient for one stop shopping, this Barnes & Noble location offers quiet time for reading with your little one in the kids area and free storytime on Mondays and Thursdays. Of course, you can always enjoy a snack and a delicious beverage at the café.
Westchester County Center
198 Central Avenue
(914) 995-4050
Westchester's very own arena, and now home to the Knicks' "D" League, is located centrally in White Plains, offering shows and events that in the past would only be offered in venues outside of the suburbs. Children can delight in stage shows such as Sesame Street Live, Disney on Ice, the circus and so many others. In addition, the center plays host to events and expos all year round featuring everything from comic books and gaming, to pets and children's safety events. And now that the county center is home to the Knicks expansion team beginning in November, kids can witness up-and-coming NBA talent firsthand wearing theirWestchester Knicks jerseys! For a full list of upcoming events, games and shows, be sure to check their website for times, dates and pricing information.
Pottery Barn Kids
The Westchester Mall
125 Westchester Avenue
(914) 949-4947
This adorable kids store not only offers a room filled with open toys for children to enjoy while the grown-ups peruse the merchandise, but there's also a free storytime on Tuesdays as well. Pop in for a break from mall shopping or make a special trip with your little ones to this fun shop offering so much more than kids furniture and gear. There are numerous children's events held year-round that are worth checking out.
White Plains Performing Arts Center
11 City Center
(914) 328-1600
This 410-seat performing arts theatre in the heart of downtown White Plains offers live family entertainment year round. Combining an eclectic mix of nationally and internationally recognized artists and performing arts companies and self-produced theatrical performances, White Plains Performing Arts Center truly is a cultural hub in White Plains. The Center also offers theatre training for children and teens through their Conservatory and Summer Theatre Academy.
AMF White Plains Lanes
47 Tarrytown Road
(914) 948-2677
Bowling anyone? For a fun-filled way to spend the day with the entire family (and get in some exercise while you're at it!) head to AMF for hours of bowling fun. They not only offer kid-sized balls and bumpers all the time, but for those looking for more than just an occasional fun outing, try purchasing a kids fun pass for the summer which includes three games of bowling every weekday until 6pm.
Creative Commons image credit: Donnie Ray Jones