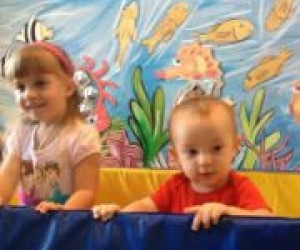 Indoor Fun in New Jersey! Hunterdon & Middlesex County Playspaces
It's that time of the winter where we're all going a little stir crazy! If your house is anything like mine, you've probably exhausted almost every indoor activity and creative motivation come late February – we've done play dough, painting, indoor bowling and baked countless batches of cookies. It's amazing how kids have seemingly endless energy! So instead of spending another afternoon cooped up, head out to one of these awesome indoor play spaces in Central Jersey.

Jungle Gym n' Bounce (Flemington, NJ)
The playground seems like a distant memory at this point in the winter but if your little ones are craving some climb time, check out Jungle Gym n' Bounce. With a princess castle, giant slide, tropical obstacle course, basketball and baseball games and more there's something for everyone to do. Manager Darren Pieper says their facility is unique: "We're not only a bounce house place, since we also hold gymnastics classes kids are welcome to use that equipment as well – including a huge foam pit, trampolines and a spring floor!" Jungle Gym n' Bounce offers 'open bounce' sessions for all ages from toddlers to teens – check out their 'Glow n' Bounce' evening sessions (for kids 4 & up) with black lights and their special times just for 'Tweens n' Teens.' Please visit the Jungle Gym n' Bounce website for current pricing and schedules.

Northlandz (Flemington, NJ)
For a truly unique day trip with the kids, check out Northlandz! Home to the "World's Largest Model Railroad," your little train lover will definitely be impressed. Dozens of trains travel on more than 8 miles of tracks, under and over 40 foot bridges and through miniature cities and villages – pretty neat! And if that's not enough, you can head over to their dollhouse museum, which includes a 94 room dollhouse and over 200 dolls in their collection. Northlandz is a family-run attraction, founded in 1972 by musician and artist Bruce Williams and his wife Jean. There's a little something for everyone at this wonderfully quirky and impressive museum – be sure and bring strollers for younger tots as you navigate the many rooms and paths! Please visit the Northlandz website for current pricing or call 908-782-4022 for more information.

Kidz Village (Woodbridge, NJ)
Kidz Village is popular among families with toddlers and preschoolers, and it's easy to see why! Their spacious Woodbridge location is separated into different play sections with lots of seating in the middle for tired adults! Kids can run from room to room and back again as they play pretend kitchen at the retro Chevy's Diner, brush and curl hair at Trinity's Salon or climb and bounce the morning away in the huge indoor playground: "Kids can have some indoor fun while using their imaginations. The design of the facility makes it easy for parents too," says Owner Angela Medina. Take a lunch break at the café and even play some arcade games. Kidz Village also hosts all-inclusive birthday bashes for very reasonable prices. Please visit the Kidz Village website for information on pricing, hours, parties and more.

Rebounderz (Edison, NJ)
Rebounderz is the kind of place that brings out the kid in everyone - this indoor trampoline park has 24,000 square feet for children to jump, bounce and get all of that bottled up winter energy out. In addition to their open jump arena, they can explore the giant foam pit jumper, take part in a basketball slam or even brave a game of trampoline dodge ball! Best of all, Rebounderz offers open jump throughout the day – no reservation necessary – and also offers separate sessions for little guys under 5. The facilities are also open for birthday parties, corporate events and AirRobix fitness class – so yes, adults can join in on the fun too! Please visit the Rebounderz website for hours and current pricing info.

Woodbridge Center Mall (Woodbridge, NJ)
Shopping with tots in tow can be tricky. After all, there's only so long a toddler is happy in his stroller, even with lots of snacks! If you're looking to get out of the house one winter morning, the Woodbridge Center Mall has the perfect blend of shops for parents and a space for children too. Let your little one get the jitters out pre-shopping at Tiny Town, the mall's soft play area. Small places to climb and crawl through and seats for parents make this a great pit stop. And if you're looking for an end of shopping treat, take the kiddos to the full-sized carousel for a spin or two before heading home. Woodbridge Center also has a nice selection of kid-friendly eateries, like Applebees, Johnny Rockets and Red Robin. Please visit the Woodbridge Center website for more information.

Jumping Jungle (East Brunswick, NJ)
Jumping Jungle was rated "Best Place to Host a Kid's Birthday Party" in Central Jersey by the Home News Tribune for the past 5 years and rightfully so. The huge (and eco-friendly cleaned) 10,000 square foot space is home to 8 large inflatables where kids can let loose. From obstacle courses to bounce houses to a hurricane simulator, there's plenty of adventure to be had. All ages open jump sessions are scheduled several times a week and a special preschool jump session for the 6 & under set on Wednesday afternoons even includes a snack and juice break. Parents will definitely appreciate the comfy viewing area with WiFi and HDTVs. Please visit Jumping Jungle's website for current pricing information and open jump schedules.