Holiday Gift Ideas: The Best Science Kits for Preschoolers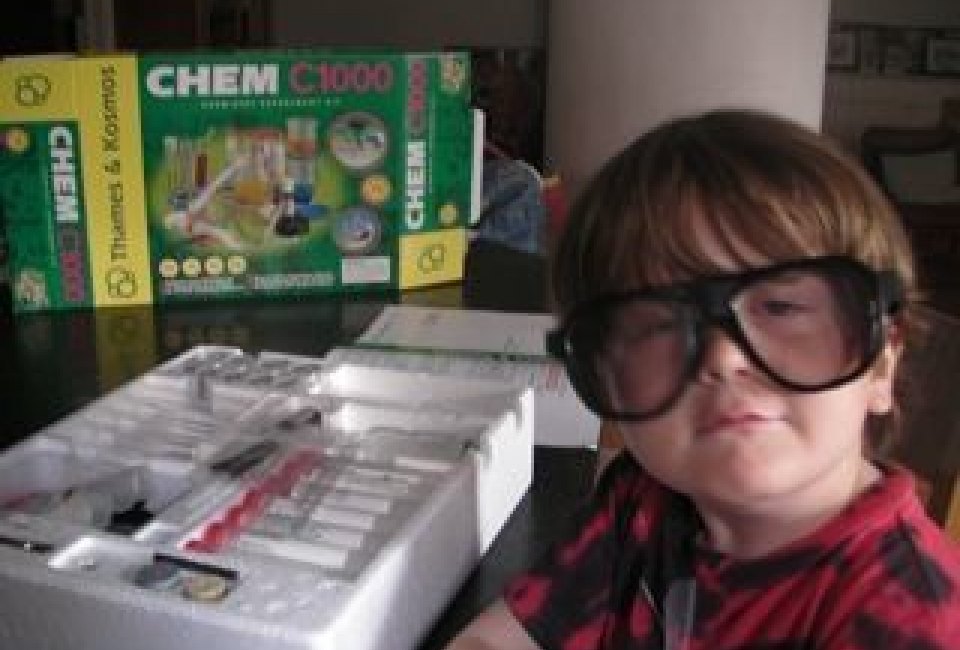 11/4/08
- By
Anna Fader
All kids love science. At least they do until someone teaches them it's not fun. So grab the opportunity by the horns and get your kid some of these cool science kits for the holidays this year. It may not be what they are asking for, but they will have an amazing time and you will too.
Me and my crack team of toy reviewers (aged 4-10) set about working our way through no less than fourteen of the coolest science kits that we could find. In this post I will be writing about the best ones for little kids, aged 4 and up. Make sure to also check out our post on cool chemistry and electronics kits for kids.
The thing we found when trying out all these science kits is that there are three kinds of science kits:
1. Project kits. I call it a project kit when a science kit is really about the packaging and has one or a couple of activities with a thinly veiled connection to science. It might be fun to make rainbow crystals, but it's not really a science kit, it's a project kit, in my opinion.
2. Bad Science Kits. The second category of kits are ones that are either not fun or the science is not made relevant to the kids so they don't really learn anything from this. I have coined the term "bad science kits" for these ones (trademark pending).
3. Great Science Kits. The third type of kit we found were the winners. To be a great science kit for kids, there had to be enough different experiments to make it fun to come back to again and again and the science had to be fun and made relevant to the kids so they really could learn the basic principles involved.
It seems like too much to ask, but we did find some great science kits, perfect for preschoolers, and we want to share them with you.
Thames & Kosmos Little Labs - Stepping into Science
The best all around science kit for little kids is Stepping into Science by Thames and Kosmos. Stepping into Science includes 25 experiments spanning the spectrum of nature, physics, chemistry, air and water and is a great beginner's survey covering the basics in the major scientific areas.
What I like about Thames and Kosmos science kits is that they are very instructional, with little blurbs in the sidebar that ask the right questions and explain the scientific principle the experiment is teaching. For instance, rather than just demonstrating how to create static electricity, this kit explains the science behind static electricity and gives further experiments for learning more about it.
All of the experiments are pretty basic and easy to perform, but let the kids be actively involved in the learning. I found even the most basic experiments delightfully fun and there really is something magical about observing these basic scientific laws with your children. Stepping into Science is a great kit and would make a fabulous gift for any child aged 4-8. (By the way, the directions for this science kit are also available in Spanish, downloadable from the Thames and Kosmos website).
Magic School Bus World of Germs Science Kit
Another great kit is the Magic School Bus World of Germs Science Kit. Surprisingly, what makes this set great is its character affiliation, not the most PC thing to say. But in this case, they have used the characters and voice of the Magic School Bus to make this kit more fun and make the experiments relatable to kids lives.
Each of the 11 experiments is set up as a question from one of the Magic School Bus characters. For example, Ralphie's Experiment Number One is "What would happen if I hid a moist sandwich under my bed?" Rather than your typical, let's grow mold on bread experiment, this style of questioning helps kids understand how the science fits into their real loves and just makes it more fun too.
The experiment book is filled with Magic School Bus cartoons and call-outs from the kids and I like the way each experiment teaches the scientific method of question, hypothesis, experimentation and conclusion. Plus the experiments are things kids really want to know, like does soap really work and does toothpaste kill bacteria and they get to grow mold, fungus and other creepy stuff. The Magic School Bus World of Germs is a another winner for kids aged 4 to 10 and will be hours of educational fun.
Dora the Explorer: My First Weather Station
The other kit we liked was My First Weather Station. While this kit is branded Dora, the Explorer, her affiliation is completely irrelevant and all it serves to do is scare off boys from this fun science kit. Another possible strike against this kit is it comes close to being a project kit, in that it is really just one activity, with some other activity ideas thrown in to bulk it up, but they don't really add much. The heart of this kit is the weather station and the reason that I like it, despite its two seeming flaws is that it is different from any of the other kits, offers to teach kids about weather which is very relatable to their lives, teaches them scientific method, observation and recording, and is fun.
I think this weather station kit is also good because weather is becoming more and more a topic of interest and concern with global warming and tropical storms in the news all time. Learning about the weather lets kids take it into their own hands and gives them the foundation for understanding the world around them.
The one drawback with this kit is the basic premise of it is to record weather over a period of time, so there's no immediate satisfaction here and it may require the parent to keep the child interested and remind them to check their weather station every day, although hopefully the kids will get into it and be excited to do it on their own.
Overall, this is a fun science kit with a topic that you don't see in a lot of other kits and is a fun hands on project for preschoolers to learn about weather right outside their own window.
Any of these science kits would make a perfect holiday gift this year or a birhday present that kids will really have fun with and so will the lucky parent who gets to do the kits with them.
Win four great science kits for little kids in our Science Week Giveaway.
For more great holiday info, check out our Holiday Guide and our NYC Local Gift Guide.
Click Here to Sign Up!