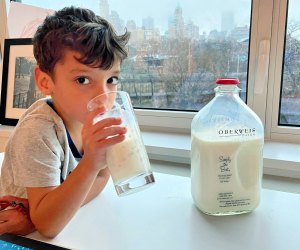 Here Comes the Milkman! Dairy Delivery in LA and OC
Every time we run out of milk unexpectedly, I find myself wishing for a good old-fashioned milkman who would simply deliver while I slept. Oh, sure, there are all sorts of ways to order groceries online, or subscribe to dinners online, but that's not quite the same thing as just knowing, like our moms did, that when they got up in the morning they could just reach out to the milkbox and find what they needed. Well, guess what? There actually are milkmen in LA!
Milk and other dairy (or non-dairy alternative) delivery is available from a few SoCal companies. Best of all, home delivered milk is fresher than what you find at the grocery store. Typically, it has been out of the cow for no more than 48 hours—often less. It's the freshest you can get without touching an udder.
Cynthia Morrison
818.270.8386
818.341.9100
themoodude@aol.com
Looking for a wide variety of products and a lot of flexibility? If you are in the Valley, Santa Clarita area, Burbank, or Palisades/Brentwood, this is the delivery service for you! Cynthia offers Alta Dena dairy products, Broguiere's bottled milk, and Claravale Farms raw milk, as well as all the associated dairy products. There is also a variety of cheeses and basic groceries available—and if you need something special, just ask. Delivery can be made weekly, twice a week, or every other week—day(s) and time are determined by area. Delivery areas can be expanded if there is demand.
714.991.MILK​
idd-ad@sbcglobal.net
These independent distributors bring hormone-free milk and a huge choice of other dairy products to the OC, from Fullerton and Brea to Ladera Ranch and Aliso Viejo. Delivered before 6am on a weekly basis, this milk is low-temperature pasteurized (most grocery store milk is high-temperature pasteurized to give it a long shelf life) and is typically less than 24 hours from the cow. No rBST hormones or antibiotics are used. Juices and other groceries are also available; orders can be changed up to 11am the day before your delivery. Day of delivery is determined by geographical location.
800.645.5123 ext. 60503
Alta Dena supplies a network of independently operated home delivery drivers. Each driver carries a full range of Alta Dena milk products, and may offer produce and juices as well. There are routes in Los Angeles, Orange, San Bernardino, Riverside, and San Diego Counties. Call the number listed above (leave your street address and zip code if you leave a message) to find out if a driver operates in your area.
There is even a milkman for vegans! Delivering only milk alternatives, Mylkman brings freshly made almond or coconut milk to homes in Los Angeles County every Thursday. This isn't the shelf-stable stuff in the cartons most of us know; these drinks are delivered on the day they're made. Deliveries are only on Thursdays and can be recurring or one-offs. Orders must be placed online.
Originally published October 10, 2012