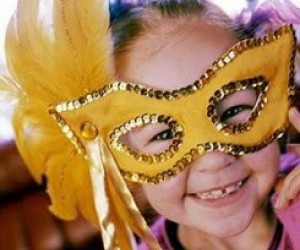 Fun & Free Activities with LA Kids this Weekend: White, Whales, Dr. Seuss, & Mardi Gras: March 1 - 2
It's happening again. One of those weekends when there's just. Too. Much. To. Do. We've got whales, and more whales. And if whales are too big we've got fish. We've got Mardi Gras, more Mardi Gras, a spectrum-friendly Mardi Gras, and Woofstock. We've got lots and lots of Seuss.

Ernest & Celestine opens this weekend; the French animated tale of mouse/bear friendship is nominated for an Oscar. Which reminds me, the Oscars are this weekend! You know, that event you used to build your weekend around before you had kids? (Or was that just me?)
Of course, if this rain turns out to be as big a deal as they're saying, movies could be a good idea (we've got 'em from dust bunnies to Pirate Fairies). Or a play (White opens this weekend, too). Or a concert. But plenty of the celebrations you can attend this weekend offer great indoor options, too; there's a free Family Arts Festival, a St. David's Day Festival, a celebration of Persian New Year, a celebration of Women's History Month, a celebration of play. Sounds like this weekend, LA is one big celebration of ... celebrating.

And now we celebrate some of our favorite picks for the weekend...
ALL WEEKEND

The Amazing Bubble Man - Santa Monica
Bubbles, big and small, the Amazing Bubble Man makes 'em all!
Ernest & Celestine (PG) - West LA
It's up for an Oscar! The tale of an unexpected friendship between a little orphan mouse and a music-playing bear opens at the Landmark this weekend.

The Pirate Fairy (G) - Hollywood
Pirates and fairies - what more could a kid want? The latest Tinker Bell movie opens at El Capitan.

White - Beverly Hills
It's not just for kids! Audiences of all ages love the story of Cotton and Wrinkle's (almost) all-white world.

Mardi Gras at Farmers' Market - Farmer's Market
Break out the beignets and jambalaya; the Farmers Market celebrates Mardi Gras!

Family Picnic Day - Cherry Blossom Festival - Palos Verdes Peninsula
Families can picnic under the Cherry Blossoms at South Coast Botanic Garden.

Dana Point Festival of Whales - Dana Point
Dana Point pays tribute to our Cetacean friends with a festival over two weekends. This Saturday the parade is a highlight.

SATURDAY MARCH 1

Whale of a Day - Rancho Palos Verdes
Palos Verdes' annual festival marks the migration of the Pacific Gray Whale with kids activities, informative exhibits and the chance to spot whales swimming by.

Back With The Wind: Miyazaki, Takahata And The Masters Of Studio Ghibli - Hollywood
My Neighbor Totoro tops the Miyazaki double bill at the Egyptian Theatre.

Home Depot Kids Workshops - Multiple Locations
Get inspired for the upcoming film Mr. Peabody and Sherman with a Trojan Horse Bank project.

Super Seuss-a-Bration - Santa Monica
Santa Monica Library celebrates Dr. Seuss's birthday with a balloon show and more.

Dr. Seuss's Birthday at Lakeshore Learning Stores - Multiple Locations
Lakeshore Learning celebrates Dr. Seuss's birthday and Read Across America with a day of crafts and story readings.

Saturday Morning Concerts at Books and Cookies - Santa Monica
Abra cadabra! A free magic show appears after The Beat Buds concert at Books and Cookies.

Peter Rabbit Character Appearance - The Grove
Peter Rabbit comes hopping into Pottery Barn Kids at the Grove for a friendly meet and greet. (Costa Mesa, too).

Story Theater with Victoria Goring &
Humphrey's 10 Year Hamster-versary Party! - West LA
Childrens' Book World has Victora Goring and her fun improvised stories in the morning. Later, Author Betty G. Birney celebrates a decade of her award-winning Humphrey series with a hamsterific party!

LEGO Movie Building Event at Barnes & Noble - Multiple Locations
LEGO lovers can participate in some LEGO Movie themed building at several area Barnes & Noble locations.

Mythical Playground: Brazilian Myths and Culture - Santa Monica
Kids can discover the music and culture of Brazil at the Broad Stage.

Family Arts Fest at Pepperdine University - Malibu
The Center for the Arts at Pepperdine welcomes families for fun indoor and outdoor activities, food, face painting, Weisman Museum tours, music, and more.

Hinamatsuri Afternoon Tea - Downtown
Japanese American National Museum hosts a doll tea in honor of Hinamatsuri, also known as Doll's Festival or Girl's Day.

TSFY: Tchaikovsky's World - Downtown
Young audiences can get a taste of Tchaikovsky at this popular series at the Walt Disney Concert Hall.

Lantern Festival - Downtown
The 13th annual Lantern Festival, celebrates a decade of free arts, culture, and educational activities in a re-created traditional village street fair.

Venice Beach Mardi Gras Parade - Venice Beach
This year's all ages festivities have a theme of "Lovelution"; a dance party follows the parade.

St. David's Day Festival - Hollywood
The National Day of Wales is celebrated at Cinefamily, with performances, kids crafts, Welsh language classes and more.

Mardi Gras Long Beach - Long Beach
Long Beach celebrates Mardi Gras with crafts, live music, authentic food and a parade.

Mardi Gras for Autism - Fullerton
Head to Downtown Fullerton for a Mardi Gras that offers festive entertainment, kids activities, and a sensory-friendly area for kids with autism.

SUNDAY MARCH 2

A Faery Hunt - Crestwood Hills Park - Brentwood
The King of the Faeries is loose in Crestwood Hills Park!

Free Day at the Bowers - Santa Ana
The Bowers Museum celebrates Norouz (Persian New Year), with Persian dance, arts & crafts, face painting, and calligraphy.

Free Day at the La Habra Children's Museum - La Habra
It's playtime! Kids can be lifesize pieces on a giant checkerboard, run a crazy obstacle course, hula hoop, and build giant outdoor structures.

Disney's Frozen Karaoke and Play-Along - Santa Monica
Kids can belt out their best "Let it Go" karaoke while decked out in Princess-wear (or not!).

Woofstock 90210 - Beverly Hills
All the cool canines are at La Cienega Park's Wiggly Field East for Woofstock 90210, for a pet parade, pet entertainment, and animal adoptions.

Andell Family Sundays - The Art of Soccer - Mid-Wilshire
Goal! The family Sundays at LACMA in March are all about soccer.

Target Sundays at CAAM: Women's History Month Kick-Off - Exposition Park
The California African American Museum kicks-off Women's History Month with an afternoon of performances and workshops dedicated to the theme "Women in Action."

Sunday Studio at MOCA - Downtown
MOCA's free, quarterly event engages visitors in conversations about art on view and offers participatory art experiences, music, and snacks.

Teen Trio To Be One - Glendale
Teenage group To Be One stops by Glendale Galleria during their West Coast tour.

Annual Dr. Seuss Readathon - Downtown
Librarians and special guests read their favorite Dr. Seuss stories and poems at the Central Library.

A Dr. Seuss Sunday - Mid-Wilshire
The Zimmer celebrates Dr. Seuss and his wonderful world of words that rhyme and striped top hats.

Stories in the Afternoon - Pasadena
Families can learn how local zoos and gardens inspired Henri Rousseau's work, then paint jungle scenes of their own.

Grunion Run - San Pedro
Those wacky fish are making their way back up onto the sand (they must really want to visit the Cabrillo Marine Aquarium).


As always, there are more activities listed on our daily events calendar, and if you don't already receive this post as a weekly email, you should totally subscribe. Whatever you choose to do this weekend, it's worth celebrating!