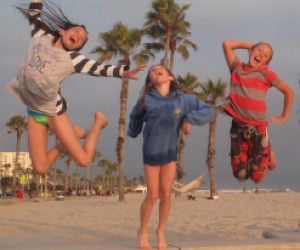 Fun & Free Activities with LA Kids this Weekend: Make Music LA, Opening Night at the Bowl & Family Bike Ride June 21 -22
Well look at what the sun is up to! Staying out super late, giving us the longest day of the year (and shortest night), and all around putting the sol back in solstice. Our favorite star is leaving no doubt that summer is here. (And in case you needed any reminders, how about the seemingly endless stream of outdoor concerts and moonlit movie screenings that pop up for the season.)
Though why you would need a reminder with your kids lazing around the house filling your days with sunshine is beyond me. You can fill their days with sunshine (and water play and bike rides) with the sweet summer activities listed in our Summer Fun Guide.
Those school-less Mondays through Fridays are going to leave you with a lot more hours to enrich. Hey, what's that Mommy Poppins has in our magic bag of tricks? Ho ho here you go: our new weekly feature that highlights the best of our, say what, Monday to Friday events. It's like we read your mind.

Keep reading for some of our favorite picks for this weekend...
ALL WEEKEND

Circus Vargas - Thousand Oaks - Thousand Oaks
The latest show from the animal-free circus is full of magic and thrills.

Long Beach Bayou Festival - Long Beach
Rainbow Lagoon Park presents the finest in New Orleans cuisine and culture. The kids' stage features all-day children's entertainment, including puppets, magic, live animals, and games, plus face painting and balloon twisting.

Family Amphitheater Performances - West Los Angeles
The summer family entertainment series at the Skirball Cultural Center gets off to a great start with two fun shows: on Saturday, Joanie Leeds and the Nightlights; on Sunday, get ready for a family dance jam!

SATURDAY, JUNE 21

Make Music LA - Multiple Venues throughout Los Angeles
Musicians perform across Los Angeles - in libraries and parks and businesses - and everyone can take part.

Stephanie's Day Resource Fair - Studio City
Stephanie's Day is a free resource fair that offers families with children impacted by autism and other special needs a place to collect valuable information, enjoy fun activities, and more.

Opening Night at the Bowl - Hollywood
Hollywood Bowl starts the season with a bang, and we're not just talking about the fireworks! Performers include Hall of Fame Inductees Kristen Chenoweth, the Go-Go's, and Pink Martini, as well as presenter Carol Burnett and special guest Lea Michelle.

'Summer of Mud' Run - Silverado
Kids can get in on the act with the special "Mud Puddles Kids Course" at the OC's Summer of Mud run in Oak Canyon Park.

LA Sanitation Harbor Yard Open House - San Pedro
Harbor District Yard is the latest refuse yard to open up for some fun discovery about recycling and sanitation.

Big Sunday Hosts Huge Yard Sale in Support of Kids at Heart of Los Angeles - Hollywood
Help send a kid to camp by participating in Big Sunday's yard sale (donate, volunteer, or buy something!).

Peace. Love. Swap. Summer Swap - Pasadena
You can sign your kids up for some kids' karaoke while you search for pre-loved (gently used!) wardrobe finds for kids and mamas-to-be.

Nothin' But Sand Beach Cleanup - Pacific Palisades.
That beach ain't gonna clean itself: all ages are welcome to pitch in at this monthly event.

AMC Theatres Sensory Friendly Films - Participating Locations
Families affected by autism can enjoy a sensory-friendly screening of the new release How to Train Your Dragon 2.

Summer Kick-Off Celebration at Pretend City! - Irvine
Guess what? It's summer! Pretend City celebrates with limbo contests, beach ball volleyball, and a sand castle building contest.

Flap Happy and Malibu Sugar Blowout Sale - Los Angeles
Just in time for summer: score some sweet sunhats and more from Flap Happy and Malibu Sugar at discount prices.

Frontier Day - Santa Monica
Yee ha, partner! It's Frontier Day in Santa Monica's Douglas Park, and that means free activities for kids, like mining for gold, a pie-eating contest, and a puppy play pen.

Norton Simon Family Day - Pasadena
Families can examine interlocking sculptures then create some of their own at the Norton Simon Museum.

The Mother Company Celebrates National Safety Month at The Grove - Fairfax
It's family time at the Grove! Ruby of Ruby's Studio reads to the kids, Hug Trees: Tom Freund & Friends and Freckles perform.

Family Day at Pasadena Museum of California Art - Pasadena
The whole family can participate in fun art projects based on the museum's current exhibitions; projects include painting, printmaking, tapestry weaving, and creating cyanotypes.

Street Food Cinema - Pasadena
Only a mean Momma would keep her (age appropriate) kids from seeing Mean Girls at Brookside Park in Pasadena.

Moonlight Movies on the Beach - Movies at Mom's - Long Beach
The free moonlit movies at Mom's Beach House start up for the summer with the Monsters Inc prequel Monsters University.

SUNDAY JUNE 22

Los Angeles River Ride and Family Ride - Griffith Park
Wanna bike 70 miles on Sunday? How about 50? 15? A wide range of rides are available, from a full 100 miles down to a 2-mile kids ride, and a fun Kids Safety ride to introduce kids to bike safety. All kids rides are free.

Family Music Festival - Arcadia
I'm getting some serious good vibrations about the 21st Annual Family Music Festival at the Los Angeles County Arboretum: the headliners are the Beach Boys!

1K Kids Fun Run - Pasadena
Kids can learn the value of giving back while enjoying an invigorating 1K fun run in support of the Midnight Mission.

A Faery Hunt - Simi Valley - Simi Valley
Looking for faeries… looking… found em! Put on your wings and tutu and spot them in Corriganville Park.

Velveteen Rabbit - Topanga
Creative Playground brings to life the timeless classic Velveteen Rabbit, exploring themes of friendship and what it means to be "really real."

Kids in the Courtyard: Plants for the Planet - Westwood
Kids can learn about plants, then make their own clay vase at the Fowler Museum. A concert with Grammy-nominated Perla Batalla follows.

Hammer Kids: Close Encounters: Paper Costumes & Choreography - Westwood
Got any budding designers or choreographers at home? Kids can get inspired by works on display at the Hammer Museum then make their own wearable art and original choreography.

Summer Soulstice - Santa Monica
Five stages along Santa Monica's Main Street offer free entertainment throughout the day.

Victorian Day in the Park - Encino
Flashback to the 70s and 80s - the 1870s and 80s - for a picnic at Los Encinos State Historic Park.

Zimmer Sunday Family Programs - Mid-Wilshire
Hand, hand, fingers, thumb. Drum drum drum drum drum. The Zimmer kicks off summer with Sabina Sandoval of Free to Be Me Drum Circle.

Sunday Movie Nights - Beverly Hills
Throwback Sunday! 1947's Bachelor & The Bobby-Soxer, starring Cary Grant and a teen-aged Shirley Temple, screens under the stars at Beverly Canons Garden.