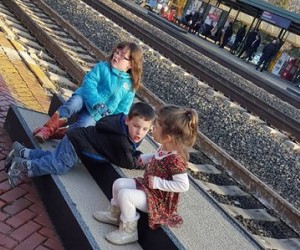 Family Fun Along the SEPTA Paoli-Thorndale Line
Take a day trip on the Thorndale/Paoli line and see what you might be missing! Whether you are a local on the Main Line, or looking for a chance to get out of the city, there is plenty to do all along this SEPTA route, many just steps away from the stations. Running through Chester, Delaware, and Philadelphia counties, this historic rail line runs along Amtrak's Keystone Corridor. With options along more than ten stops, it would be hard to pack it all in in one day, so plan ahead, and make several excursions this season.
Note that not every spot is walkable from the train stations, particularly in the far western 'burbs, but they're still great for kids or mom meetups. Check the latest SEPTA map to be sure.
Get on in Thorndale and head to the next stop, Downingtown, where a short car ride (meet up with a local friend at the station!) takes you to Kerr Park's "Sky's the Limit" playground, that's freshly remodeled and fun for all ages.
Next stop is Exton. Make a quick shopping excursion to Exton Square Mall and let your tots run around warmly indoors—there's a small play area for the younger children as well.Bounce U also has a fun space where the kids can get their wild energy out. Call ahead for schedules.
At Malvern, great family fun is all around you! Key highlights of the area within two miles of the station include People's Light Theater, where you can catch family friendly shows. Or if gaming is more your speed, check out the local Pinball Gallery or Grandslam Malvern which has a new Ninja Obstacle Course. Malvern borough also has a cute park and plenty to town for families to explore, and it's walking distance from the station.
Just a few steps off the Paoli line is the Center on Central, where arts and crafts are the name of the game. Hosted workshops and courses are offered. Check out the full schedule of offerings, and drop-ins are welcome, too (though it's best to call in advance). Arts and crafts classes are for school-aged children.
Hop off at Devon to enjoy an old-fashioned round of bowling. Devon Lanes boasts an excellent bowling alley and arcade only steps from the Devon stop. Bumpers and children's ramps make it easy for everyone to feel like a winner!
If you are feeling artistic, hop off in Wayne and take a family art class at Painting with a Twist. The family that paints together...has multiple paintings! For ages 6 and up.
Relax for a few stops, enjoy the view, and get off at Bryn Mawr, where the kids (and parents!) can check out the Play Cafe. This 4000-square-foot play space has ample room and activities for younger kids, specifically those aged 0-5. Meanwhile, the grown-ups can relax and enjoy an adult conversation. Memberships are offered if it seems like a hit with the whole family.
Just a few stops away in Ardmore is Lulus Casita. Like the Play Cafe, there is an indoor playground with adult cafe, but the food has a slight Latino twist, with items like Chicken Mole and Empanadas.
Next up is Narberth, where families can catch a show at the Narberth Community Theater, or just peruse the borough. There are lots of shops and restaurants that are family friendly. Plus, there's a community library and yoga studio that offer periodic classes and workshops for little ones. Check the websites for scheduling.
The first stop in Philadelphia proper is 30th Street Station. Check out the Schuylkill River trail, which is an excellent biking, walking, and running path that runs by famous city spots, like the the Art Museum and Boathouse Row. Also close to the station is World Cafe Live, which plays host to great indie musicians, story slams, and the occasional festival. It often schedules kid-friendly performances and family shows, so take a look at the schedule to see what's coming up.
Suburban Station is a must-stop during the cold months for some family-friendly ice skating at Dilworth Park! This is also a gateway to the majority of the Philadelphia museums that line the Benjamin Franklin Parkway. The Franklin Institute, and the Academy of Science, are close at hand. Or take a longer walk and make your way to the Philadelphia Art Museum and the Barnes.
The newly dubbed Jefferson Station is the stop for Reading Terminal Market. In addition to having the most enormous selection of meals, desserts, and candies a kid can imagine, every Wednesday and Saturday it offers "behind the market" tours, when families can learn all about the history of the market and get the inside scoop from the vendors. Walk over to Chinatown to get even more delicious food, or stop by the Fabric Workshop and Museum to experience experimentation in contemporary art. This is a great activity for the older kids in the family.
The last stop on this trip is Temple University, where the sports fans in the family can check out a home basketball game at the Liacouras Center. Temple has a constantly rotating selection of food trucks, so it might present a good opportunity for parents to encourage the little ones to try some different foods.