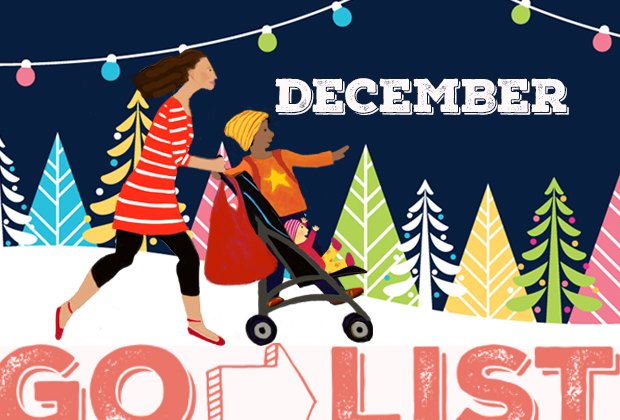 December GoList: Best Things To Do in Westchester for the Holidays
With Thanksgiving so late this year, holiday events that usually take place in late November have gotten bumped into December, leaving less time to do so many great things! The abundance of festivities in Westchester and the Hudson Valley can be overwhelming, so we've compiled our top picks to help you navigate the month.
So far, we've told you where to go for holiday tree- and menorah-lighting celebrations, where to catch a live holiday performance, and where to have breakfast (and brunch) and other encounters with Santa. Beyond these, our Event Calendar is positively bursting with activities for kids every day of the week. And when a break from holiday mayhem is needed, we've got you covered there, too. Feeling the pinch? Leverage our list of FREE holiday activities throughout the month.
Read on for our top picks for December. For even more great options, be sure to peruse our Holiday Fun Guide, full of yet more ideas to help you get the most out of the holidays with kids. Also, sign up for our newsletters to stay up to date on all kinds of fun—holiday and otherwise!

It's all about winter time fun at the Winter Wonderland in Valhalla. Photo courtesy of the event
Winter Wonderland – Valhalla
Select dates from Friday, November 29, 2019 – Saturday, January 4, 2020
This month-long holiday attraction returns with a circus tent, ice skating, a holiday market, treats, rides, a light show, hayrides, a meet-and-greet with Santa, and other holiday fun.
RELATED: 25+ Awesome Santa Activities for Kids in Westchester and the Hudson Valley

Wander through the enchanted forest of lights to the "North Pole" at the Holiday Spirit Festival. Photo courtesy of the festival
Holiday Spirit Festival – Wappingers Falls
Fridays-Sundays, November 29 – December 28, 2019
This holiday festival features a magical Christmas village and train display, an enchanted forest of lights, Santa's chalet, stage shows, treats, costumed characters, and more.
RELATED: Must-Do Holiday and Christmas Events for Westchester Kids

Meet Frosty and his friends and see Candy Cane Lane at Frosty Fest. Photo courtesy of the fest
Frosty Fest – Ulster Park
Fridays–Sundays, November 29 – December 22, 2019
This multifaceted holiday attraction features light displays, Frosty and his friends, Candy Cane Lane, a character parade, tasty treats, and more.
Frosty Day – Armonk
Sunday, December 1, 2019
Spend the day in Frosty the Snowman's hometown and enjoy a parade, mini-train rides, assorted entertainment, face painting, a tree lighting, in-store activities, treats, and more. FREE
Mistletoe Magic – Rye
Sunday, December 1, 2019
Rye's answer to Frosty Day features horse-drawn carriage rides, Santa, train rides, bouncing castle, inflatable slide, farmers market, raffles, pony rides, holiday crafts, dance performances, wildlife exhibit, chili cook-off contest, puppet shows, food, and music.
RELATED: Most Spectacular Christmas and Holiday Light Displays in Westchester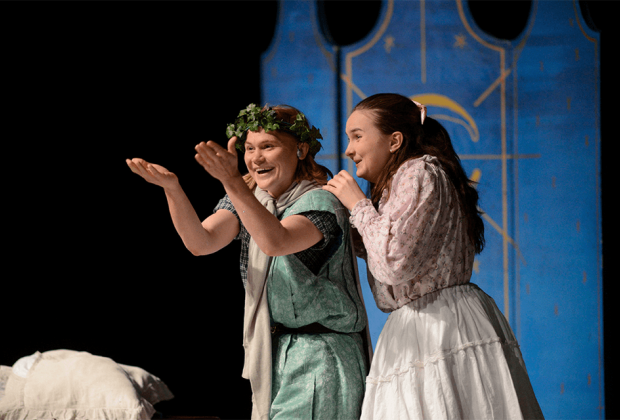 Peter Pan flied into the Emelin Theater on Saturday, December 7. Photo courtesy of the theater
Peter Pan – Mamaroneck
Saturday, December 7, 2019
TheaterWorksUSA again visits the Emelin Theatre, delivering a young audience to Neverland. Two matinee performances are offered.
Holidays on the Hill Train Show – Somers
Saturdays and Sundays, December 7-22, 2019
Visit the main house all decked out for the holidays at Lasdon's holiday train show, as well as the decorated greenhouses and seven-foot, live poinsettia tree. Meet Santa in his workshop, warm up at the fire pit, enjoy refreshments, and more.

Enjoy a cozy performance of Dickens' Christmas Carol in Sleepy Hollow. Photo by Tom Nycz for Historic Hudson Valley
Dickens' Christmas Carol – Sleepy Hollow
Saturdays and Sundays, December 7-15, 2019
Nestle in to the cozy confines of the Old Dutch Church and enjoy an adaptation of this Charles Dickens classic.
The Westchester Ballet Company Presents The Nutcracker – White Plains
Friday, December 13 – Sunday, December 15, 2019
This quality production returns for its annual engagement at the Westchester County Center.
Holiday Tour by Candlelight – Yonkers
Tuesday, December 17 – Saturday, December 21, 2019
Step back in time for a vintage Christmas festivity, as you tour this historic home—bedecked in its holiday glory—by candlelight.
Winter Solstice Celebration at Hudson Highlands – Cornwall
Saturday, December 21, 2019
Pay homage to the longest night of the year and the arrival of winter. Go on a scavenger hunt in search of the hidden Yule Log, then celebrate the lengthening days with a warming bonfire, snacks, and beverages.
Hanukkah City at Ridge Hill – Yonkers
Sunday, December 22, 2019
Multiple Chabad groups are joining forces to host a large-scale event to kick off the start of Hanukkah. On the agenda are rides, entertainment, crafts, a gelt drop, the world's first Virtual Reality Hanukkah experience, the Inventor Mentor, Mario the Magician, a train ride, balloon sculpting, 3D printing and robotics, clay sculpting, refreshments, a menorah lighting, and more. FREE
RELATED: 35+ Free December Activities for Westchester Kids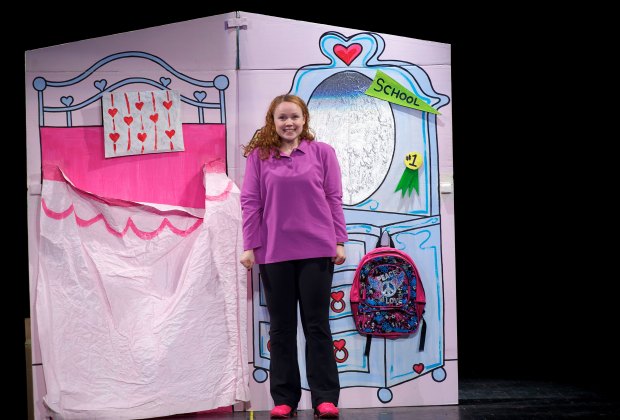 The Paper Bag Players return to the Emelin Theater. Photo courtesy of the theater
The Paper Bag Players – Mamaroneck
Thursday, December 26 – Friday, December 27, 2019
The Paper Bag Players celebrates its 60th anniversary with a new show featuring the troupe's signature humor, sketches, mime, song, dance, and audience participation. Larger-than-life characters are wrapped in signature paper amid cardboard costumes and sets.

Children can enjoy an afternoon New Year's party with family-friendly activities and entertainment.
Ring in the New Year at Noon – New Rochelle
Tuesday, December 31, 2019
Enjoy a Times Square–style atmosphere to ring in the new year, complete with a countdown to a daytime balloon release (3,000 of them!) at the reasonable hour of noon. Children can also enjoy family-friendly activities and entertainment.