The Adventures of Tortoise & Hare The Next Generation
The Sheen Center

The Very Hungry Caterpillar Show
DR2 Theatre

NYC Easter Brunch Cruise 2023
Event Cruises NYC
Sign up for our free newsletters.
22 Online Tutoring Services for Homework Help and Remote Learning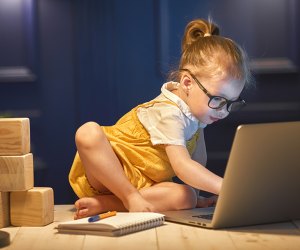 8/16/20
- By
Drew Kristofik
Whether you're homeschooling, navigating hybrid learning, or going fully remote this year—or your kiddo just needs some extra support—you'll be relieved to know that online tutoring services and homework help are truly just a click away!
Thanks to modern technology, kids across the country can access remote help in core school subjects, K-12 academics, specialized classes and subjects, SAT tutoring, and so much more. Most of these services are incredibly flexible—some are even available 24/7—and they're able to virtually support students through video, audio, chat, text, and innovative tools like interactive whiteboard technology.
So if your first grader needs a hand with reading, your teen wants to ace AP Bio, or math just really isn't your thing, take a look at these online tutoring websites and virtual homework help options for children of all ages.