Boston Fitness Centers With Rock Climbing for Kids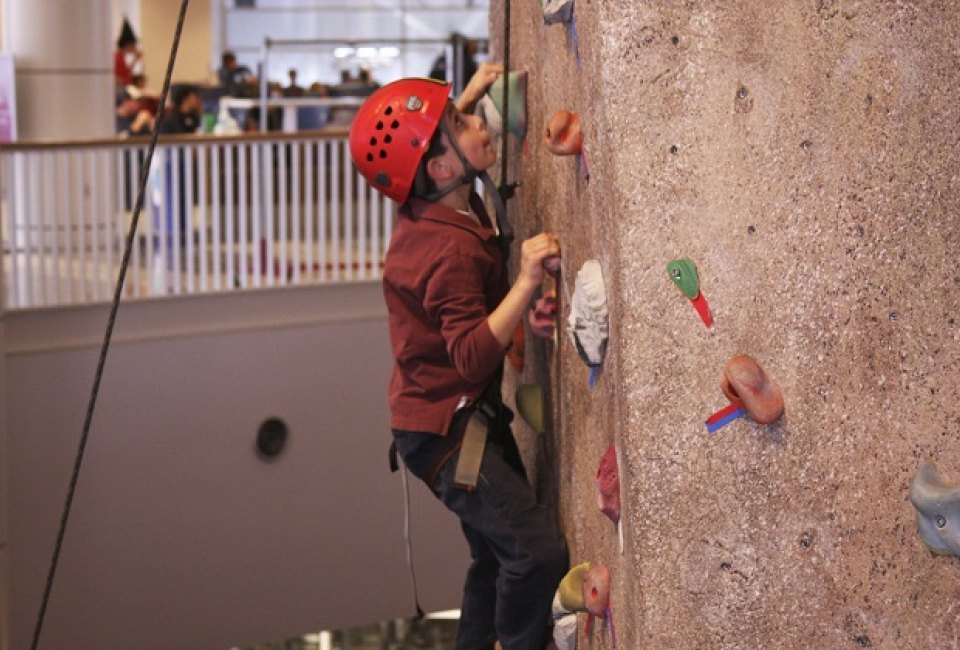 5/7/16
- By
Scott Wallask
We recently wrote about Massachusetts spots that focus exclusively on indoor rock-climbing, but in doing so we left out many fitness centers that offer rock walls among other physical activities. So, if parents want rock-climbing for their kids as an option along with, say, swimming in the same building, here are some good places to consider.
For those of you unfamiliar with rock walls, they're cliffs made of plastic or plywood that offer grips for climbers to grab or step on. Safety ropes connect climbers to spotters on the floor, although bouldering offers rope-free areas that keep people lower to the ground.
Don't be surprised if a fitness center requests parents sign a waiver before their kids can mount a rock wall. Estimated costs below indicate the price of a child's climbing class or day pass, not gym memberships.
Boston University Fitness & Recreation Center (a.k.a. FitRec)
915 Commonwealth Ave., Boston, MA 02215 (St. Paul Street on the Green Line B extension)
Cost: $$$
Located near Agganis Arena on the main BU campus, FitRec's 30-foot rock wall is not just for college students. The center offers rock-climbing classes for kids alone (see the photo above) or children and their parents together. FitRec's website says it offers family memberships, but the information is tough to find online, so parents may be better off calling Membership Services at (617) 358-3740. The wall is also available to rent for birthday parties.
MIT Wall at Walker Memorial
142 Memorial Dr., Cambridge, MA 02142 (Kendall/MIT on the Red Line)
Cost: Free
Talk about a surprise: MIT hosts a bouldering wall that is free to anyone. The university accepts donations from climbers if they wish to give. The wall is overseen by volunteers who staff it at varying hours, which you can track on the wall's website (generally, the wall is available every day). Climbing shoes are available to rent for just one buck.
Dedham Health & Athletic Complex
200 Boston Providence Highway, Dedham, MA 02026
Cost: $$$
This fitness center provides a nice breakdown of rock-climbing classes by ages, starting with kids who are 5 all the way up to teens. Families get a discount on classes if they hold a membership, as well as weekly open climbs exclusively for members. The gym also occasionally offers the intriguing "cosmic climbing," with glow-in-the-dark grips on the rock wall in a darkened room (kind of like cosmic bowling).
YMCA Southcoast
New Bedford YMCA, 25 South Water St., New Bedford MA 02740
Gleason Family YMCA, 3 Charge Pond Road, Wareham MA 02571
Cost: $$$
These YMCA branches offer weeknight rock-wall-climbing classes for youths, with club members receiving a discount. Families can also receive private lessons with an instructor, and the walls are available to rent for birthday parties.
Exxel Gymnastics & Climbing
88 Wells Ave., Newton, MA 02459
Cost: $$$
Aimed at kids ages 18 and all the way down to 4, this gym's rock wall has 60 routes that change, a bouldering cave, and even a simulated indoor ice-climbing path. Exxel also offers climbing birthday parties.
La Vida Rock Gym at Gordon College
255 Grapevine Road, Wenham, MA 01984
Cost: $
An affordable option for families on the North Shore is this rock gym on the campus of Gordon College. La Vida offers open climbs most weeknights, and other options include climbing classes and birthday and graduation parties.
Willy's Gym
4730 State Highway 6, North Eastham, MA 02651
Cost: $
This older facility on Cape Cod offers a rock wall for climbers of all ages and levels, as well as bouldering. Drop-in day passes are available at Willy's Gym for climbing. The lengthy operating hours of the gym are clearly a draw for fans of this place.
---
Photo courtesy of BU FitRec.