Indoor Rock Climbing Gyms and Parties for Boston Kids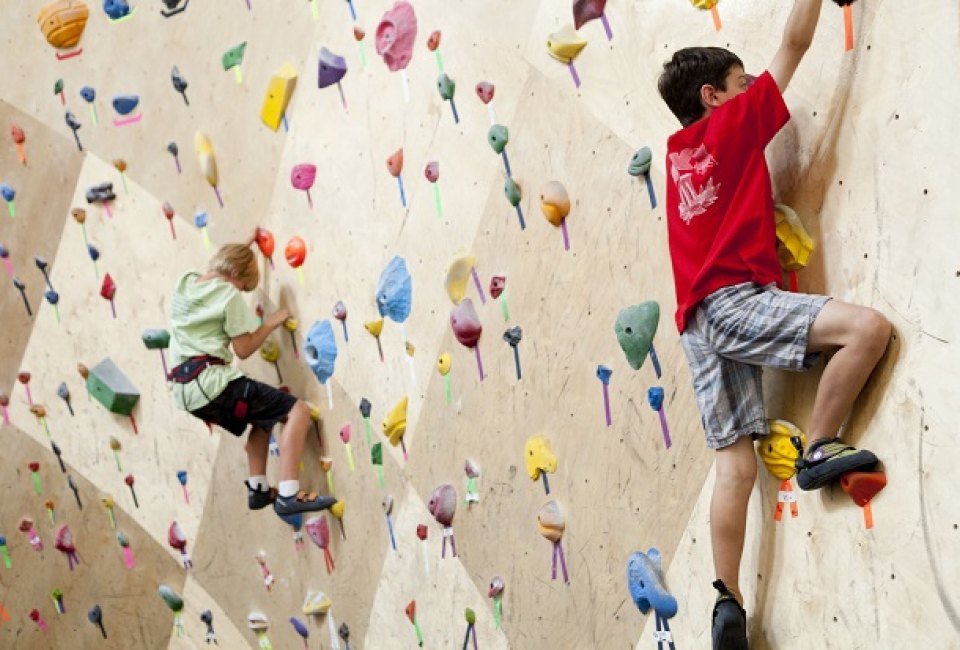 1/24/16
- By
Scott Wallask
Indoor rock climbing gyms offer physical and mental challenges for kids and adults alike. There are several indoor rock climbing locations around Boston that cater to children through specialized classes and birthday parties—sanity-savers for parents when the kids are starting to climb the walls at home.
For the record, when we say rock climbing, we're actually talking about a simulated crag made of plywood or plastic with grips for a climber's feet and hands. A series of safety ropes connects a participant to spotters or clips on the ground. Aside from the cliff-like crests of rock walls, some locations also offer bouldering, which keeps the action closer to the ground and uses safety mats instead of ropes for protection.
Here is a collection of spots that exclusively center on indoor rock climbing. Much like indoor playgrounds, most rock climbing gyms require parents to sign injury waivers for their kids before they're allowed to participate. Estimated cost reflects the price of a child's climbing class or day pass, not memberships.
---
Rock Spot Climbing
67 Sprague St., Boston, MA 02136
30 Old Colony Ave., Boston, MA 02127
Cost: $
Rock Spot Climbing has two locations in the city of Boston: one near the Dedham line in the Readville neighborhood, the other in Southie. Both spots feature classes for climbers as young as 4 (offering a no-pressure learning environment) up through teens (youths of all abilities welcome, with a focus on climbing and training). The child-instructor ratio is 4:1 in all classes. Payment options include day passes, multi-visit punch cards, and family memberships.
Brooklyn Boulders Somerville
12A Tyler St., Somerville, MA 02143
Cost: $$
Located about 10 minutes by foot from Porter Square is Brooklyn Boulders – yes, the company started in Brooklyn, but don't hold that against the place. And to be fair, the founders met at Babson College in Wellesley, according to a fascinating company profile in BloombergBusiness. Speaking of all business, this site (photo above) in Somerville offers a ton of kids activities, including full-week choices during school breaks, weekend programs, birthday parties, and climbs for teens. Aside from day passes, the gym also offers family memberships (kids less than 5 years old get free admittance to the gym with a family membership).
Metro Rock Indoor Climbing
69 Norman St., Everett, MA 02149
40 Parker St., Newburyport, MA 01950
Cost: $
Children have a lot of options at these two locations north of Boston, including open climbing, special staff-instructed times, afterschool programs, and the chance to run a ropes course. Climbing-related birthday parties and classes also show up on the roster of activities. Day passes are offered for climbing, and parents can also check out family memberships.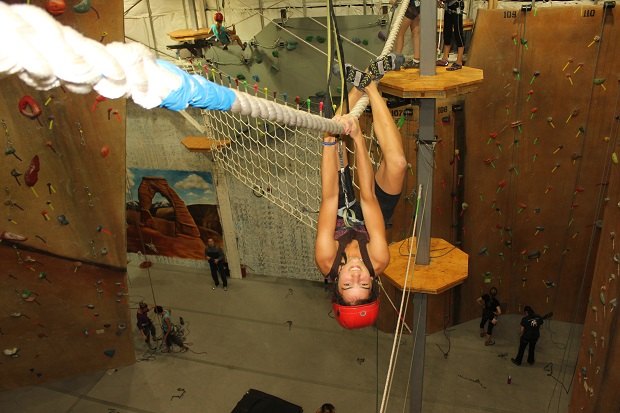 Photo courtesy of Metro Rock
Central Rock Gym
74 Acton St., Watertown, MA 02472
445 High St., Randolph, MA 02368
299 Barber Ave., Worcester, MA 01606
Cost: $$
Central Rock Gym is well represented in Eastern Massachusetts with several locations. The Watertown installation is large and features a wall that is 100 ft. wide by 48 ft. high. It can be difficult nailing down exact pricing for youth climbs, but the facilities are state of the art. Birthday parties and staff-guided climbing are among the choices. Note that a Cambridge location for Central Rock Gym doesn't provide many youth activities.
Boston Rock Gym
78G Olympia Ave., Woburn, MA 01801
Cost: $
Well, someone had to say it: If your kid celebrates his or her birthday party at Woburn's Boston Rock Gym, s/he will become a whole new type of rock star, according to the company. The gym – which is along Route 128 near the Washington Street exit – also offers scheduled kids climbing lessons for participants who are at least 5 years old.
Rock On Adventure
661 Pleasant St., Norwood, MA 02062
Cost: $
Rock On Adventure is primarily aimed at kids, with a diverse array of classes and programs. It also welcomes the youngest of climbers, mentioning on its website that 3-year-old toddlers can climb there as long at they are potty-trained. An interesting twist: The site offers a few rock-climbing classes for home-schooled kids.
Challenge Rocks
3 Pond Park Road, Hingham, MA 02043
Cost: $
Located off Route 3 near Derby Street exit in Hingham, Challenge Rocks aims squarely at families, with climbing classes, vacation programs, climbing teams, and birthday parties. Day passes and family memberships are available. And here's a cool option: You can rent a portable rock climbing wall from the gym.
---
Top photo courtesy of Brooklyn Boulders Somerville