Make Soap Silly Putty
5/18/20
- By
Ally Noel
This science experiment comes together so quickly you will be playing with your putty in less than 5 minutes. The smooth texture of this putty satisfies any sensory-seeking scientist in your home. One of our 64 Easy Experiments for Kids Using Household Stuff, this simple experiment uses only dish soap and cornstarch.
Read on for a fun, quick experiment to break up your day.
You Will Need:
Cornstarch
Dish soap
Measuring spoons
Mixing bowl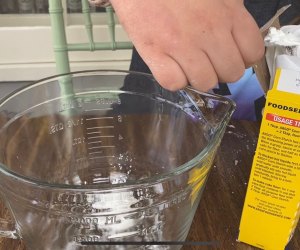 Step 1: The Cornstarch
Scoop 2 tablespoons of cornstarch into a bowl.
Step 2: The Dish Soap
Add 1½ tablespoons of dish soap to the cornstarch.
Step 3: Mix it Up
Start mixing the cornstarch and dish soap until it turns into a putty-like texture.
Troubleshooting
If your mixture is too runny, simply add more cornstarch. If your mixture is too dry, add more dish soap.
The putty lasts for a few hours.

Sign up for our free
newsletters.
Mommy Poppins is a family activity website that helps people find things to do with kids.
©
2023
MommyPoppins. All Rights Reserved.
mp-prod4-v4.32.99
We use cookies and other data collection technologies to provide the best experience for our customers.
Learn More
t Click Here to Sign Up!