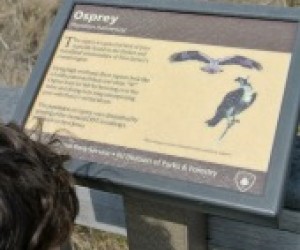 Best Family-Friendly Bird Watching Sanctuaries in New Jersey
A few weeks ago I let my daughter bring a pair of binoculars on our weekly hike. She is not always the most enthusiastic hiker so I was pleasantly surprised when she immediately perked up. The next week I picked up a birding book and she started checking off all of the different birds we saw. Turns out, bird watching can instill a real appreciation of nature in children. New Jersey's wide variety of distinct habitats and location on the Atlantic Flyway make it a great place for bird watchers to enjoy over 400 different species of birds. Kids naturally gravitate toward nature when given the chance, so give them a pair of binoculars and open their eyes to the wonders of birding at one of these great birding spots and sanctuaries. For more outdoor fun, check out our post on family friendly hikes in Central New Jersey.
Great Swamp National Wildlife Refuge (New Vernon, NJ)
Take a walk through the Great Swamp on their special boardwalks and see how many of the estimated 223 species of birds you can find. Visitors can peer through special observation blinds which allow them to see birds without scaring them away. In addition to birds, visitors can check out muskrats, foxes and fish on the 7500 acres of land that make up the refuge. The Swamp is free to visit and trails are open from dawn to dusk. For more information, call 201-425-1222.
The Cora Hartshorn Arboretum and Bird Sanctuary (Short Hills, NJ)
Home to 100 different species of birds, the Cora Hartshorn Arboretum and Bird Sanctuary is a non-profit organization which serves as a cultural and educational center for residents of Millburn Township. The trails of the property pass through kettle moraines, hilly slopes and a natural amphitheater created by glaciers. The grounds also host a variety of native New Jersey wildflower species and are home to over 40 species of trees including a 100 year old tulip tree and an 80 foot umbrella magnolia. Check out their website for a listing of kids after school programs, family field trips and camps.
OUR LATEST VIDEOS
Scherman Hoffman Wildlife Sanctuary (Bernardsville, NJ)
Adults and kids alike will enjoy a trip to the Scherman Hoffman Wildlife Sanctuary. The sanctuary is comprised of 276 acres of field and floodplain habitat. It is home to over 200 species of wildlife including over 60 species of nesting birds. Of particular interest are the 25 different species of warblers that have been spotted during spring migration. Within the sanctuary is the Hoffman Center for Conservation and Environmental Education, which boasts an environmental learning center, tree-top level observation deck, bookstore and exhibits. Well maintained trails ranging from .3 to 1.3 miles traverse the land of the sanctuary, making it the perfect place for a family to spend the day. Check the website for visiting hours.
The Raptor Trust (Millington, NJ)
The Raptor Trust is one of the premiere wild bird rehab centers in the United States. The Trust includes a state of the art hospital, exterior housing for several hundred birds and an education building. Visitors are given the unique opportunity to view at close range many hawks, eagles, falcons and owls that are permanent residents of the facility. The Raptor Trust is open 7 days a week and is free to visit, although a donation is encouraged.
Manasquan Reservoir and Environmental Center (Howell, NJ)
The Manasquan Reservoir is probably best known to bird watchers for its pair of resident bald eagles. The eagles have nested here for the past several years and this year welcomed two baby eaglets. The eagles can be seen from afar with binoculars or up close on the Environmental Center's Eagle Cam. The park has six created wetlands and trailside wildflower meadows which attract over 200 species of birds, as well as 20 varieties of fish, 20 different mammals and 25 different reptiles and amphibians. Enjoy birding on the parks five mile perimeter trail, or take a guided boat ride of the reservoir during the spring and summer months.
Cattus Island County Park (Toms River, NJ)
The unspoiled beauty of nature is the main attraction at Cattus Island County Park, located on the Barnegat Bay in Toms River. This environmentally sensitive park spans over 500 acres and boasts several miles of trails, many offering lovely views of the Bay. Bring your binoculars and enjoy bird watching in the wetlands while walking on the boardwalks, or take a workshop and expand your knowledge of birds and birding. The park also contains a butterfly garden, picnic areas and a playground.
The South Cape May Meadows Preserve and Cape May Bird Observatory (Cape May, NJ)
Cape May has been a destination point for migrating birds and their observers for over 200 years. The South Cape May Meadows Preserve is located on the southwest tip of the Cape May Peninsula. The landscape includes dunes, fresh and salt water marshes, meadows, ponds and a full mile of beachfront. Visit the Meadows Preserve to see migratory birds as well as migrating dragonflies and butterflies as they rest and feed on their journeys. Also located in Cape May, The Cape May Bird Observatory holds regularly scheduled programs including guided walking tours, birding and nature cruises and special events. In addition, the Observatory's Northwood Center is the perfect place to find binoculars, field guides, and a variety of nature books for both adults and children. Sit back on their garden benches and enjoy the beautiful views of Lily Lake, or check out the sightings sheet on the latest bird and nature sightings.
Stone Harbor Bird Sanctuary and Wetlands Institute (Stone Harbor, NJ)
Overlooking 6,000 acres of coastal wetlands, the Wetlands Institute is the perfect place to go bird watching. Open year round, it is a world famous nature based conservation and education facility. In the winter months the Institute is open for self guided tours of all of its facilities, including aquariums, touch tanks, turtle stations, salt marsh trails and an observation tower. In the summer, they offer complete guided tours, as well as back bay boat rides, kayaking, live animal shows, family entertainment and guided beach and dune tours. Stone Harbor is also the home of the 21 acre Stone Harbor Bird Sanctuary. The Sanctuary, which is listed as a national landmark by the National Parks Service, is home to a wide variety of birds including thousands of herons. Visitors can traverse several different trails that include a salt water marsh, an old growth maritime forest, fresh water ponds and meadows. During the summer months, tours are led by Sanctuary docents.
For more information about bird watching in New Jersey, check out the New Jersey Audubon Society's webpage at www.njaudubon.org.