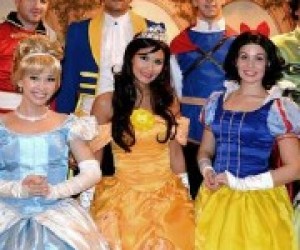 Best Birthday Place Ideas for Girls in New Jersey
In the words of the great Cyndi Lauper, "Girls just wanna have fun!" We've told you about Best Birthday Party Ideas for Boys, and now it's the (miniature) women's turn. If you are looking for a fresh idea for your little lady's upcoming celebration, check out our ideas below. From a salon makeover to crafts to tea parties to a ballet lesson (or for our more hip chicks, a hip-hop class), there are endless options in the Garden State. And for more party ideas, visit our complete Birthday Guide!
Get Dolled Up!
Sweet and Sassy is a classic idea for girl's birthday party. With locations in Ridgewood, Old Bridge, North Brunswick, Cherry Hill and Shrewsbury, Sweet and Sassy is known for its "salon, spa and celebration." This unique birthday setting has nine party themes, including Enchanted Princess, Magical Fairy, Lights, Camera, Action!, Runway Fashion Show, Girls Rock!, My VIP Party, Ultimate Spa Party, DJ Dance and Party in the Pink Limo (select locations only). Mini-party options are also available. Please check location websites for pricing and availability.
Pigtails and Crewcuts (Montclair, NJ) offers Pretty Little Princess, Sweetheart Spa, Darling Divas and Dolly & Me Have Tea party packages. Party goers can choose up dos, braids, make-up or nail polish sessions. For pricing and availability, please call (973) 746-5437.
Little Miss Spa Parties gives your little princess the chance to be pampered. Little Miss Spa Parties brings the celebration right to your home. Currently serving Mercer, Monmouth, Burlington and parts of Hunterdon Counties, party services range from mini-pedis to fruity chocolate facials. For more information, please call (267)907-4048 or email info@littlemisssparties.com. Also, Ritzy Glitzy Girlz Club offers "glam on the go" parties throughout NJ.
Pretty in Pink (Englewood, NJ) offers posh pajama parties, Pretty in Pink Idol, and Fashionista Chic parties. It's a one stop shop for marvelous manis, perfect pedis, pretty cuts,the latest up dos, down dos, special event dos, curls, braids,blow outs, fun facials or makeup makeovers. Please call (201) 227-2030 for more details.
Get Crafty!
Just Bead Yourself (Westfield, NJ) offers jewelry making birthday parties! Offering a Princess Tea Party (age 3-7), a Sofia the First Party (age 3-8), Afternoon Tea with my Doll & Me Party (age 6 - 11), a Glamor Girl Party (age 7 - Teen) and Gemstone Energy Jewelry Party (age 9 - Teen), each guest leaves wearing a beautiful piece of jewelry they have created. For party pricing and availability, please call (908) 232-3411.
Color Me Mine (Summit, NJ) puts the 'art' in party! Your little princess can paint a princess bank, tiara bank, ceramic animals or even a memorable plate. For Summit studio hours or pricing details, please call (908) 598-0248. Additional studio locations include Ridgewood, Voorhees, Hamilton, Denville and Toms River.
Glassworks (Morristown, NJ) fuses birthday fun with individual creativity. Guest can create plaques, square dishes or even a mirror. For further details, please call (973) 656-0800. The Messy Artist (East Hanover, NJ) offers classes and party packages for all age groups. Brushes & Bisque (Denville, NJ), Cookie Party (East Hanover, NJ), Cookies & Juice (North Plainfield, NJ) and Doin' Dishes (Montclair, NJ) all offer party package for your little lady.
Make sure to also check our recent MommyPoppins post on cooking classes in NJ. Your little Julia Child will surely love a cooking or baking party with Sweet Samantha or Chef It Up! (Nutley, NJ).
Get Dressed Up!
Bella Princess (Bloomfield, NJ) is the ultimate choice for a fairy tale princess. Each party is pulled right out of your favorite story book. Whether she fancies Strawberry Shortcake or Alice in Wonderland, your daughter's imagination will be center spotlight. Please call (973) 429-2300 for further details.
My Fairytale Party (Livingston, NJ) is available throughout all of New Jersey for a themed home event. Also, Pink Elephant (Denville, NJ) offers the 'chicks' a variety of celebration options. From ballerina to cowgirl; mermaid to rock star, no matter your little girl's personality they have a party option. Call (973) 819-6745 for pricing and availability.
Get Dancing!
If your little lady loves to twirl, tap or plié, check out Shore Ballet (Island Heights, NJ), Haddonfield School of Dance (Haddonfield, NJ), Miss Patti's School of Dance (Midland Park, NJ), Sharon's Studio of Dance & Music (Whippany, NJ) or Dance Craze (Marlton, NJ).
For something with a little more funk, try Hudson Vibe's (Hoboken, NJ) Zumba Kids dance party or a Hip Hop party at KS Fitness Center (Toms River, NJ).
Party on, ladies!