Acting & Musical Theater Classes for Kids in Westchester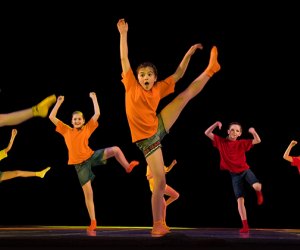 When my son first asked to taking acting classes, I was floored. He was such a shy and timid kid, even as a toddler. I actually asked him if he knew what acting was. He assured me he did and he wanted to take classes so I signed him up. I was surprised and delighted to see my quiet little boy flourish on stage. He became more confident and took to the stage with enthusiasm and excitement that I had never seen in him before.
Acting can be lots of fun and a great way to build public speaking skills and foster teamwork. It's also great to experience seeing a production brought to life and being a part of the process. Westchester has great choices when it comes to acting programs and we've listed them for you here. Instruction ranges from acting and film making to musical theater with dancing and singing incorporated.
Play Group Theatre - White Plains
One North Broadway
I can't say enough wonderful things about Play Group Theatre. My son has done several sessions here and attended their six week summer camp. He loves every minute he's there. The staff is fantastic and their Main Stage full scale productions are beautifully done. Play Group offers something for tots to teens, including a Mommy & Me class for toddlers ages 2 and 3 and a Little Theatre group for ages 4-6. Older kids can choose from a variety of different programs that incorporate acting, singing, dancing and improv. They produce full scale productions and also offer private lessons and audition training.
Applause - Marmaroneck
114 West Boston Post Road
My 6 year old daughter caught the acting bug (maybe from her brother) so she tried the acting camp at Applause this summer. The setting is smaller in scale than Play Group and she quickly warmed up. She had a blast and performed an acting skit, dance number and singing number at the end of the camp, which surprised me (she's as shy as her brother) and is a testament to the warm and encouraging staff. Applause offers programs for kids of all ages, from babies right on through high school. Classes include signing, dancing and acting. Some classes focus on one discipline while others combine areas of interest, like the Pop Stars class (dancing and singing) or musical theater class (which incorporates all three).
Broadway Training Center of Westchester - Hastings-on-Hudson
10 Washington Avenue
With classes in dance, acting, singing, improv, ensemble performance and more, Broadway Training Center has lots of programs to choose from. If your kids inspire you with their performances, consider joining the fun with adult classes in dance, vocal, acting and improv!
The Picture House - Pelham
175 Wolfs Lane
The Picture House offers a unique set of classes for kids of all ages. Here kids not only learn acting and improv skills, but can also try their hand at movie making and directing or take classes with a focus on film acting.