9 Great Karate & Taekwondo Schools in Nassau County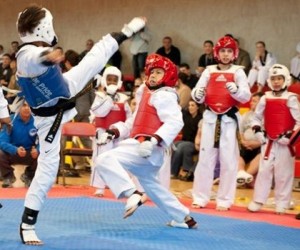 When I was looking for a karate school for my (then) four year-old son, I made a point of looking at smaller businesses where I was hoping he'd get more personal attention. One year later, he's an orange belt and learning more than just how to do a mean back kick. Whether it's discovering how to handle bullies, improve fine and gross motor skills, or making sure your child is getting enough exercise each week, studying karate can benefit kids in many ways.
Here, a list of some of Nassau's best dojos where your child can start to study karate or Taekwondo. And be sure to check out our Inside Activity Guide for more indoor sports and events that kids can enjoy year-round.
Jeff Lovering's Goshinkan Dojo
1754 Merrick Avenue, Merrick
516-223-7233
Open since 1983, this Dojo offers lessons for children ages 6 and up year-round, as well as a "Mighty Dragons" class for kids 4-6 years old during the school year.
Epic Martial Arts
161 Levittown Parkway, Hicksville
516-937-5425
Epic offers classes for kids as young as 3 years old, including its Little Champions program that was developed by an occupational therapist. One-on-One lessons are also available.
Oyster Bay Family Karate
27 Berry Hill Road, Oyster Bay
516-802-3400
Sensei Bobby Rekha offers classes for all ages, aiming to teach leadership and self-discipline skills to his students. He's also the only certified bullying expert in Oyster Bay. The Dojo also hosts birthday parties.
American Black Belt Academy
4875 Merrick Road, Massapequa Park
516-795-8531
ABBA offers classes for kids ages 3-15 in karate, kickboxing, mixed martial arts (MMA) and Jiu-Jitsu.
YH Park Taekwondo Academy
3701 Hempstead Turnpike, Levittown
516-735-3434
The main goal for children's lessons is to build self-esteem and discipline. Classes end with group discussions and role-playing exercises. We touch on life lessons and discuss alternate resolutions to some of the issues children face today.
Karate Kids USA at Progressive Gymnastics
2200 Marcus Avenue, New Hyde Park
516-775-5545
Children between 4-8 years can learn blocks, punches, kicks and strikes in this lively program. Moms with groups of 5 or more kids can set their own class time.
Kwon's Karate Studio
8 Hillcrest Avenue, Manhasset
516-627-1122
Master H.Y. Kwon is the lead instructor and holds the highest rank possible, a 9th degree black belt in the World Moo Duk Kwan Federation. Children are taught traditional martial arts with real world applications.
Chung USA Kids
1527 Jericho Turnpike, New Hyde Park
516-352-5425
Chung USA is celebrating its 30th anniversary. Its a kids-only school where 8th Grand Master Chung personally works with each child every day. There's also an all-day summer program, as well as birthday parties available on location.
World Taekwondo Academy
19 Main Street, Port Washington
516-944-5454
Kids will learn the basics of Taekwondo, as well as sparring moves once they advance to the intermediate level. Summer camp and birthday parties are also an option.
Photo courtesy of YH Park Taekwondo Academy