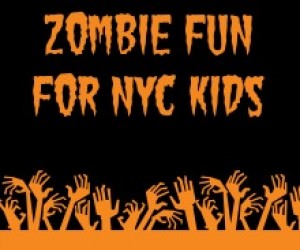 4 Freaky & Fun Zombie Experiences for NYC Tweens & Teens
We spend a lot of time writing about Halloween fun for little kids like costume parades and tame seasonal fetes. But what happens when your tween outgrows those kinds of all-ages celebrations? A lot of eye-rolling, that's what. As the mom of a nine-year-old desperate to grow up, I know that firsthand. But I also know he's not quite ready for full-on adult Halloween events like those super-freaky haunted houses.

Take for instance the monster of the moment: zombies. He's very into the walking dead but I won't let him watch The Walking Dead. (Especially not this season—yikes!) However, we have been able to enjoy a few freaky but not mega-frightening zombie experiences as a family. These interactive events like zombie laser tag and a zombie escape are way too intense for tots but thrilling for tweens and teens, not to mention adults. So if you're tired of hearing the "this is for babies!" complaint, take your angsty adolescent to one of these zombie-themed events.
Zombie Laser Tag Experience – Long Island City
Extreme Indoor Sports, 47-11 Van Dam Street between 47th and 48th Avenues
Fridays 8pm-midnight
$20
Ages 12 and up
During a typical laser tag game, you only have to worry about your opponents lurking in the shadows—not zombies. But on Friday nights, Extreme Indoor Sports offers undead-themed games in its creepy, maze-like Zombie Laser Tag arena where you need to locate an antidote without getting "bit." The space is strewn with obstacles like overturned furniture, and the walls are splattered with bloody handprints and haunting pleas for help. My nine-year-old son and I toured the arena with the lights on and no one shooting at us, and we were still pretty freaked out! Zombie-themed birthday party packages are also offered.

Room Escape Adventure – Midtown West & Chelsea
23 West 36th Street between Fifth and Sixth Avenues
355 Seventh Avenue between 29th and 30th Streets
Various dates and times; visit the website for the complete schedule.
$28
Ages 11 and up
Participants are locked in a nondescript Manhattan office with a hungry zombie chained to the wall and 60 minutes to get out. To unlock the door, your group needs to figure out the answers to a slew of confusing riddles and brain teasers while keeping clear of the screaming, grunting creature gnashing its teeth. Every five minutes, the zombie's chain is let out a bit, making it easier to get caught. My son, a crew of other nine-year-olds and I attempted to free ourselves during a birthday party this past summer, and although we ended up as dinner, we still had a blast. While there is no official age minimum, children under age 14 need a paying adult chaperone. I think it's probably best for 11 and up. The riddles are pretty tricky—a lot of them were lost on our nine-year-olds. But they had fun scaring the zombie away from us grown-ups as we worked (unsuccessfully) to escape.

The Zombie Run NYC – Marine Park
Aviator Sports and Events Center, 3159 Flatbush Avenue
Saturday, October 25 at 3:30pm
$45-$70
Ages 14 and up
Run for your life at NYC's annual Zombie Run. Teens can choose to be a human or get transformed into one of the flesh-eating undead who chase their prey through the three-mile course trying to steal their "life flags." Playing a zombie definitely sounds like the cooler experience, especially since it comes with a professional makeover, but unsurprisingly, those slots sell out more quickly.

Thrill Day NYC – Coney Island
Coney Island Boardwalk and West 10th Street
Saturday, October 25 3-7pm
$5 to participate, free to watch
All ages
Kids of all ages can celebrate Michael Jackson's iconic "Thriller" at this annual tribute. Fans made up as zombies recreate the legendary dance moves, flash mob-style. Get in on the action or just watch hundreds of the dancing undead as they take over the Coney Island Boardwalk. Preregistration suggested.

Find more fearsome fun for all ages in our Halloween Guide.