The Escape Game Houston
The Escape Game Houston (in CityCentre)

Spark Math: Free Trial Class
Virtual
Sign up for our free newsletters.
Best Texas Zoos, Safaris, & More Places to See Animals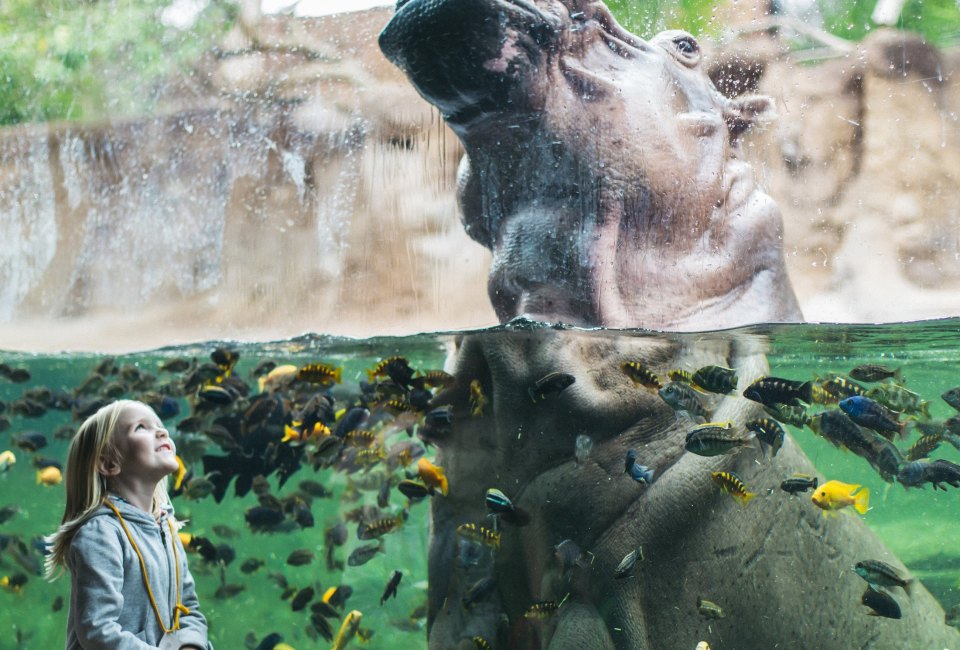 10/28/19
- By
Carrie Taylor
What kid doesn't love animals? (Or at least, one kind of animal...) Lucky for us Texas parents, the Lone Star State is home to many attractions and zoos that house exotic and regional animals, from elephants to deep sea creatures. We've picked some of our favorites to help while planning your next Texas family vacation.
San Antonio Zoo - San Antonio
The zoo is one of the reasons why we love visiting San Antonio. The 54-acre facility is full of frees and natural beauty - the San Antonio River even runs through it. There's also a children's play are and train that runs alongside the zoo's edge where you can view some of the exhibits.
Austin Zoo - Austin
Austin's zoo may be smaller than some of its Texan counterparts, but it's still big on fun. This zoo is home to animals that can no longer return to the wild, and houses large cats, primates, mammals, reptiles, and native animals of all kinds. At Austin Zoo, kids can feed deer, goats, and llamas, as well as listen to zoo keeper talks throughout the day to learn more about certain animals.
Related: Best Texas road trips for families
Cameron Park Zoo - Waco
Another small-ish spot, this zoo is simply beautiful to visit. It sits on the bank of the Brazos River and has lots of outdoor (and thankfully indoor) exhibits. Our favorite spot to visit is the otter slide - part of their enclosure includes a slide for guests! My son thought the otters looked happy to see us.
Houston Zoo - Downtown Houston
We would be remiss if we didn't mention our very own Houston Zoo! It has a whopping 6,000 animal residents representing hundreds of species. The layout and exhibits are thoughtfully designed and placed, including the iconic tree-covered promenade, children's petting zoo, playground and splash pad. There's also a train next door for kids and families to ride.
Safaris and other animal encounters around Texas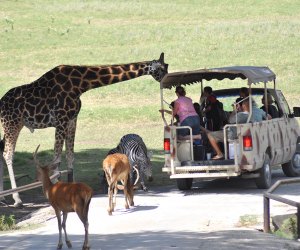 See exotic animals up close and personal at Fossil Rim. Photo courtesy Fossil Rim.
Fossil Rim - Glen Rose
Located near one of our family's favorite campgrounds, Dinosaur Valley, Fossil Rim is a drive-through safari in the heart of Texas. Drive in your own car or hop into a group safari tour to see animals up close and personal. Note the entire tour takes about two hours, so it may not be the best choice for small children who may get antsy.
Related: Top things to do in Dallas, TX with kids
Children's Aquarium at Fair Park - Dallas Metro
Just outside of Dallas you'll find a real Texas gem - the Children's Aquarium at Fair Park. Unlike aquariums aimed at entertaining guests of all ages, CAFP's exhibits are all eye-level to children with plenty of interactive elements to keep them engaged.
Natural Bridge Wildlife Ranch - San Antonio
This unique drive-through safari is a designated Texas Land Heritage Property for being used for agricultural purposes by the same family for more than 100 years! You can drive and walk around this historical spot.
South Padre Dolphin Research & Sealife Nature Center - Port Isabel
The most amazing fact about the research center is most animals are not kept in captivity. To see dolphins, the center arranges tours where you are more than likely able to see dolphins swimming in their natural habitat. In the Sealife Center, kids can see and touch starfish and other small creatures from the local ecosystem.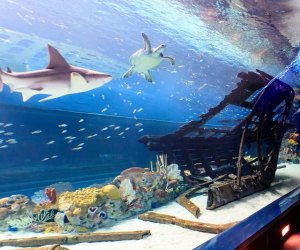 See turtles, sharks and more at the Texas State Aquarium. Photo courtesy the aquarium.
Texas State Aquarium - Corpus Christi
The Texas State Aquarium is another indoor beauty with lots to do and explore. See creatures from coral reefs, jungles and underwater caverns, and make sure you save time to feed the stingrays and catch a dolphin show - complete with great views of Galveston Bay.
Dallas World Aquarium - Dallas
Dallas' renowned aquarium is our favorite in the state. In fact, my husband and I have been here several times without our children! It's huge and houses five major exhibits of various climates and environments, and thus various animal life.
To have more content like this delivered to your inbox, sign up for our free email newsletters.