Dinosaur Tracks in Texas: Family Fun at Dinosaur Valley State Park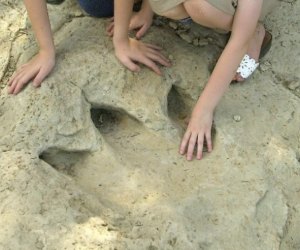 Deep in the heart of Texas runs the Paluxy River, a small tributary of the Brazos River. And on in its shallow bends and shores lie one of Texas' best kept secrets - dinosaur tracks! Dinosaur Valley State Park - located in Glen Rose, Texas - remains one of my personal favorite state parks for family camping trips because of the fossilized treasures its holds and its natural beauty. You don't even have to be a dinosaur fanatic to appreciate all this park has to offer. Add it to your family's travel bucket list, and plan to visit again and again.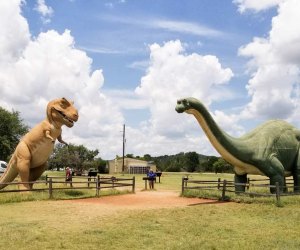 The unmistakable entrance of Dinosaur Valley State Park. Photo courtesy Dinosaur Valley State Park.
Park Overview
In 1909, a young explorer found evidence of dinosaur tracks along the Paluxy River's banks. Fast forward to 1937, when another explorer was collecting fossils for the American Museum of Natural History visited the area and found evidence of more tracks - tracks made 113 million years ago when central Texas looked more like a marsh near the coast, and herds of dinosaurs would pass over its soft ground, according to the state park's website.
Visitors can see visible tracks made by the carnivorous Acrocanthosaurus, a smaller relative of Tyrannosaurus rex, as well as the Sauroposeidon proteles, which is estimated to have been 70 feet long and 13 feet high at its hip, and it weighed 40 to 44 tons. The latter left hind footprints over a yard long, with smaller, clawless horseshoe-shaped front footprints.
And at the park's entrance you'll see the fiberglass models of an Apatosaurus and Tyrannosaurus rex headquarters which were on display at the 1964-65 New York's World's Fair and donated to the park by the Atlantic Richfield Company in 1970.
There is so much to do here - from exploring beautiful trails to hunting down dinosaur tracks. Don't forget to grab a junior ranger pack for your kids to get the most out of the park.

Exploring a riverside trail.
Things to Do: Hiking, Dinosaur Track Hunting & More
The campground has miles of beautiful hiking trails you can enjoy yearround. Make sure you grab a park and trails map which marks where you can find dinosaur tracks. We visited in February when the water levels were relatively high, so the only tracks we could see were in the shallow river waters. But it was enough for my almost 5-year-old and 2-year-old. We embarked on several hikes on the shorter trails that were little-kid-friendly except for a little bit of mud.
Check the calendar to see when you can participate in a guided tour with a ranger. The park's fascinating archeological history is definitely best enjoyed when you can hear the whole story from the park staff. You can even take a tour on horseback or in a horse-drawn wagon - perfect for kids ages 3-14.

Crossing the Paluxy River to see dinosaur tracks. Bring waterproof boots or prepare to take your shoes off!
Park staff will recommend the best areas for accessing and view tracks during your visit, so check in with them at headquarters before venturing out. During our visit, the best spot was only accessible by crossing a shallow pass on the Paluxy. My husband braved the trip with our preschooler, and he (the preschooler, that is) thought it was the most amazing adventure he's ever embarked upon.
There is a main playground and pavilion area (also perfect for day-use visitors) we spent lots of time at because it was a short walk from our camping site. Right next to the playground is the children's educational trail - a small, shaded loop that is wagon and stroller accessible and introduces kids to area wildlife with a series of interactive signs. Our kids couldn't get enough! Needless to say we walked that circle more than a few times.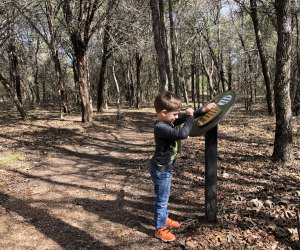 Learning about the park's animals on the children's trail.
There are also kayaks for rent, and during warmer months you can swim in the Paluxy's beautifully clear waters. The Blue Hole swimming area has long been a favorite of locals; don't forget to read the historical plaques nearby to learn about its history.
Nearby Attractions
While thre is plenty to do while staying at Dinosaur Valley, there are a few nearby attractions we have to call attention to.

Playing on the dino playground at Dinosaur World.
Dinosaur World
First-time visitors may have mistaken this facility for the state park itself. As you turn down the drive toward the park's entrance, you will pass a different set of dinosaur models and massive prehistoric-themed sign for Dinosaur World. It has a pretty great "dinosaur trail" - a walking trail with realistically sized dinosaur models to see along with a brief history of where their fossils and tracks can be found.
There's a fantastic dinosaur-themed playground, a fossil-dig pavilion, and small museum complete with animatronics. You can bring in your own food and drinks and enjoy lunch at one of the many shaded picnic tables next to the playground. This spot is perfect for kids ages 12 and under.
Fossil Rim Wildlife Center
For kids of all ages, we can't recommend enough a visit to Fossil Rim. It's a driveable safari that takes about two hours (in your own vehicle), so plan accordingly. We opted out of this experience with our squirmy toddlers, but growing up, my family and I visited every time we were camping or visiting the area.
Halfway through your adventure you'll find the Children's Animal Center - which is free - and where kids can interact with animals like pigs, tortoises, goats, and more.
General Information
Admission: $7 adults, Free (children ages 12 and under). Campsites with electricity are $25 per night and without electricity are $15 per night. If you reserve a campsite, the daily fees still apply.
You can buy firewood from a firewood vending machine inside the park. It's open at all hours.
Top photo courtesy the Texas Department of Wildlife. All other photos by the author.