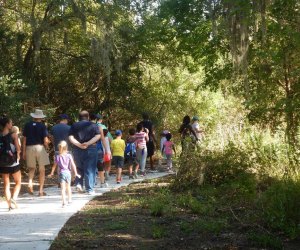 Weekend Fun for Houston Kids: Nature Walk, Million Penny Challenge, Aug. 10-11
First things first: did you hear that Toys 'R' Us is making a come back to The Galleria after the 2018 closing with a newly "reimagined" store that doubles as both a store and a play space? We can't wait for November to see the end result of our childhood favorite's facelift.
Now, back to business. Where on earth has the summer gone? We are quickly making our way to the midway point of August, which we all know means saying goodbye to flip flops and lazy days and hello to school buses, packed lunches, backpacks, and some semblence of a normal routine! I'm sure we can all agree that this is equal parts exciting and stressful, which is where we come in...
We're confident this weekend is going to be an excellent one. This is the ideal time to take advantage of activities like sandcastle building lessons at Stewart Beach, Evening Chill at the Houston Zoo, and visiting Candytopia. There's also still time to make some headway on our 50 Free Things to Do in Houston With Kids This Summer list and our 40 Ways to Beat the Houston Heat This Summer list. We say pack in as much summer fun as you can!
You can also check out our event calendar for ideas, as well as our August GoList, and you can sign up for our weekly newsletter to stay in the loop with all the awesome articles posted on Mommy Poppins. For anyone planning an event, we would love to get you some extra coverage! All we ask is that you submit your event to our calendar, and we'll review it and take care of the rest!
Now let's check out what's happening around Houston this weekend.