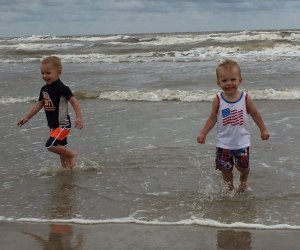 50 Free Things to Do in Houston With Kids This Summer
Summer days mean extra sunlight, lots of time with friends and filling our days with as many engaging and entertaining activities as possible. However, thrifty is in my genes - and being primarily a one income family, is a necessity for us - and while I love to plan full days of fun with my kids, I also love to primarily plan days that don't require opening my wallet often, if at all. To help any other families who may want to save a buck without sacrificing any fun, here's a bucket list of 50 FREE activities we'll be taking advantage of this summer - but make sure to check our event calendar every day for more family-friendly fun around Houston.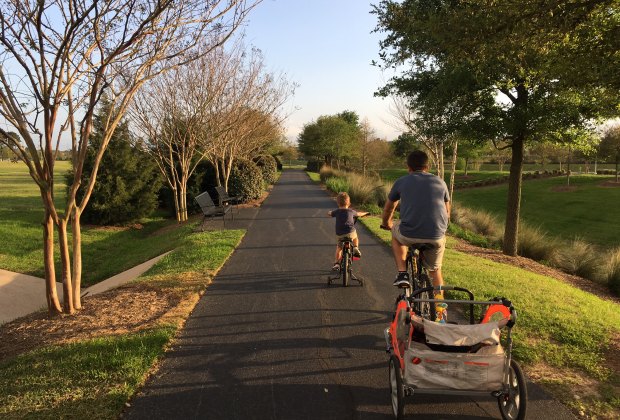 Biking with Dad on the trails at Rick Rice Park/Photo by Rachael Cherry
1. Hit the trails for a family bike ride. Attempting the bike for the first time, trying to teach wobbly legs to pedal without training wheels, or simply looking for something active to do as a family? Load up your bikes and head to one of the numerous trail systems around the city for some two-wheeled family fun.
2. Beat the heat by playing at one of Houston's many splash pads. Most of the area splash pads are free of charge - just bring your towel, sunscreen, and sunglasses!
3. Pick a park and go exploring for the day. There is no shortage of unique parks and playgrounds around the city; make a list of the ones you want to visit and use this summer as a chance to start checking them off.
4. Have a picnic lunch. Whether it's at one of the aforementioned parks or in your own backyard, picnic lunches are the perfect way to break free from your normal lunch routine without spending any money.
5. Run through the sprinklers. For an activity that practically screams summer, you need to do nothing more than simply turn on the sprinklers and let the kids spend the afternoon running through them.
6. Catch an outdoor family flick. Don't confine yourself to the couch for a movie night this summer; instead, pack a cooler and a blanket and spend the evening under the stars watching one of these free family movies.
7. Feed the ducks. If there's a free activity I can always count on my son wanting to do, it's definitely feeding the ducks at a local pond. And by feeding the ducks, I mean dropping bread at his feet, shrieking and then excitedly running away as they come waddling over.
8. Spend the day at Discovery Green. Discovery Green is a mecca of free events, from Strolling Saturdays to Toddler Tuesdays to movies under the stars, making it easy to plan a day at one of Houston's favorite urban green spaces.
9. Pitch a tent and camp-out in the backyard. You don't need to go any further than your own backyard to enjoy spending a night under the stars.
10. Visit the Houston Arboretum & Nature Center. Spend the day getting back to nature by hiking the trails, observing the wildlife and checking out the free exhibits at this urban green space.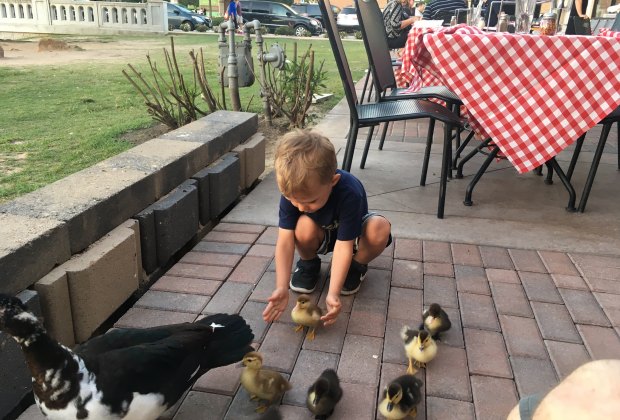 Feeding the ducks at La Centerra/Photo by Rachael Cherr
11. Tour the ship channel on the Sam Houston Boat Tour. Cruise down the ship channel and learn a little more about the Bayou City during this 90-minute cultural experience. Reservations are required.
12. Listen to Stories Under the Sun at Levy Park. On Thursdays at 10 a.m. Houston Public Library invites families' out for a storytime experience at the park.
13. Take advantage of free museum hours. When you're in need of an indoor activity, head over to one of the many museums that offer free admission. Some of the museums include:
14. Push the red button at Preston Street Bridge. The red button at Preston Street Bridge practically begs to be pushed; let your kiddos satisfy their curiosity and see what bubbles up as a result.
15. Splash and play at one of city's public pools. Houston is home to 37 free public pools that are open Tuesday through Sunday from 1-8 p.m.
16. Watch the bats emerge at Waugh Drive Bridge. Every summer bucket list should include a trip to Waugh Drive Bridge to watch the bat colony take to the skies at night.
17. Read books during Nature Discovery Center's Nature Story Time. Every Wednesday at 4 p.m. Nature Discovery Center hosts a story time followed by crafts or a nature walk, live demonstrations and more to bring nature to life.
18. Wander through the Centennial Gardens at Hermann Park. The diverse collection of gardens at Centennial Gardens allow you to step away from the hustle and bustle of city life while still being in the very heart of Houston.
19. Schedule a fire station tour. Fire truck fanatics will go crazy over a trip to the local fire station to meet firefighters and see fire trucks up close and personal. Tours must be scheduled four weeks in advance and have a cap of 30 people.
20. Have a water balloon fight. Fill up some water balloons, head to the backyard and wage war against the kids in a classic water balloon fight.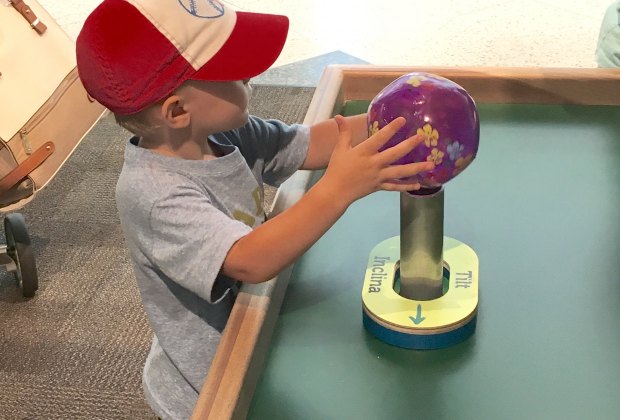 Making the ball float in midair at the Children's Museum of Houston/Photo by Rachael Cherry
21. Watch a performance at Miller Outdoor Theatre. Whether it's a daytime program for the kids or a family-friendly evening show, Miller Outdoor Theatre is hosts a range of free performances for the public to enjoy.
22. Cover the driveway in sidewalk chalk art. Channel your inner artist and color a driveway mural with the kids one morning.
23. Meet the neighbors. Have neighbors with kids that you've never met? Summer is the perfect time to take advantage of the longer days and make friends with the other kids on the block.
24. Have a backyard barbecue. After you meet the neighbors, invite everyone over for a potluck barbecue.
25. Sink your toes in the sand on Galveston beach. Pack up the car and head down to Galveston for a day of fun in the sun and sand.
26. Ride the Galveston-Port Bolivar Ferry. While you're visiting the Island, be sure to take a trip on the Galveston-Port Bolivar Ferry. Passengers can walk or drive on and it's not unusual to see dolphins accompanying the ferry as it navigates the waters.
27. Check out books from the local library. Summer is the perfect time to catch up on some reading, so head to your local library and stock up on some good books. Additionally, most public libraries host a free storytime and other events throughout the week.
28. Take advantage of your library's free amenities. Do you know about all of the perks that come with your library card? We outline them here.
29. Attend one of the free family craft events hosted by Hands-On Houston. From 11 a.m. - 3 p.m. on the first Saturday of every month families are invited to attend a free craft event that relates to a current exhibition and is led by a teaching artist. Crafts typically take 15-20 minutes.
30. View James Turrell's Twilight Epiphany Skyspace. Head to the Skyspace at sunrise or sunset to see the breathtaking light sequence that occurs when the natural light intertwines with Turrell's light composition. Reservations for the sunset viewing are required.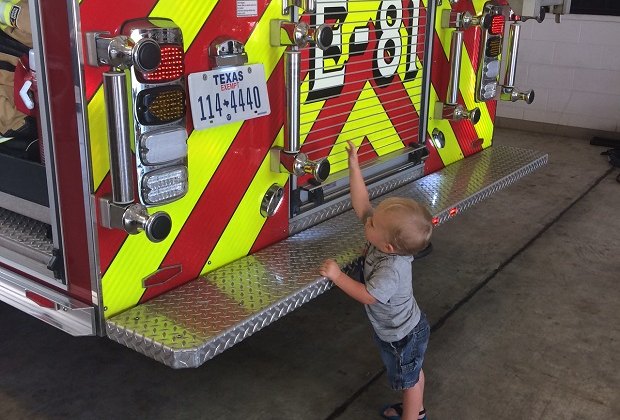 Getting just close enough to touch the back of the fire truck on a fire station tour/Photo by Rachael Cherry
31. Puddle jump on a rainy afternoon. Summer showers don't have to mean staying indoors; instead, don rain boots and swimsuits and jump into every puddle you can find.
32. Visit Houston's newest and coolest sculpture, the interactive Alice in Wonderland set where you can take part in a magical scavenger hunt, at Evelyn's Park.
33. Snap pictures at Houston's most iconic spots. After your visit with Alice and her friends, hunt down the rest of Houston's best murals and landmarks for Instagram-worthy pics.
34. Catch a free concert at Cynthia Woods Mitchell Pavilion. Take the kids to see "How To Train Your Dragon" in concert this summer.
35. Party at a family-friendly summer festival. This year, there's everything from the Caribbean Festival to the unique VegFest.
36. Go bowling. There are several establishments around Houston where the kids can bowl for FREE. (Sadly, you'll still have to fork out some cash for snacks.)
37. Cool off at a free play space. There are lots of indoor spots where your kids can play for free around Houston.
38. Take a bite out of nature. The Missouri City Edible Trail lets you pick your own fruits as you walk along the cultivated path. It's a nice and easy walk for young children.
39. Enjoy a free story time at Pottery Barn. There are two Houston locations - The Woodlands Mall and Highland Village; it's a perfect start for a fun day out.
40. Watch a spectacular fireworks show. Every Friday in June and July, Kemah Boardwalk displays a fantastic free fireworks show to end the day.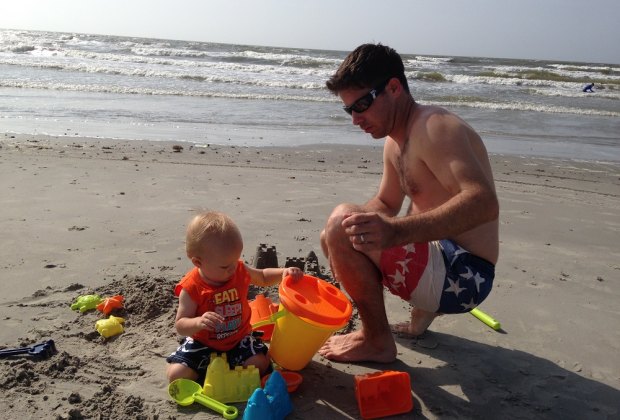 Building sand castles at the beach in Galveston/Photo by Rachael Cherry
41. Visit the Armand Bayou Nature Center. Admission is free on the first and third Sundays of each month. See wildlife, walk trails, explore a farmhouse, and more.
42. Take Instagram-worthy photos around Galveston. After hitting the beach, visit unique murals and landmarks around the island and take fun photos with your kids.
43. See aquatic life at Sea Center Texas. Located in Lake Jackson, about 50 miles south of Houston, the aquatic center is a haven for aquatic life where kids can get up close and personal with sea animals.
44. Enjoy live music and plenty of family fun at concert in the park events in Pearland and Friendswood.
45. Attend free story time at Mercer Botanical Gardens. This free story time in Humble is presented by the Harris County Public Library meets for a nature-inspired story circle every Monday morning.
46. Attend a free festival. Some great options are HealthFest on June 1, STEM Community Festival Day on June 8, and Asiafest on June 30.
47. Go fishing. Grab a pole and head out to one of Houston's free places to fish with kids this summer.
48. Take a free kids class. Kids can attend free classes at the Apple Store, Disney Store, Home Depot, The LEGO Store, and more this summer for STEM learning, arts and crafts, and more.
49. Learn to code. Check out free online programs for kids that teach coding in fun and engaging ways. Your kid could be writing their own computer programs before summer is over!
50. Visit the WaterWorks Education Center. Learn about the importance of water conservation and participate in hands-on learning activities. The tour is free, but reservations are required.
Top image: Chasing waves in Galveston/Photo by Rachael Cherry
This post originally published in 2017.