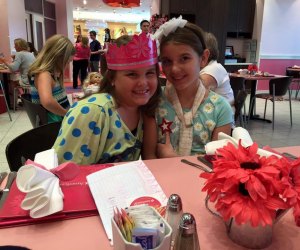 The American Girl Store: What to Expect at this West Houston Staple
Of all of the exciting activities for kids in Houston, spending time at a shopping mall doesn't typically rank high on the list. Unless that is you happen to be heading to Memorial City Mall to visit the American Girl Store. Just walking up to the entrance to the store creates an Instagram-worthy situation as you and your child approach the iconic red facade. If you were a fan of the dolls as a kid, the nostalgia of American Girl will hit you square between the eyes as you enter the store. Of course, shopping is on the agenda, but there are so many other activities to engage in when you visit the American Girl store.
Although there are plenty of activities to enjoy in store, if shopping for a new doll or accessories is the main reason for your visit, you definitely won't be disappointed. The displays throughout the store are easy for kids to see and interact with, so they can explore all of their options before deciding on their purchase. One of my personal favorite parts of visiting the store is ogling at the intricate setups within the displays for each iconic doll. During our trip, there were even displays set up that featured some of the dolls who made their mark on my childhood and seeing these same dolls light up the faces of my stepdaughter and niece was a priceless experience.
On certain days, activities like movie screenings and afternoon tea with your doll are held at the store. Reservations and a fee are typically required for these special events, but be sure to check the American Girl Store website for more details before you go.

The entrance to the American Girl Store at Memorial City Mall is completely Instagram-worthy. Photo courtesy American Girl.
If your daughter enjoys playing hairdresser with her doll and her hair-do could use a little attention, the experts at the American Girl doll salon can help. When your child brings their doll into the salon, they can choose from a variety of hairstyles for their doll and the stylists will untangle and re-style the doll's hair right there in front of you, they can get a spa treatment, or even have a hearing aid installed. The salon also features the option to get your doll's ears pierced. Your child can even get their ears pierced right alongside their doll, which seems like an adorable way to help kids conquer any trepidation about the piercing process.
If your child's doll is in need of repair, taking them to the American Girl Store to get fixed up means that they will be admitted to the American Girl Doll Hospital. The doll will need to stay for 2-4 weeks, but she will come back to you as good as new. Even if you aren't taking your doll to the hospital or salon, it is fun to watch the staff work on other people's dolls while you're at the store.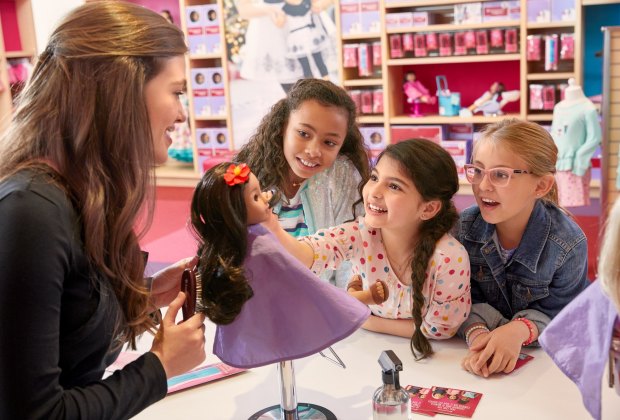 If your doll's hair could use a new style, head to the doll salon. Photo courtesy American Girl.
No trip to the American Girl Store is complete without a visit to the store's Bistro. When we took my stepdaughter for her birthday, I was delighted to find that the food is actually delicious. It's extremely kid-friendly, so the menu is fairly simple (think chicken strips, club sandwiches, Ceasar salads, and burgers) but everything we tried was tasty. With reasonable prices and dishes to please even the pickiest eaters, dining at the Bistro is a must-do on your visit to the American Girl store. The best part is that your doll gets to dine right alongside you and your child in special doll chairs that attach to your table and our server even interacted with our dolls. It was incredibly charming.
You can even plan a special birthday celebration when dining at the Bistro complete with birthday crowns and accessories for your child and their doll as well as a mini birthday cake for dessert. If larger birthday parties are more your style, you can also book different birthday party package experiences to celebrate at the store with friends. Reservations for the Bistro and Salon are highly recommended and tend to fill up quickly, especially on weekends and school holidays.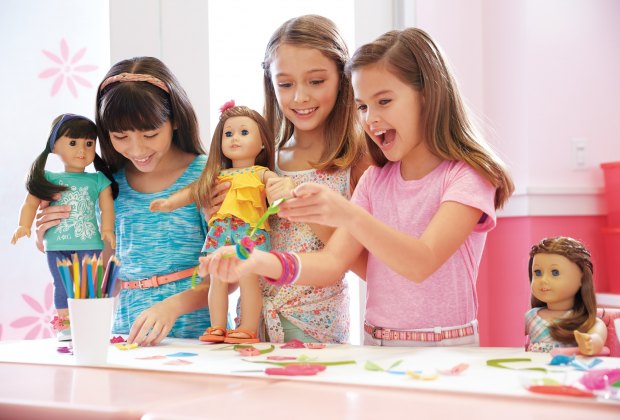 Plenty of hands-on activities offer tons of fun for your child at the American Girl Store. Photo courtesy American Girl.
Between browsing the displays, participating in special activities, visiting the salon, and dining with your doll, you can easily spend a few hours at the American Girl Store. However, if you don't live in the immediate area, you may want to make an entire day of it by checking out the other kid-friendly activities in the area. You can dine at the family-friendly restaurants at CityCentre or let younger kids explore the indoor playground at Frolic's Castle inside of the mall.
For an extra special treat, you could even spend the night at the Westin Houston Memorial City or Courtyard by Marriot Energy Corridor, each of which provides special American Girl Doll packages for hotel guests. The Westin's package includes an American Girl Doll Travel Bed that is yours to keep after your stay and a complimentary Starbucks hot chocolate, while the Courtyard's package consists of the same travel bed, an in-room American Girl movie, and more.
No matter how you choose to plan your day, when you make a trip to the American Girl Store part of it, you seriously can't go wrong.
Top photo: Dining at the American Girl Bistro. Photo by the author.
American Girl - Memorial City Mall
303 Memorial City Mall #580
Houston, TX 77024